List your Truck, SUV, Camper and Travel  Trailer for sale on the internet for Free. Search till you drop. If you're looking at used trucks, you need to give yourself an edge on buying a sound truck. Have it thoroughly inspected by a certified mechanic that comes to you. Unless you think a used truck engine shines naturally. Click to save money.
List your Truck, SUV, Camper or Travel Trailer for sale Below
Don't end up making two truck payments on a used truck. More.
Always get your money first. Ever hear of a truck manufacture giving 0% interest on a used truck? More.
If you need to transport a truck across the country, Click here.
New Dodge Trucks at Fleet Deals: Ask for Kathy or Linda in fleet at 1-800-880-1940, Tell them MrTruck sent you.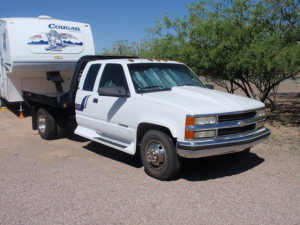 1995 Chevy C3500 Silverado extended cab, 454 V-8/ 7.4 liter, 4L80E automatic overdrive transmission, Gear- Vendors overdrive unit, fresh tuneup, new flatbed with gooseneck hitch, tow package, mileage 96318, Banks Powerpack Ram-Air with K&N air filter;
white exterior, blue interior, mileage 96318, new stereo & speakers, fresh window tint, good tires, good brakes, new Interstate battery, new high flow muffler, cold a/c,
Looks pretty good & drives great.  Thanks for looking.  Asking $9000, OBO.
Robert, Green Valley, AZ.  email  HRODBOB@aol.com

My Favorite, CarsDirect
Biggest, AutoTrader                  
Bigger Trucks, TruckTrader
Stop tire cupping, vibration and premature wear on those expensive truck, RV & trailer tires. Centramatic automatic wheel balancers have been saving money on tires for semi-trucks for over twenty years. Now you can automatically balance your tires, wheels, hub and rotors or drums while you drive. A balanced tire doesn't cub, vibrates less & lowers the tire sidewall temperature from less flexing, giving you longer tire life. 5 year warranty, made in the USA. More
SuperSprings Anti-Sway Safety Stabilizers do not replace the existing springs, but function together with the vehicle's existing suspension system, providing additional support only as required, when the vehicle enters a bend, turn, swerve or when carrying a heavy load. Discover More…
SuperSprings: •Do not stiffen the ride when your vehicle is empty or on a straight road, as do overload springs. •Are inexpensive and easy-to-install. •Require no maintenance. •Reduce rear end sag and sway due to heavy loading. Today's light trucks and Vans are designed for smooth ride and comfort when empty or lightly loaded. When fully loaded, the softer suspension in these vehicles tends to let the rear end sag, compromising safety and comfort. Find out More…
The Best Quick-Attach Mudflaps!
I've used and abused a lot of mud flaps over the years, Drilled a lot of holes in bumpers and fenders and welded my share of angle iron on trucks, just to get my mud flaps were they would do me some good. It's a shame to have a nice trailer and then let your truck tires sandblast it and the wiring harness. These folks can solve that problem. Rock Tamers
Comments
comments