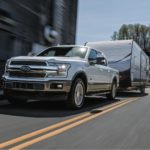 Does Ford finally has a 30 MPG full size pickup truck? They think so. In the early eighties, Ford Ranger had a Perkins diesel option rated over 40 MPG but not a big trailering machine. The new 2018 Ford F150 3.0L V6 turbo diesel can tow 11,400 lbs properly equipped, that's a big number. Also in the eighties with gas station lines from oil shortages, we thought we'd see 1/2 ton diesels. All we got was the 5.7L Olds diesel in GM trucks that almost ended pickup truck diesels. Today it's a different story.
Now we have them, you can get a diesel in just about everything. But not with a 10-speed automatic in a pickup truck. Just Ford, this 3.0L V-6 turbo diesel is engine option number 6 for the new F150. All but one engine comes with a 10-speed. If you tow trailers often, a diesel can save you money. And the costs is lower on smaller diesels than the heavy duty pickup truck ones, so the payoff can come sooner for the diesel option, especially if fuel efficiency is 10 MPG better than a gas engine. Available axle ratio options are 3.55 and 3.31.
According to Ford, 85% of diesel owners tow trailers. 3.0L diesel has 250 horsepower and a whopping 440 torque, it's that torque that will make the trailering good. Payload on this F150 is 2020 lbs. The new ten speed auto, selects which gear the diesel performs best under a load. The DEF tank is 5.4 gallons and the diesel tank is 26 gallons.
Same engineering team that came out with Fords in-house Super Duty 6.7L in 2011, are involved with this new 3.0L. Designed more for trucks, this diesel's peak torque is at 1750 rpm, just above an idle is key for better fuel mileage and longevity. The 10-speed auto tranny has a different torque converter compared to the the 10-speeds behind the gas engines. Made in England at Ford's plant that also produces diesels for Land Rover and Jaguar.
The high-efficiency variable-geometry turbocharger should lower turbo lag, we'll find out. The turbo is made by Honeywell. A common-rail fuel injection system optimizes performance and fuel efficiency, while a high-pressure 29,000 pounds per square inch injection calibration enables smoother, quieter operation with reduced emissions.  Dual fuel filters like the big boys, cast aluminum oil pan, two-stage oil pump, the only thing missing is the exhaust brake.
Testing the new diesel all around the country including our mountains, Ford decided to go with a mechanical fan instead of the electric fans popular in aftermarket. Two radiator shutters open for more cooling under load or closed for aerodynamics when not needed. What's surprising is Ford rates this new V-6 diesel for 150,000 miles durability, similar to the Eco Boost gas engines.
Like GM diesel in Colorado/Canyon diesel and Titan XD diesel, the Ford F150 diesel is only available in the high end models like Lariat or Limited for $4000 more than a 2.7L EcoBoost, $3000 more than a 5.0L V-8 and $2400 more than the popular 3.5L EcoBoost. Or if you are a commercial customer, you can have them in XL and XLT. Ford expects the F150 diesel will be 5% of 1/2 ton sales. The new 2018 Ford F150 Power Stroke 3.0L turbo V-6 with 10-speed automatic tranny can be ordered from Ford dealers this month. Expect to see them at dealerships this spring.
Comments
comments