Trail Control Brings Off-Road Cruise Control to 2019 F-150 Raptor
DEARBORN, Mich.
– The upgraded 2019 Ford F-150 Raptor has picked up a new feature – Trail Control. It's like cruise control for off-road driving.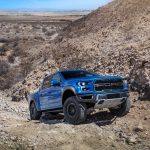 This new innovation manages throttle and braking, allowing drivers to focus on steering through challenging off-road conditions. It makes taking Raptor through the rough stuff more fun than ever.
Trail Control can be activated at speeds from 1 mph up to 20 mph, and Raptor is the only pickup that allows the driver to operate Trail Control in all 4×4 modes. The new feature can help overcome steep obstacles by automatically directing torque to each wheel then braking to smoothly bring the truck down on the other side. It also can help in digging the truck out if it happens to get stuck in extreme sand.
The upgraded 2019 Ford F-150 Raptor will be available in late 2018. Trail Control also will be available on the all-new 2019 Ford Ranger, arriving in dealer showrooms early next year.
Comments
comments