Popup Gooseneck Cushion Coupler – Protect your Horse Trailers Living Quarters! 
Bumps be gone! Recommended by 
Gooseneck Cushion Coupler
New Popup Cushion Coupler, more cushion, less space!!
Pulling a trailer with this coupler is like riding on a cloud. It absorbs up to 59% of the bumps, jolts and jars that make towing hard on you, hard on your cargo and hard on your equipment. Living Quarters horse trailers really need this to save bedroom cabinets.  Simply swap it out with the coupler on your gooseneck now – and, Walla! Instant gratification. Trailers keep getting larger with more weight on your truck. You need a buffer between your truck and trailer. The CC 2 Cushion Coupler costs hundreds less than air-bag style couplers – and its maintenance-free. The remarkably smooth ride comes from a patented system that uses world famous Timbren cushions combined with other proprietary shock-dampening technology.  Order the CC2  $773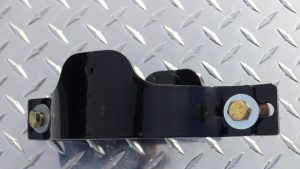 An Easy Quick Install below, just slide out the old coupler tube and slide in Cushion Coupler. (picture right) New Clamp for hard to fit horse trailers like Logan Coach and Merhow
Popup Gooseneck Cushion Couplers to protect your trailer. Take the jerk out of stopping and starting with a trailer and improve the overall ride. Your horse will thank you and the hay will stay on the trailer.
xxxxxxxxxxxxx
All Popup Gooseneck Cushion Couplers are now BLACK Powder Coat
 You don't sacrifice strength for smooth towing. With a gross trailer weight rating of 24,000 pounds and 8,000 pounds maximum tongue weight, this cushion coupler will take you wherever you're going in remarkable comfort. The rubber inside the tube works as a guide for up and down motion as well as dampening front to back vibration. Designed to apply trailer cushion at different tongue weights, Cushion Coupler will work with a loaded or empty trailer or anywhere in between.  Order the CC2 $773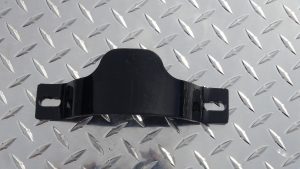 We've tried several different cushioning type couplers. Popup was the only one that didn't push the truck in a panic stop. Not that you want to immediately stop at highway speeds, but, in an emergency, stopping and then having your trailer push you can be dangerous. Any coupler that allows fore and aft movement allowing truck and trailer to move separately, will move independently in a panic stop and surprise you. Get the Cushion Coupler that will smooth out your ride and be safe stopping in the real world.
---
Popup Gooseneck Cushion Coupler
The CC2 Cushion Coupler fits standard 4" I.D. round gooseneck coupler tubes. The self-latching cast coupler has a handy hitching guide and is "V-19" Rated at 28,000 pounds. It latches when the trailer is lowered onto the ball and releases remotely. CC2 has 8,000 lb tongue weight.
For more details & history design.  Order the CC2  $773
Price Reduction for August, FREE Shipping
And All New for Short-bed Trucks
CC4 – $907    4″ Round          CC6 – $907  4.5″ Square        CC8 – $907  4″ Square
---
"I love it! This coupler is like night and day, compared to a standard  coupler. I have been about 500 miles with it and it really makes a  big difference. One of the more interesting things about it in the rear saddle compartment of my trailer, my saddles were always falling off of their racks. Since I have put the coupler on, the saddles have rode on the racks. If it is that much easier on my saddles, I can only imagine what it is like for my horses. The ride in the truck is also better. No more bucking and jerking.  There were two really positive points that were consistently brought up: they liked the latching mechanism and the fact that it was maintenance free. As well as the fact that it cost half of what an air ride system cost. "RJP, Dodge Rodeo National Program Manager
NEW and Improved You're going to love this newly redesigned PopUp 2 Hitch. Smoother acting and trouble free.  We've made the best hitch even better.  One pull of the handle to raise the ball is all it will take to convince you that this is the hitch you want.  Try it and see. We've replaced the cam mechanism with a simple yet strong and reliable slide to raise and lower the ball.  Simply pull the rod to raise the ball and push to lower it. Raise and Lower the Ball From the Wheelwell of Your Truck. More info….
xxxxxxxxxxxxxx
---
The Flip-Over Ball gooseneck hitch converts to a smooth bed in seconds. Just rotate the handle and Flip the ball over. In seconds you can have a level bed for all those jobs when an ordinary hitch ball is always in the way. No fabrication or welding. Installs with truck bed in-place. 30,000 lbs. Trailer. 7,500 lbs. Tongue. 100% complete, More…
An Extra Nine or Sixteen Inches Right Where You Need It. Or "how much does your trucks rear window cost?" Short bed extension solution for Horse Trailers and Race Car Trailers.
SB1BD, SB116, SB2 & SB3 Coupler (round and square neck tube)
---
The solution for increasingly popular short bed trucks
Now with side holes for the new Bull Dog type Coupler.  #SB1  How do you hook up your short bed truck to your gooseneck trailer?
Short beds are increasing their popularity while decreasing their length as with the 2003+ Dodge 2500/3500 standard bed at 6'3″ now. You still need the trailer weight far enough forward from your rear truck axle for steering control, balance, & efficient, effective brake & spring use. See more….
Trailer Tested, Horse approved.
Do you need a weight distributing hitch?
Comments
comments