Horse

Trailer

Review:  from MrTruck
| | | |
| --- | --- | --- |
| | | |
| Popup 9 or 16 inch gooseneck  extension. Help for popular short bed trucks. More… New Lower Prices | Another short bed solution. Is it for you? See the story, Click for more… | Weight Distributing Hitches for safe controlled trailer towing. Reviewing Equal-i-zer WDH & E-Z On  Click. |
Horse Trailer Review: We go into horse trailer factories and watch the welding, riveting, painting and fabricating. By watching horse trailers get built from the ground up, we can see where the reinforcing fishplate, gussets and braces go. We bring you the story of what is underneath the nice paint and shiny aluminum. Read our Horse Trailer Review.
Featured Trailer Products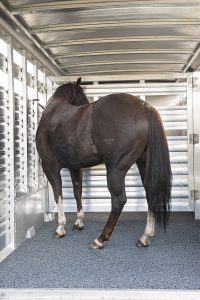 Hoof Grip, it's Super Floor, been around for years, in horse trailers, in barns, sidewalks, sale barns, vet clinics, patio's, dog kennels, playgrounds and truck beds.  The video's below tell the story. Made from ground tires (recycled) it gives cushion and traction. First place I saw it was on playgrounds. around merry-go-rounds where kids fall down and bounce back up unhurt.
Stable Boy Aluminum Modular Horse Stall System
MrTrailer Reviews: Trucks Towing Trailers and Trailer Accessories.
Trailer Electronic Technology for Safer, Easier Connection. EZ is a magnetic connection, powerful magnets. Just get the male end near the female plug and "pop" it sucks together. A tab slot align the socket and plug to match the right connections. The male end has two silicone o-rings, the cables have sealant injected inside, all to make the system water proof. If you can keep the water out, you can keep the mud and all the corrosive chemicals used to dissolve ice on the highway out. Spent my share of nights with a flashlight in my mouth in the rain as I work on trailer lights. See the horse trailer review….
Stable Boy RV Horse Hauler
___________________________
 Stable Boy Aluminum Modular Horse Stalls for your RV Toy Hauler: When toy haulers first appeared, I knew they would be big. You can haul ATV's, motorcycles, snowmobiles and golf carts. RV's have less trouble with police and the questions of being commercial or civilian. So why not use a RV toy hauler to haul horses. Imagine a 5th wheel RV, walking up to the bedroom, stand around the bed, open the closet and dresser drawers and you're still standing up. Now think about the gooseneck of your horse trailer   The full story…
Cimarron Premium Horse Trailer Review
____________________________
Cimarron Premium Trailer Review, 10 Years to the Top Even in the current recession, Cimarron Trailers is improving, expanding and zeroing in on efficiency. The factory is staying the same size, but putting out 25% more trailers. There is a handful of aluminum trailer manufactures at the top in premium trailers. None surpasses Cimarron current models. The top trailers need smart engineering, custom doors and windows, top components, strong beautiful welds etc. The result is quality uniformity on all trailers from roof to axles. Where else would you build horse trailers, but the heart of More…
Finally ABS brakes for trailers ! Fast, smooth and safer than any brake system we've tried. We took our test trailer to the race track, smoked the brakes, burnt the seals and proved how dramatically superior hydraulic disc rotors, electric-hydraulic actuators, ABS modules and a trailer brake controller that networks with your trucks computer can be. Electric brake drums didn't stand a chance in our side by side comparison. A big step toward safer trailering on our crowded highways and unpredictable weather patterns. Share this detailed report about the difference ABS trailer brakes can make.
The New Logan Coach; an efficient leaner Logan sticks to what they do best, galvanized steel frames, aluminum skin and good looking value. Call it the resale value trailer. Bottom line, "beauty of aluminum and strength of steel." One of the few composite trailer brands that can go head to head with high end aluminum trailers for longevity.  Always improving and keeping it's roots with galvanized Flo-Coat steel frame coated with Vortex, more..
Titan Trailers from Kansas, are well know for livestock trailers, flatbeds and inexpensive steel horse trailers. But they make them all, chances are if you need it, they build it. And they build a lot of trailers. Titan Trailers recently purchased Logan Coach, a horse trailer company. Over the years Titan has acquired many other trailer companies, adding their buying volume and manufacturing expertise. Read the whole horse trailer review….
Horse Trailer Review
New From HorseTrailerWorld.com
Horse Trailer World (a subsidiary of Equine Media World) announces the purchase of the Horse Trailer Blue Book. Horse Trailer World plans to enhance and continue the pricing service for the horse trailer industry and marketplace that was started more than 20 years ago to serve the lender, insurance and dealer horse trailer market. Horse Trailer World has been publishing online horse trailer ads, news, reviews and information for the industry since December of 1999 and has been a leader of online horse trailer commerce through innovative search and database management of its dealer network and ads for the public. Horse Trailer World has also lead the industry by offering the first smart phone application of horse trailer classifieds and were the first to push their horse trailer individual classified ads to Google search in 2005. Read the whole release…
Factory Review: Featherlite can pump out thousands of trailers a year, from horse trailers, cargo trailers, car haulers, NASCAR race trailers, specialty semi trailers, helicopter pads and portable emergency rooms for events like Katrina. Featherlite was the first aluminum specialty trailer born in 1973 when I was sophomore in high school. Featherlite started the trend in1985 with torsion axles, ahead of the crowd. Better ride than leaf springs and safer. See the models and features being built
Automated Safety Hitch, Joe Jamieson thinks towing is an evolutionary process, should improve issues of safety and ease of use. Now with thousands of miles towing with the Automated Safety Hitch, I understand it's importance and fun. I can take my rig, which at times is 72 ft. long, weave in and out of hotel parking lots, gas stations and switchback mountain roads. The braking steer axle makes it quadra-steer. The four features that standout the most using this new trailer technology is, improved braking, lane to lane direction changes staying in your lane (turning corners,) stability and jackknifing with purpose. The rest of the review…
Trailer Roll-Over Stops Traffic in Denver
Actually, all the commotion is a display at the National Western Stock Show, Denver Colorado. Ever want to see how a trailer is built? Transwest Truck Trailer RV turned a Cimarron trailer on it's side.
You can see what the floor and roof are made of. Experience the action January 7-22, in the Hall of Education booth # H429  Transwest Truck Trailer RV
Towing with 2011 Toyota's, Cimarron and Titan Trailers Tundra full size 1/2 ton is a top towing truck in it's class. Towing ability is the hidden equation with most trucks. Marketing departments keep the public confused on how much trucks can tow by bragging about a trailer towing weight and then in the fine print explaining that weight is only for a 4×2 regular cab.
Finally there's hope comparing truck models towing ability. SAE (Society of Automotive Engineers) has established towing standards that go into affect 2013. Toyota takes the lead with tow ratings, being SAE J2807 standard compliant on all 2011 models already. With the price of fuel you may need an oil well above or a load of hay to ride your horse to Starbucks. We tow Cimarron and Titan trailers with 2011 Tundra and Tacoma.  More…
Eureka! Saddlematic 
™ Revolutionary Motorized Saddle Rack. Finally you can stop wrestling your saddles in and out of your trailer and lifting them over your head. Saddlematic will bring your saddles to you. New electric model and a swingout for your rear tack. See the whole story and how they work. Click here…
Cimarron's New EZ Angle Hay Rack Ladder Do you use your hay rack? Most horse trailer rack ladders are not easy to climb nor are they very heavy duty. Cimarron knows how to make ladders that don't bend or flex, one of the best factory hay rack ladders in the business. You can lift your bales, gas can, bags of feed and spare tires right up the ladder. Having the ladder pull away from the trailer at 22 degrees makes it less work. It's hard to climb straight up a barn style ladder. More….
Merhow Horse Trailers, More than 50 years of Horse Transportation Experience and a Warranty that Tops the Industry. It's the Heavy Duty solid horse trailer, a 50 year old plus company with design, style and structural integrity. That's why it's still around.I revisited the Horsepitality Company in 2010. Surviving the Great Recession, Merhow is still selling all the trailers they can build. Quality trailers, with very low warranty issues even though they have one of the longest warranties in the horse trailer business (eight years.) Dave Elchert bought the company in 1989, and believes that making happy customers make happy horses. Read the review…
2010 Heavy Duty Shootout Comparison
It's time again for our truck shootout. Every couple of years, we have enough all new trucks in a category to compare. Of course it's with trailers, towing up 7 and 16 % grades, drag racing the 1/4, testing brakes, exhaust brakes, grade shifting and fuel mileage. It's a long report with details, graphs, charts and journalist assessment. If you want to know how to judge a truck to tow your trailer, here is the guide on new trucks. The whole story….
Step Above trailer ladder. I've said it before, most folks don't use their hay racks. Mainly because it's too hard to get to. A big share of factory hay rack ladders don't cut it. Too narrow, flimsy or just plain scary.Step Above is a slide-out aluminum ladder that makes the roof of your trailer an easy trip and safe. Having the right angle slanted away from the trailer takes the work out of climbing a ladder just like your step ladder you use around the house. Step Above slides out to the ground, just the right slope for climbing. More…
GanderLock, when you're serious about Protecting your Gooseneck Trailer and TackProtect your trailer as well as your expensive saddles, bridles, tools and flat screen TV.Goosenecks are different from bumper pulls, if you just lock the coupler, the thief's loosen the set bolts, slide out your adjustable coupler and put their own back in and away goes your investment. Think about what happens when your trailer gets stolen, arguing with insurance companies, banks and the police.  I've been lucky not to many things stolen, but when it happens it makes you sick.  Read  the Review…
Blue Ribbon Trailers started manufacturing stock trailers in Oklahoma, with the addition horse trailer models; they quickly out grew that facility. In order to produce a full line of horse trailers with living quarters, Clint Leonard decided the most cost effective means would be to move the manufacturing to Ohio. Suppliers were closer, with aluminum extrusions produced less than a mile away, rubber mats of course coming from the rubber capital, Akron Ohio close by. This was the perfect scenario for the hands on approach Clint was looking for producing top of the line trailers. More….
Horse Trailer Review
Transwest Opens New Store in Kansas City! Kansas City, MO is the new home of Transwest Trailers second location.  Opening their doors in August 2009, they offer parts, service and cater to all your horse trailer & hauler needs with 160 trailers to choose from.
Standing out from the crowd to maintain product quality and customer service is what has made this company successful for the last 30 years. Transwest only carry a premium line of products: Cimarron, Logan Coach, Outlaw Conversions & Summit Haulers.  More…
Horse Trailer Living Quarters in Many Shapes and Sizes: Should you go truck camper and bumper pull horse trailer, RV towing a bumper pull trailer, a LQ horse trailer or even a Toterhome towing your horse trailer? There are trailer Living Quarter options with a  gooseneck with slide-outs for maximum room in your mobile home away from home. More…
It's official, Dave Smerchek, owner of Titan Trailer Manufacturing headquartered in Waterville, Kansas, purchased Logan Coach April 8, 2009.  Plans are to continue producing the Logan Coach brand trailers in the same town they originated in, Logan, Utah, as a division of Titan Trailer Manufacturing, Inc. This union will allow Titan to expand to the West and Logan Coach to expand to the East with an economic advantage in volume and transportation costs. Logan Coach is keeping their current dealer support team for a seamless transition to new ownership. Press Release….
MrTruck.TV presents this weeks video:
2009 Silverado Crew Cab, new 6-speed auto tranny tows a Logan Coach well in Rockies. Crew cabs are the new "mini" van with folding rear seats for hauling cargo inside and cup holders galore.  Factory option trailer brake controller, new for GM 1/2 tons, takes worry….More…..
Hybrid Air/Torsion Axle with 8 inches of travel, almost 3 inches of drop for lowering the trailer to load. It's a soft ride that will keep your horses fresh when you arrive at your next event. The whole story….
First time I herded Buffalo, I mean Bison and my first trip to Yellowstone, was a kick driving the all new 2008 Toyota Land Cruiser 200 series. The Land Cruiser was Toyota's first vehicle to the US back in 1957. he Cruiser, makes a great tow vehicle. The ride and handling is smooth, you're in a solid vehicle with very little outside influence like wind making no difference with a heavy 5690 lb curb weight. The Land Cruiser has the tightest steering I can remember. This makes driving fatigue go away. Rest of the review….
Old Guard 2007 GM trucks and Sundowner, New Kids on the Block Toyota Tundra and Lakota.
GM has the trucks that have towed horse trailers for close to a century back before the Apache model and Toyota has towed horse trailers since the T100, 7 years ago. For the trailer team we have the new Lakota aluminum trailer, that I first saw at last years All American Quarter Horse Congress in Ohio, with their HUT bumper pull LQ. Then there's Sundowner's most popular trailer, the SunLite 727,  with a proven track record. More….
Logan Coach unveils it's new 6′ slide-out and new step for it's Prestige Living Quarters horse trailers at the Western States Horse Expo. More on Logan Coach…
Available on XT and XTR
New Truck Repair Technology comes to Horse Trailers
If you follow my articles, you know how big a fan of new technology I am. At the new Transwest Truck Trailer RV facility, is an awesome machine called a Road Simulator. Looks kind of like a dyno, but does use rollers to test brakes rolling resistance and balance.  Transwest uses it to test all their new horse trailers so they are ready for your roads. It can find just a torn axle seal leaking on the brakes. It would surprise you how many "new axles" on new trailers are over greased, limiting your trailer brakes ability.  With the kind of traffic we pull trailers in, testing brakes becomes routine. And worn suspension maybe be causing your rig to ….More….
Melissa's Horse Sense (Melissa Brawner)
Buying and Selling Horses at Auction. I walked up to the stall, circling the horse inside.  I put her on the definite possibility list.  My husband and clients looked at me as if I were a crazy person.  They saw a raggedy, thin filly that was full of burrs, rough feet, matted mane, and a huge gash on her leg.  I saw the beautiful fine boned face, the nice top line, the well rounded full hip, and straight legs.  The filly had a deep calm eye….More…..
Preparing for Foaling. Many of the horse industries have their mares foaling as close to January 1 as  possible to get the size and maturity needed for their sport.  This results in many "Decembuary" foals, although most barns will never admit to owning one.  The arrival of foals is exciting, but can be heart wrenching and exhausting as well.  It helps to know your mares signs for foaling, have a foaling kit ready, and know when to call a vet.  More…
Finding a Good Farrier By Melissa Brawner;  Finding a good farrier can be a daunting task to say the least.  A good farrier is in high demand, and usually commands top dollar for every service performed.  I  have lived in Fort Lupton about 8 years, and  have gone through 6 different farriers.  We had one that couldn't handle a horse, and with every move the mare made, he belly kicked her or slammed her with a rasp.  We had a few that were fantastic, and then just disappeared into thin air, never to be…. More…..
Horse Trailer Review
Introducing Horses By  Melissa Brawner One of my favorite things about having 
our farm, is that I get to introduce children to horses.  There is something magical about seeing a huge horse and a tiny child together.  It can be a bit scary for both the horse and the child initially, but the end result is worth every second of the…  More…
Introducing our horse editor, Melissa Brawner. Enjoy her educational articles sharing her experience raising horses in Colorado.The first article is about "Starting Foals." "Beginning basic training sounds a bit extreme with a foal, but it is… The foal learns to…..
Heavy Duty Pickup Trucks, New Race. The Year of Emissions.
The excitement builds with each jet ride to the next new truck media launch, biggest year I can remember for major truck changes. Most of it brought about by the new low emission laws for diesel engines that began January 2007. GM totally redesigned the whole truck. Ford has the most mechanical changes with a new nose and diesel engine, Dodge changed the diesel for the new emissions law and reintroduced it's chassis cab model. More…
Michael Terry Receives Distinguished Outstanding Member Award: (March 1, 2011 – Topeka, KS) The National Association of Trailer Manufacturers (NATM) presented Michael Terry, Cimarron Trailers, Chickasha, Okla., with the NATM Outstanding Member Award Thursday, Feb. 24, 2011, at the Awards Luncheon during the NATM 23rd Annual Convention and Trade Show in Albuquerque, N.M. The Outstanding Member Award is presented each year to an individual who has made significant contributions to the trailer manufacturing industry.Terry has been active in NATM since its inception in 1987. He was one of the eight trailer manufacturers at the first meeting in Chickasha, Okla., Sept. 22, 1987. Terry was elected as one of the founding members of NALTM (National Association of Livestock Trailer Manufacturers) and was immediately elected as the first…. Read the release…
Now there's help for the short-short beds. New from PopUp, the SB116. The long short bed solution. It's "16" inches of extension. Before you loose your pickup trucks rear window or worse, check out the solution. Shortbed trucks are the most popular. But the trailer manufactures don't know it yet. Finally backup with the tailgate down and without hitting the propane tanks. More…
The Horsepitality Company. Starting in 1955 , Merhow expanded to three trailer lines with the latest in trailer technology and popularity. From aluminum over steel trailers to all aluminum. Known for quality, Merhow is a trailer your grandfather can tell you about.  Merhow's factory is in Northern Indiana, right in the middle of RV country next to the largest suppliers and many conversion companies.  More…
Logan Coach review, Logan built steel trailers and then in 2004 they added the XT & XTR aluminum skinned horse trailers as consumer demand for aluminum skin trailers grows. I toured the Logan factory, seeing new innovations I hadn't seen before. Like the rod on the drop down windows that you can easily reach no matter what your height is. Even the slam latches on escape doors (right) are lower than I've seen on other horse trailers….More…
Eureka! Saddlematic 
™ Revolutionary Motorized Saddle Rack. Finally you can stop wrestling your saddles in and out of your trailer and lifting them over your head. Saddlematic will bring your saddles to you. See the whole story and how they work. Click here…
Hart horse trailer factory review: Hart's take serious just how well their trailers are built. It is their name on each trailer and that makes them particular. Truly impressive the extra reinforcing that goes into the trailers, and most of it is covered up with trim so you don't see the extra gussets, fishplate and camber bar in the frame. On the other hand the radius corners, smooth lines and beautiful welds make them seem like art. More…
The world is a better place because Henry Ford decided to quit working for Thomas Edison and struck out on his own to invent the first assembly line. Cimarron Trailers carries on the American tradition of starting their own company to prove they can build a better custom progressive horse trailer. More…
Cimarron Custom Horse Trailers, New Thinking, Strength & Beauty!
Electricity, far from the City … And everyone else. By: Hosspuller Once upon a time, horse camping meant a canvas tent to keep from getting wet and a saddle for a pillow. Today, horse camping means a horse trailer rig with all the features of … home.   Electricity makes a person comfortable, at home and at camp. The opposite is also true; electricity can make a person dead, at home and at camp. This article is about your camping rig operating on 120 volt AC current and a Ground Fault Circuit Interrupter (GFCI or GFI).  Enjoy the Read….
Big Bison Stratus, a 16′ short wall with a 12′ slider that's flush with the floor. One of those great values in the horse world. I towed the aluminum 4 horse with a GMC C4500 and smiled all the way. When you're not taking it to horse events, you'll take it on vacation. More…
Cimarron introduces new Triple slide Living Quarters Horse Trailer at the All American Quarter Horse Congress in Ohio Check out these pictures. It also has an enclosed hay storage and sleeping loft. Not much it doesn't have. Quite a show stopper, this is one I could live in. More…
Hawk Trailers review. The first thing that sets Hawk apart from the crowd is the brilliant paint scheme. Such sharp looking trailers with matching finders, roof edges and graphics are painted on not decaled on. Hawk can even match the paint on your truck. The personalities behind Hawk Trailers have a vision for the future and a More…
Brenderup Baron, Bigger, more room and still will save you gas. These days we all want better fuel mileage towing our trailers. Even if fuel prices go down, we know they'll go back up. Brenderup is the easiest towing horse trailer I've found. Designed to be towed with cars in Europe safely. Brenderup is a remarkable horse trailer, with the chassis coming from Denmark and the walls and roof made in Texas. Horse Trailer Review…
2004 Infinity QX56 SUV & Hart aluminum horse trailers are both upper scale and make a good looking couple. The new 2004 QX56 is the first Infiniti model assembled in North America. Hart Medallion aluminum horse trailer reminds me of the beautiful sheet metal on Audi's and Porshe. Also in this review are Tow-N-See extended mirrors Much more..
Horse Trailer Review
Hart horse trailer review: Hart's take serious just how well their trailers are built. It is their name on each trailer and that makes them particular. Truly impressive the extra reinforcing that goes into the trailers, and most of it is covered up with trim so you don't see the extra gussets, fishplate and camber bar in the frame. On the other hand the radius corners, smooth lines and beautiful welds make them seem like art. More…
Safr Horse Trailers fill the void left by Brenderup for fuel saving trailers: Why not build a trailer to be aerodynamic, lowering wind resistance to improve fuel mileage and using the air to stabilize the trailer. It should be a priority with trailer manufactures now and if not now when, when fuel is $10 a gallon? It's about function not just beauty.  It's time to change the way horse trailers are designed.  And handling should be a design function. Safr Trailers tows similar to Brenderup's design with no sway. More…
New Model 9415 horse trailer includes standard side ramp. Featherlite – Outfitted with a side ramp for easier unloading, the new Featherlite Model 9415 all aluminum bumper pull horse trailer was designed especially with hunters and jumpers in mind. "For horse owners who prefer to have their horses walking forward … More…
Reviewing Brenderup Horse Trailer and Trimax Trailer Coupler locks on Quadrasteer Tour Part 5. Brenderup from Northern Europe has sold for over twenty years in this country. Are they safe for American horses? It's a long detailed review, don't miss it, Read Horse Trailer Review ….
Brenderup Horse Trailers, find out why I call them remarkable. Imagine towing a trailer that you can't feel. How about not needing a trailer brake controller, no safety break away switch & battery and no sway. Now add easy loading and a light tongue weight that allows more size options for your tow vehicle. Brenderup, close to25 years of being built in Texas, is the most popular trailer design in Europe where they started in the fifties. They 
come in one and two horse models, with optional dressing room and tack room. Check out my detailed report and find out if they are safe for American horses.   More details…
The Quadrasteer Adventure Tour Part 1, Towing a Horse Trailer at 14,000ft.  Extreme Towing I. Read my first article in the series and see what your missing.  Also Reviewing a Logan Contender Steel Horse Trailer. More….
Hemi Durango review, Hart Miniature Horse trailer, along with Ice Driving School and Red Rocks. Read More…
The Flip-Over Ball gooseneck hitch converts to a smooth bed in seconds. Just rotate the handle and Flip the ball over. In seconds you can have a level bed for all those jobs when an ordinary hitch ball is always in the way. No fabrication or welding. Installs with truck bed in-place. 30,000 lbs. Trailer. 7,500 lbs. Tongue. 100% complete, More…
Cushion Glide Coupler You've probably guessed I like technology that makes life easier. What else is science for? Here I review a couple products that are well made in America and make the trailer trip easier on your horses and easier to get on board the saddle especially for 2 broken knees like mine. E-Z UP LegSaver (right picture) Click for the More…
Stop tire cupping, vibration and premature wear on those expensive truck, RV & trailer tires. Centramatic automatic wheel balancers have been saving money on tires for semi-trucks for over twenty years. Now you can automatically balance your tires, wheels, hub and rotors or drums while you drive. A balanced tire doesn't cub, vibrates less & lowers the tire sidewall temperature from less flexing, giving you longer tire life. 5 year warranty, made in the USA. More
MrTruck's Top Picks, Truck, SUV & Trailer Accessory Store, ENTER
Call 303-883-1300
Click for Trailer Reviews from HorseTrailerWorld.com
More towing info at MrTrailer.com