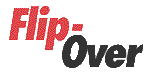 Flip-Over Truck model chart below Now with FREE Shipping
Ball For your Gooseneck Hitch
Recommended my "MrTruck"
Invertible Gooseneck Hitch Ball  Buy Now $541  Model chart below

Great Hitches, the ball stays in place
Popup Flip-Over Gooseneck Truck Hitch: In the seventies, I wrote articles about needing the gooseneck ball 5 inches in front of the rear axle for proper steering weight so your truck didn't wander. Now with crew cabs and extended cabs, the truck frames are longer and 2 inches in front of the rear axle works. This helps with short beds. Popup places the ball 2 inches in front of the rear axles. The other guys are 5. Popup Flip-Over Ball also has a round shank, so it can rotate without a trailer and stay freed up. The other guys have a square shank and can stick or freeze up if not lubricated regularly.
The Flip-Over Ball gooseneck. Just rotate the handle in fender well and Flip the ball over.
Hassle-free retaining pin mechanism.
2-5/16″ ball rotates in socket for extended life.
Stainless steel retaining pin and spring.
Includes spring loaded safety chain anchors.
Bolt-in installation with only a 3-1/2″ hole in truck bed.
Installs with truck bed in-place.
30,000 lbs. Gross Trailer Weight.
7,500 lbs. Gross Tongue Weight.
100% complete..
Hassle-Free, FREE Shipping Buy Now $541 Model chart below  Buy Ford 2017-2020 F250-450
The Flip-Over Ball is not only easy – it's hassle-free. The ball socket is machined from a solid piece of high grade steel to insure strength and years of service. The retaining pin is machined from stainless steel so it will not rust and seize. The pin is held securely in the locked position by a strong stainless steel spring. When the actuating rod is rotated 90 degrees a cam retracts the retaining pin to its open position so the ball can be inverted. When the actuating rod is returned to its locked position –  the retaining pin securely locks the ball in its socket. extending ball and coupler life.
Since the ball base is round, it stays easy to pull out of it's socket by hand when disconnected to switch ends and have your truck bed floor to use again. I'm seeing a lot of folks switching from 5th wheel couplers to gooseneck ball couplers because of the ease of use and being able to use the truck bed without wrestling the 5th wheel coupler out of the bed.
Popup Flip-Over truck gooseneck hitch: Designed and Built for Strength Order Now
Front and Rear Cross Members are fabricated from 2″ X 2.5″ X .375″ angle. (1″ X 2″ steel bar is used for the Front Cross Member in Dodge and for the Rear Cross Member in new body style Chevy and GMC Silverado/Sierra.) Cross Members span and sit on top of the truck frame, thereby transferring all trailer tongue weight directly to the frame of the tow vehicle.
The hitch Center Section, containing the Flip-Over Ball hitch ball mechanism, is fabricated in a 24" long channel formed from 0.25″ steel plate. The Center Section assembly is trussed to accommodate extreme vertical and lateral loading. Bolting the Center Section in place between the Cross Members creates a vertical load capacity that greatly exceeds the maximum rear axle load rating of the pick up trucks Flip-Over Ball hitches are designed for.
Flip-Over Ball Frame Plates, which secure the hitch to the tow vehicle, bolt to the Front and Rear Cross Members and use existing frame holes in the web of the frame to bolt to the outside of the truck frame.
Flip-Over Ball hitches are designed and built to provide years of trouble-free service The cold-finish steel hitch ball is plated with bright yellow chromate.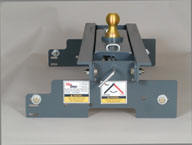 FREE Shipping Flip-Over Ball Model Chart below  $541 Order Now
Just rotate the handle and Flip the ball over ~ Ball is free to rotate in socket for less wear ~ Doesn't rust in place. Installs without lifting bed. Comes complete with all mounting hardware.
Flatbed weld-in kit for all trucks $238 order now
Model 200  Installation instructions  Flat Bed Weld-In Kit
MODEL
TRUCK
YEAR
WEIGHT
200
Flat Bed Weld-In Kit

all

n/a

208

Ford Super Duty

4×4  F250-F350 

4×2-4×4 F250, F350, F450

1999-2007

2008-2016

See 5 below

211

Ford Super Duty

Super Duty  4×2, 3/4 ton 1 ton
1999-2007
F250, F350
210

Ford

Classic Body Style Long & Short Bed
1980-1998
F150, F250, F350
220

Ford

Ford F150
2004-2014
F150

221

Ford

Ford F150
2015-2018
F150

207

Chevy-GMC

1500  all bed lengths
2007-2011
1500
213

Chevy-GMC

Long Bed 1/2 ton

3/4 and 1 ton

1988-1998

1988-2000

1500

2500-3500

218

Chevy-GMC

For trucks with 2 bed braces over axle
With 1 bed brace over axle use 228

2001-2007

3500

228

Chevy-GMC

1/2 ton

3/4 ton

1 ton

1999-2006

2001-2010

2007-2010

 1500

2500

3500

238

Chevy-GMC

3/4 and 1 ton

2011-2016

2500-3500

240

Chevy-GMC

3/4 and 1 ton
2016-2017
2500-3500

227

Chevy-GMC

1/2 ton
2012-2018
1500

216

Dodge

1994-2001 Dodge Classic body style2002 Dodge Classic Body Style

1994-2001

2002

1500-2500-3500

2500-3500

219

Dodge

Dodge RAM Boxed Frame 1/2 ton

Dodge RAM Boxed Frame 3/4 & 1 ton

2002-2008

2003-2012

1500

2500-3500

229

Dodge

Dodge Mega Cab

2006-2008

2006-2012

1500

2500-3500
217

Dodge RAM




Dodge RAM  3/4 ton and Mega Cab




2013




2500


318

Dodge Ram




Dodge RAM 3/4 ton only

2014-2018

2500

317

Dodge Ram

Dodge RAM 1 ton

2013-2018

 3500
239


Toyota Tundra

Toyota Tundra
2WD and 4WD includes Crew Max

2007-2018

All bed lengths
1 Models 210, and 218 require drilling in truck frame.3 Model 216 fits only Classic Style trucks and will NOT fit 2002 1/2 ton trucks.

5 Model 208 fits 2008- 2009 F-250, F-350 and F-450 series trucks with factory bed, 2WD and 4WD, also fits 99-07 4WD Super Dutys, all 2011 SuperDuty F250 and F350.

6 Moves ball 2″ rearward from 218 position fits 1999-2008 2500HD series, 2007 3500HD series trucks

Fits 2007-2009 3500 series, DOES NOT fit earlier 3500series trucks

Patent Pending
Popup 2 Gooseneck Truck Hitch
Also see our RV 5th wheel Extensions and Shortbed Gooseneck Adapters
Bumps be gone!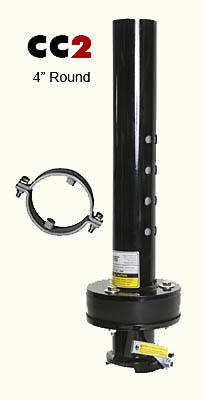 Pulling a trailer with this coupler is like riding on a cloud. It absorbs up to 59% of the bumps, jolts and jars that make towing hard on you, hard on your cargo and hard on your equipment. Simply swap it out with the coupler on your gooseneck now – and, Walla! Instant gratification.
More Info….
Popup Flip-Over Gooseneck Truck Hitch: NEW and Improved
You're going to love this newly redesigned PopUp 2 Hitch. Smoother acting and trouble free.  We've made the best hitch even better.  One pull of the handle to raise the ball is all it will take to convince you that this is the hitch you want.  Try it and see. We've replaced the cam mechanism with a simple yet strong and reliable wedge slide to raise and lower the ball.  Simply pull the rod to raise the ball and push to lower it from the wheel-well of your truck.
More info….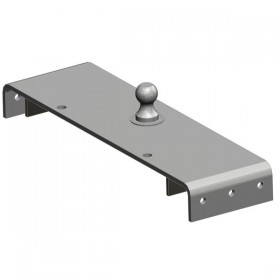 Semi-truck Gooseneck chassis ball, 45 K trailer capacity. Buy Now
Semi-Truck Gooseneck chassis ball, 30K trailer capacity. Buy Now
Popup short-bed truck gooseneck extension to save your trucks rear window!
Pickup Truck Reviews and Comparisons
Comments
comments