---

Hot Shot trucks and trailers reviewed
H. Kent Sundling (MrTruck) Publisher/editor, David Sundling-video/camera, Kelsey McRobert Heil-journalist, Rick Vorce-social media/SEO: Published in USA, World HQ, Denver CO. Ph. 303-883-1300, email kent@mrtruck.net Founded 1999. Copyright © H. Kent Sundling, All rights reserved. Email for free reprint & picture permission. MrTruck Research, Trucks Trailers and Accessory Reviews.
Join us for 3 weekly RFD TV segments on Equestrian Nation with MrTruck: this week: The Fuel Box, truck tank
YouTube.com/MrTruckTV Celebrating our 17th Year, 1999-2017 with no government bailout money. "MrTruck's" Free Reports on Buying the Right Truck/SUV for You ! Pickup Truck Reviews,  Horse Trailer Reviews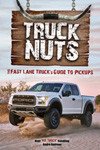 Safe, Secure Ordering, Questions on orders call 303-883-1300
We don't share your information
My New Truck-Trailer Book is out: Find out the answers to your tough truck decisions, a guideline to truck choices, new or used, diesel or gas, what trailers can you tow, teenage driving safety and much much more.  Click to order now at Barnes and Noble, Independent Book Stores and Amazon.  More on the book: TruckNutsBook.com
MrTruck Video Reviews
---
2017 Ford Super Duty Review, F350 Dually 4×4 trailering in the Rockies
 2017 Ford F350 Super Duty diesel crew cab Lariat review. Adaptive steering, Adaptive cruise control, 7 camera's, gooseneck ball, trailering RV Toy Hauler. Tall truck can you hook to your trailer an why are they so tall for 2017? My next project issue to change.
---
2017 Toyota Tundra Limited off-road
 Reviewing 2017 Toyota Tundra Limited Off-Road towing ATV's in Colorado. Loaded Tundra Crew Max 4×4.
---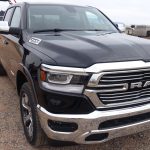 First drive in the all new 2019 Ram 1500
at Arizona. Cactus are tall and the boulders are big. The all new Ram is quieter, more fuel efficient with less vibration. Improved steering and handling. 12 inch touch screen will be the most talked about feature. Like a large tablet in the dash. Like a large tablet in the dash. New Rebel is more off-road worthy with best looking interior in my opinion. Tire track on the seats, red accent interior. Rebel steel progressive coil standard 1 in lift, air option 2 in lift.  Bilstein shocks with remote reservoirs. Now with Quad cab or the new longer crew cab.
More Ram 2019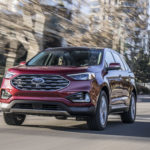 2019 Edge SUV: Ford begins introducing the coveted ST brand to its SUV lineup with the unveiling of the all-new Edge ST today, building on its best-ever SUV sales year in the U.S. The all-new Edge ST  Ford's first SUV to be tuned by the Ford Performance team  features the most powerful V6 engine available in its class with a specially tuned 2.7-liter twin-turbocharged EcoBoost® engine pumping out 335 horsepower and 380 lb.-ft. of torque. It's also outfitted for dynamic handling with a quick-shifting 8-speed automatic transmission, standard all-wheel drive with selectable traction control, an available performance brake package, and ST-tuned sport suspension…. More…
---
All-new 2019 Silverado builds on 100 years of Chevy Truck expertise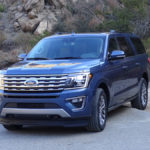 The new 2018 Expedition with the only engine choice, 3.5L Eco Boost V-6 twin turbo with 400 horsepower and 480 foot pounds of torque like the F150. The Platinum, top package gets a little more power out of the Eco Boost. New is the 10-speed auto like the F150 and aluminum skin like the F150. The EL package is replaced with MAX for the longer version. This gives you larger second row doors and sliding seats. Captain chairs will give you seat belts for seven, middle roll bench seats means seats for eight. The new 10-speed tranny is controlled with a knob, big knob. Read more….
---
Gen-Y Hitch Heavy Duty Hitch________________________________________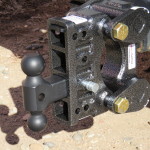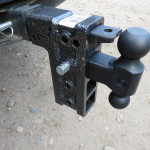 Gen-Y Hitch heavy duty adjustable drawbar for today's powerful trailering trucks: One company that has kept up with new heavy-duty trucks is Gen-Y Hitch. (//www.genyhitch.com) These steel adjustable, multi-ball, multi-height, pintle, weight distributing hitch is the highest trailer rated hitch I've seen. I own 10 adjustable receiver hitches. My highest rated hitch was 14,000 lbs. The one I'm using from Gen-Y Hitch is rated for a 16,000 lb. trailer with a 2 inch shank. For Class V receiver, 2.5 inch shank, trailer rating goes up to 20,000 lbs.  Newest hitch is the Torsion Flex Hitch that isolates how your trailer bounces verses your truck for a smoother ride.  Read the review….
---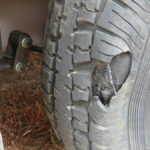 Tuson T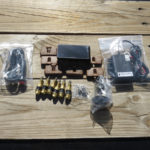 railer Tire Pressure and Heat Monitor: Trailer tires are the bane of my existence.  In the last couple of years, I've had 5 trailer blowouts. And each time I had bent trailer fenders, broke clearance lights and demolished license plates along with expensive trailer tires.   I found the solution, with tire pressure units inside the tires out of the way, just one repeater on the trailer to amplify the wireless signal to the truck and just a wireless receiver monitor in the truck cab. I can use itwith any truck or SUV, I trailer with.  Just unplug the cord from the cigarette lighter and put it in the next truck. It's very hard to find a tire pressure monitor system that goes above 80 psi. Tuson goes to 203 psi,  And it also shows the internal tire heat. Just like racing at  Indianapolis 500, you can know the tire temperature and pressure in real time. For the whole story click….
---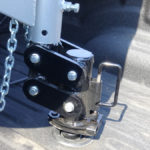 New from Gen-Y Hitch, Gooseneck Torsion Suspension Coupler 4 in. Round & Square. Now you can isolate your gooseneck trailer bounce from your trucks bounce. Improve your ride, with Rubber Torsion Hitches only 10% of the trailer inertia transfers compared to 100% using a hard connection hitch giving you the ultimate control. Greatly increased braking control since all the weight on the tow vehicle and trailer is distributed evenly giving you increased positive contact when breaking and maneuvering.  Read More…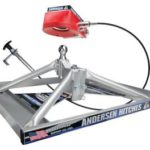 ---
Andersen 3220-Andersen Aluminum Ultimate 5th Wheel Conversion Connection 2-gooseneck version and 3200-Steel Rail Version. Take the cluck out of your RV trailer hitch, get a smoother ride and a easier to clear out your bed when not trailering. .….More info and order.
---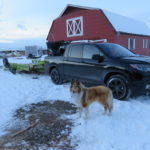 2017 Honda Ridgeline: Is it a truck? Yes, it's different though it may be the future of trucks. I see it as another choice in a crowed midsize category. The good: this new model looks more like a truck (maybe an El Camino) than the last Ridgeline. May not be a truck for a farmer or rancher, but could be a second truck and would fit lots of folks in town just needing a few trips to Home Depot or towing a boat. The new Ridgeline is a utility tool with a tailgate that swings down or to the side for ease of loading and a trunk under the bed that could be a hot tub or a weather proof storage trunk. The bed size is useful,  5'5″ long 50 in wide, the same inside with as a dually.  More….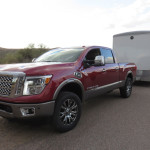 Big news doesn't happen in the pickup truck world very often. But Nissan has become aggressive after 12 years at the rear of Class one. The new diesel XD is Class one and a half. Blurring the line between 1/2 ton and 3/4 ton pickup truck, Titan XD should be on your shopping list if you need more than a half ton but don't need to tow a tank. The XD is set up with standard towing equipment. It comes with a Cummins 5.0L V-8 diesel, integrated trailer brake controller, factory gooseneck ball hitch, rear anti-sway bar, recirculating ball steering, towing mirrors and 10 ply tires. Sounds like a 3/4 ton. More……
---
Weigh-Safe _____________________________________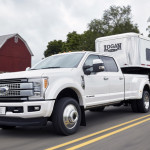 Ford introduces 2017 Super Duty trucks, setting a new standard in Heavy Duty Pickup Trucks: Yes 2017 truck models are finally revealed. I've seen them in camouflage on I-70 but now we know what they really look like. I can stop saying how ugly the Ford dually fenders are because they changed. Still has the round lip but behind that is a real boxy fender. The controversial 2015 F150 with the aluminum body is now on the Super Duty F250-350-450-550. Not just an aluminum cab but the same cabs as the F150 on regular, Super and Crew Cab. The Ford Super Duty was the largest crew cab 16 years ago but became the smallest of the Detroit Three. The Ford F150 grew with a large flat floor under the second row and larger front doors. Ford saved some money and now uses the same cabs on all their trucks. This made the Super Duty crew cab 4 inches longer and it's taller. More….
---
Travel-N-Corrals_______________________________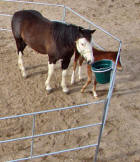 Trail riding and Travel N Corrals go hand in hand. Easy to take with you, easy to setup. Horses tied to a trailer for hours can cause problems. Keep your horses relaxed in a roomy corral as you enjoy the great outdoors between rides. Sleep well at night with your Travel N Corrals placed where you want them and in plain site of your bedroom window. If you go to high school rodeo's, you will see portable corrals everywhere. Families enjoying each other and security for the horses when everyone is running…..More….
---
DirecLink Trailer Brakes_____________________
---
Popup Hitch_____________________________________
Saddlematic

_____
_______________________________
Eureka! Saddlematic ™ Revolutionary Motorized Saddle Rack. Finally you can stop wrestling your saddles in and out of your trailer and lifting them over your head. Saddlematic will bring your saddles to you. New electric model and a swingout for your rear tack. See the whole story and how they work. Click here…
EZ-Connector New Truck Install______________
Comments
comments