Next New Project Truck, 1994 Dodge 1500 4×4 Shortbed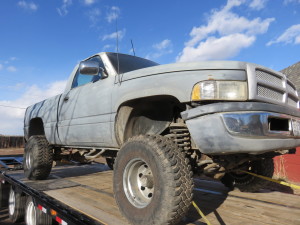 A yard full of old trucks, this one I'll get running sooner. It has a 318 v-8, 4×4, 4 in. lift, 3 inch body lift. I've always wanted a lifted truck. This is the first year of this body style. Bob Lutz whom just retired from GM was the big cheese at Chrysler in the eighties. He thought the current Dodge trucks looked too much like sedans. So he had the designers build something bold. Which it is, big fenders and a narrow semi-truck looking hood. It has 5 link front suspension with coil over shock front suspension with a Dana 44 axle, vacuum activated front hubs. Spicer rear axle and a much improved stronger bed.
This truck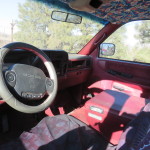 spent most of it's life in New Mexico so little rust. But the heat did yellow the plastic. The auto tranny is an upgraded 46RH. That's the biggest problem. The guy I bought it from, rebuilt the tranny and reverse is missing. So we'll overhaul it again. Has headers, a Superman comic headliner, 40-20-40 seat, my favorite and moon mirrors. The tires of good BFGoodrich mud tires 33x 12.5 x 15. The largest that would fit the fenders. We'll be doing video's with this truck and challenge TFL truck on Gold Mine Hill. The 1994  Dodge 1500 was Motor Trends "Truck of the Year."
Dodge Ram 1500 restore project on MrTruck
 You Tube video: New project truck, restoring a 1994 Dodge Ram 1500 short bed 4×4. Motor Trend Truck of the Year for 1994. All new truck with the bold look that Bob Lutz asked for. We bought a truck on Craigs List from someone going thru a divorce. Now we are going to make a Raptor Hunter, or at least a fun off road truck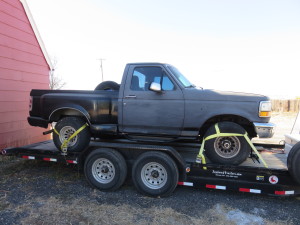 New Project Truck: 1992 Ford F150 Flareside 4×4, traded straight across for the 1970 C10 Chevy. Had a water leak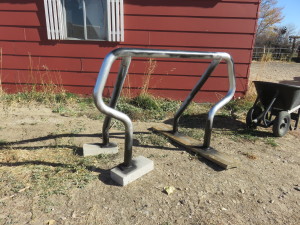 on the back of the 350 engine. So I'd have to pull the Chevy engine and fix it. The Ford F150 has a weak engine but came with a second 5.8L V-8 and spare bed and fenders. So now I'm back to working on engines again. But this F150 is a good looking sport truck short-bed 4×4 flareside. I've always wanted one of these. The fenders and running  board are fiberglass. I'm going to spray the truck with bedliner. We'll make it into a tough off-road truck. Bought a roll bar and am looking for a bull bar.
Besides being cool ballast for my tilt trailer when reviewing new trucks, seventies Chevy 1/2 tons are fun to fix up. My youngest son and I have the same year C10, both 350 cu V-8's, both long bed 4×2, mine is a 4-speed auto 700R4 and Eric's is a three on the tree.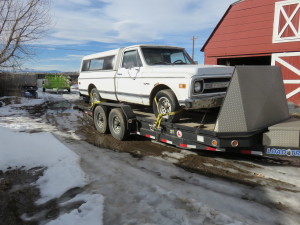 A good restore project has the drive train working so you just have some body work to finish. My truck had the engine mostly together with rebuilt heads. Sowe just have to add the carburetor, hook up the alternator and time the distributor. We put new spark plugs, it's looking like we may use a rebuilt Edelbrock carburetor. Headers are there, just need new gaskets. Truck has dual exhaust behind the headers. Truck came with a new seat cover, only one crack in the seat. Aluminum topper will have to come off. It's interesting having 4 corner coil spring suspension. Apparently Ram is not the first to use all coil suspension. We may put air bags all around. Now it has air shocks on the rear.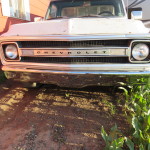 Front bumper had some wrinkles, so we replaced it. Painted the headlight bezels black and outlined the "Chevrolet" in the grill. I've ordered a new dash pad. It's amazing how easy parts are to get for these classic Chevy's. Previous owner replaced the front hubs with a 72 Chevy to get front disc brakes and swapped the rear axles with a 72 so all around we are now 5 bolt instead of 6 bolt wheels. Previous owner also changed out the steering column, now it has tilt wheel.
The wheels were a different problem. Aluminum wheels but oxidized bad. So we cleaned them up, primed them, painted glossy black and then clear coat. They look good, bought some cheap beauty rings and it's a master piece that cost less than $50.  Now I will get a new front right fender as that's the worst of the sheet metal. The truck came with a engine dress up kit so I'll have chrome valve covers with the hand screws, thermostat cover and dipstick.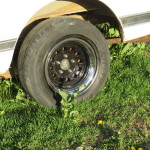 The gentleman I bought the truck from is sending me the adjustable alternator bracket and power brake boost line. Once it's running, I'll buy new meats and get my 5 year classic plates. Next it will be a year of body work, new floor pans, windshield and paint. I want flames. No emission junk,  just a pure truck lots of metal, metal dash, metal door inserts and vent windows and rain gutter above the doors. Then me and ma can go to Sonic on a Friday night and tell lies with the other classics.
Comments
comments