So much truck news going on this year and next year. I've already drove and towed with the 2019 Ram 1500. I've had the 2018 Ford F150 diesel for over a week, we'll cover that in this review. Next month I'll be in Wyoming driving the 2019 Silverado 1500 and the end of August, in Canada driving the 2019 GMC Sierra. First though, I've reviewed trailer tires and now truck tires. Cooper sent me the all-terrain Discoverer A/T3. I call it the no tariff tire because Cooper is one of the two tire companies headquartered in the US and built in the US. , Cooper has been around since 1914. This is a long term review, so I'll report back on how the tires do in mud and snow and how well the 5 rib deep wide channel cleans out and gives traction. Also I want to know how long they last. The ribs have grooves on the outside and of course sipes.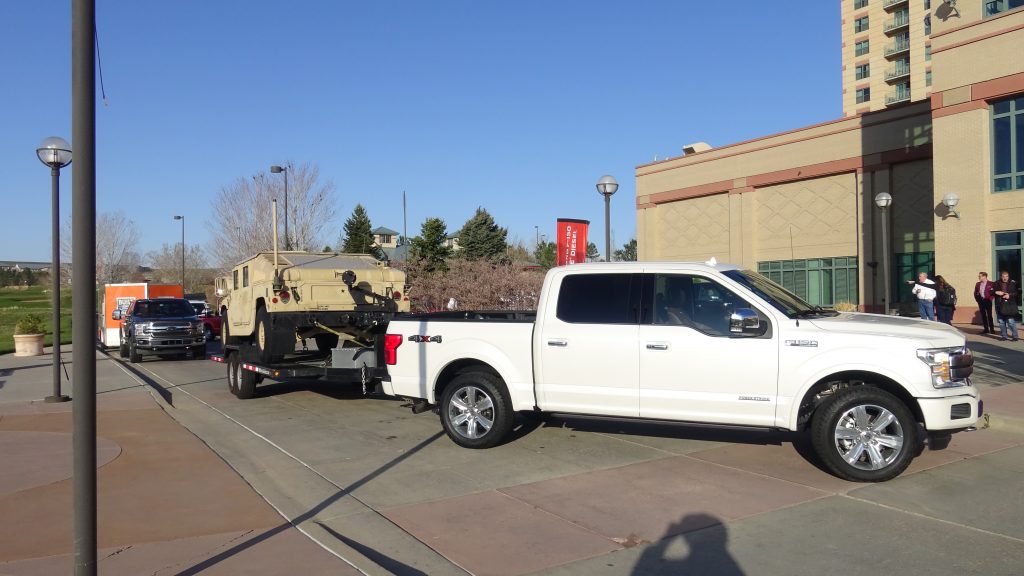 The new 2018 Ford F150 diesel has some surprising rpm and tow/haul mode characteristics I haven't seen in a diesel. In the Ford Super Duties with 6.7L diesel in tow/haul mode, braking or towing downhill will down shift the transmission to slow you down. The diesels will only downshift if there is enough RPM band left to not go over redline around 3500 RPM. GM Duramax  diesel will defuel and go up to 4000 RPM's with downshifting in tow/haul mode. Ford Super Duty and GM Heavy Duty diesels in the last couple of years will even continue to slow down after down shifting. To protect the engines, if there isn't enough RPM band to down shift, will upshift to lower the RPM's to a safe range. This of course means you have to use your brakes to slow down until the transmissions can safety downshift.
The new F150 diesels are programmed differently. When I helped TFLtruck test the truck on I-70 towing a trailer weighing 8700 lbs. at 11,000 feet from the tunnels to 8000 ft near Dillon in tow/haul mode going down hill, the F150 when I braked, downshifted twice getting the RPM's up to 4500 RPM's. And that worried me the engine spinning that fast. Talked to Ford and they said that was no problem, it was designed for that. So now I have to get used to grade shifting twice when braking with a load. They didn't tell us that at the media launch earlier this year. I guess with no fuel coming in, it's just an air pump. I think that's Fords strategy is to hold high RPM's while grade shifting to slow you down without an exhaust brake. I would prefer an exhaust brake. But in light duty trucks, it's not common to have exhaust brakes such as Titan XD with the 5.0L V-8 Cummins diesel, Ram 1500 Eco Diesel  3.0L V-6. But ironically the GM midsize Colorado and Canyon with diesels, do have an exhaust brake.
I've decided I need to think about the new light duty diesels differently than the heavy duty diesels. When you get in a Ford F250 Power Stroke, or a GM 2500 Duramax or a Ram 2500 Cummins empty, they are race cars. Loaded they are still remarkable. When you get in a 1/2 ton or midsize diesel, they accelerate OK empty but with a full load, are not remarkable. Looks like the goal is 30 MPG and not speed in the light duty diesel segment.
Fords new 3.0L V-6 diesel has 250 horsepower and 440 torque coming with a 10-speed automatic. Max payload 2020 lbs, max trailer 11,400 lbs, as this Lariat was equipped with 4×4 and Super Crew, MSRP $68,820. At altitude, max trailer is 8700 lbs at 11,000 ft. To town and back I got 25.3  MPG. Trips to town showed 18.1 MPG towing with small trailers. The rear axle ratio was 3.55.  Good news about the light duty diesels, is they cost less than heavy duty diesels. The 3.0L Ford Baby Power Stroke in the F150 only cost $2400 more than the popular 3.5L Eco Boost gas engine. So payback with fuel savings will take less than half the mileage over a Super Duty with a diesel. The trend I don't like with truck manufactures is premium engines like a light duty diesel or premium gas engine, can only be bought in the high end models. The 3.0L Ford F150 diesel can't be had in an XL or XLT , only if  you are a fleet.
Comments
comments