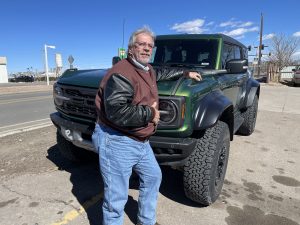 The 2022 Ford Bronco Raptor, a big off-road super truck! It even looks impressive. Big fenders, taller and 10 inches wider than a standard Bronco. The tire track is 8.5 inches wider. Ground clearance is 13.5 inches. And on the highway it glides like a Cadillac. You can adjust everything. The Fox Live Valve shocks can adjust on the go as well as have settings to click off-road, rock crawl, Baja etc., with the long travel suspension. The steering is adjustable for highway, sport, and off-road. Exhaust sound is even adjustable if you don't want to wake the neighbors at dawn on the way to the mountain. Or sport and Baja to get noticed. I reviewed the 4 door model with removable roof sections and doors to get the open air feel. And a pouch to put the doors inside out of the way. The side mirrors are out of the way when you take the doors off to always have mirrors. Extra toggle switches for winches, fog lights etc. this model came with everything you could want including Rigid fog lights. Big tires, 37 inch KO2 off-road tires with exchangeable bead locker rings. Made for off-road with front bash plate, almost compete coverage under carriage with skid plates. Even the front bumper end caps are removeable for better approach angles. Locking front and rear locking axles, even a button to lock the inside rear tire, for turning tight corners on switchbacks. 
Power plant is a Ford 3.0L twin turbo V-6 with a 10-speed, that feels like a rocket. 418 horse power, 440 torque in this model can tow 4500lbs. The highest for a Bronco. Payload is 1100 lbs. Has the same clearance lights as the F150 Raptor due to rules for being over 80 inches wide. Headlights are special LED's. At night the Bronco looks cool. I may have to use it to pickup chicks or chickens. The Bronco Raptor does bring in a crowd when I buy gas. The Hummer H2 was like that and the new Bronco when it came out a couple years ago. Besides awesome graphics on the Bronco, it has useable fents on top of the hood and shark gills on front fenders. So many features on the Bronco with paddle shifters, a removable running board that converts to a rock rail, rollbar, marine grade vinyl seats for a weather proof interior if you do take the doors and top off. Twelve inch center stack touch screen. Sound deadening headline help some, but the first say I drove in the wind I could barely could hear my phone and radio. On a calm day like we don't have in Colorado anymore, it was dramatically quieter.
I did pull 2 horse Cimarron aluminum trailer from Transwest. It was less than 3000 lbs. Easy tow, I don't see a problem towing 4500 lbs. Upgraded rear axles from a Dana 44 to a Dana 50, like most of the components are beefed up. Much of the internal trim is Carbon Fiber, which explains why all that and only $80,000 MSRP. Soon you can order 2023 but they will sell out for the whole year fast. If you want fuel mileage, it's only 16 mpg on the highway. I got 15 mpg most of the time.  Orange seat belts sure show up in my Video's.