Another New Diesel Truck Changes a Segment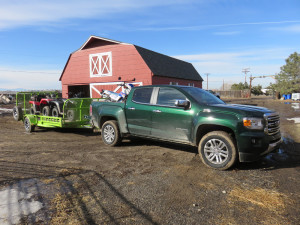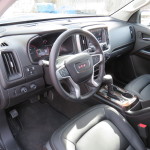 We waited a long time for light duty diesels, now GM midsize trucks are the latest converts to compression ignition engines. And they are selling like hotcakes. The media truck that showed up in my back yard is a 2016 GMC Canyon, badged as a Duramax diesel. Not sure it's related to the Duramax as it's made in Thailand as a GM world diesel available in GM vehicles around the world. This 2.8L 4 cylinder diesel puts out 181 horsepower and 369 torque.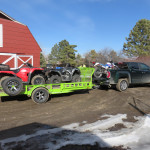 The Canyon and Colorado are the midsized trucks I actually fit comfortably in. The new diesel is impressive with fuel mileage rated by EPA at 29 mph highway. My highway use was over 30 mpg. And it tows trailers, rated to tow 7600 lbs in 4×4 crew cab with GM's favorite towing axle ratio, 3.42 and the rear axle is an auto locker.  My Logan Coach horse trailer weighs 5600 lbs. and that slowed it down alot.  OK it will tow well in Kansas but it's not a mountain truck. It is set up the way a trailering truck should be with a factory trailer brake controller and an exhaust brake combined with tow mode. Which the new Titan XD diesel and the Ram 1500 Eco Diesel don't have an exhaust brake.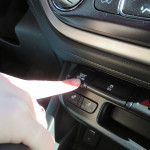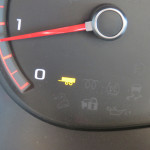 I towed my 5600 lb trailer on I-70 in the Rockies and coming down the fast side of the mountain, I was impressed. The exhaust brake/tow mode button combination slowed the trailer down with very little braking. Though not fast up the hill with a trailer, on it's own the baby Duramax can scoot.  The diesel option is only available on the top end models as this SLT and the future Denali out soon.  The truck I reviewed was a 4×4 crew cab loaded SLT leather and all with a MSRP of $44,365. That includes the diesel option price of $3730.
I like the step in the rear bumper and stake pocket handle for climbing in the bed, now that I'm almost 60. The engine still has the diesel cackle at idle but you don't hear the engine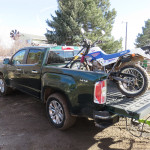 at cruising speed. As a midsize truck, with not as much dash space, the trailer brake controller is hidden behind the steering wheel as are the light switch and 4×4 switch. I enjoyed the truck, it would be a second truck for me as a parts runner or daily driver when I wasn't towing a larger trailer. The fuel mileage would make it possible to pay for itself much faster than the heavy duty $10,000 diesel option.
Comments
comments