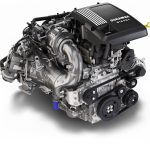 2020 model new inline aluminum 6 cylinder 3.0L diesel in the Silverado 1500.  EPA MPG numbers for the 2020 Silverado 1500 with the new 3.0L diesel  are 33 mpg for 4×2 highway use and 29 mpg for 4×4 highway use. Big news is this new 1/2 ton 3.0L diesel is the same price as the powerful 6.2L gas engine. As an inline 6 cylinder diesel, it resembles diesel engines in tractors and semi trucks. Torque peak is at 1500 RPMs/ Horsepower is 277, torque is 460 producing max trailer towing capacity of 9300 lbs. with 3.73 axle ratio. GM's new 10L80 10-speed automatic transmission allows the new diesel to stay in it's power range with closer gear ratio's. The new 3.0L 1500 is the only 1/2 ton diesel with exhaust brake.  Finally an importat DEF gauge. As with all Duramax diesels, the 3.0L is quiet. The 3.0L diesel is all GM with no help from Isuzu as the 6.7L Duramax diesel history started with.
All new 2020  Silverado Heavy Duty 2500 and 3500 has major changes.  The top 6:
1) Four more gears, with the new Allison 10-speed transmission. Rear axle ratio changed from the 3.73 to 3.42 ratio. Automatic engaging 4×4, first in the segment, along with 4×4 hi and 4×4 low. Remarkable how the same 6.6L Duramax diesel power ratings as last year, 445 horsepower 910 lb-ft-torque, can now tow over 30k trailers all the way to 35,500 lbs. Towing 12,500 lbs. more trailer weight than last years 23,000 lbs. A new 28 inch radiator fan for better cooling, high strength steel frame, upgraded differentials, larger prop shafts, universal joints, new american axles and transfer cases all work together to haul more cattle, hay and bulldozers. It's class leading trailering.  Brakes and tires are the same size as last year though.
2) New 6.6L gas engine, with direct injection and still push rod design has 401 horses, 464 lb-ft-torque, replaced the 6.0L gas V-8. But no 10-speed auto transmission, the same dependable  6-speed auto with some improvements. The new gas engine can tow 18% more than last years engine.
3) Dramatic change in looks, size and towing ability. Wider, longer and taller Heavy Duty has 3 inch more rear seat leg room, 5 inch longer wheelbase. The shortbed or (standard bed) is 6′ 10″ also longer.
4) New camera system is awesome.  15 camera views on mirrors, cab and tailgate can actually give you an unbelievable view through the trailer and more viewing area on each side of the trailer. When you turn on your left blinker, the cameras will show you in the dash center stack monitor, the left side of your trailer all the way back and three or four lanes to your left. Same for the right blinker, an extraordinarily view around your trailer that mirrors will never give you. Front camera is also a help with the bigger HD trucks. New single arm power telescoping and folding trailer mirrors for the first time is an improvement.
5) Trailering has become very important at Chevrolet. A big tool is the specification sticker in the door frame. Launched last year in the new 1500, the Trailering Information sticker tells your Gross Vehicle Weight Rating, Gross Combined Weight Rating, Rear Axle Weight Rating, max payload, max tongue weight and curb weight. So much better than searching all over the internet to try to see what your truck can tow.
6) Another improvement is the DEF tank filler cap in the fuel door instead of under the hood as in previous models. 7 gallon DEF tank sits above inside  the frame, not below. Most truck brands in the owners manual instruct you to tow 2% less trailer weight per 1000 ft of altitude. Silverado now claims the same trailer capacity at sea level and mountains.
Farm Journal 2020 Chevy Trucks: By MrTruck
What's New with Chevy Trucks for 2020
2020 Chevy Silverado 3.0L Diesel 33 mpg!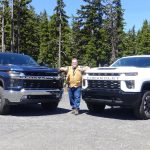 Comments
comments