2017 Ford Super Duty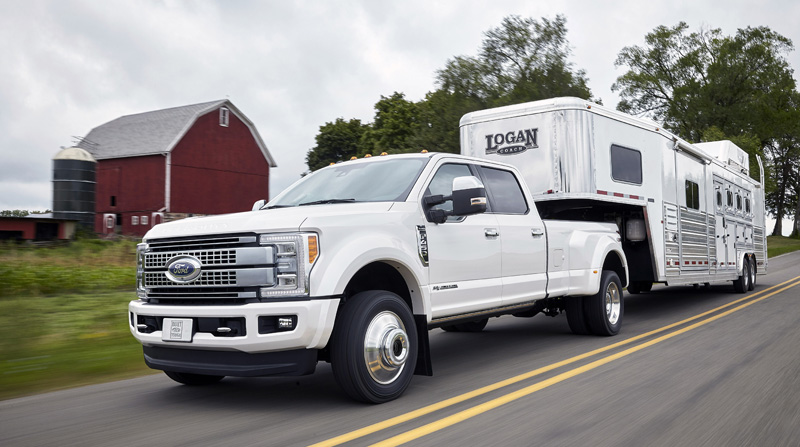 Yes 2017 truck models are finally revealed. I've seen them in camouflage on I-70 but now we know what they really look like. I can stop saying how ugly the Ford dually fenders are because they changed. Still has the round lip but behind that is a real boxy fender. The controversial 2015 F150 with the aluminum body is now on the Super Duty F250-350-450-550. Not just an aluminum cab but the same cabs as the F150 on regular, Super and Crew Cab. The Ford Super Duty was the largest crew cab 16 years ago but became the smallest of the Detroit Three. The Ford F150 grew with a large flat floor under the second row and larger front doors. Ford saved some money and now uses the same cabs on all their trucks. This made the Super Duty crew cab 4 inches longer and it's taller. To line up the cab lines, the bed rail is raised 1 inch. Some of you will like it, but I remember 1999 when Heavy Duty changed to Super Duty and it grew taller. Then in 2000, F250 and F350 dually were lowered and just single rear wheel F350 was jacked up. For 2017 all 4×4 pickup truck Super Duty's are more than 4 inches taller. So if you wanted a lift kit, Ford Super Duty comes standard with it. Ford introduces 2017 Super Duty trucks, setting a new standard in Heavy Duty Pickup Trucks.
You'll recognize the features brought out in 2015 year F150, adaptive cruise control, full cab moon roof, 360 degree camera, spot lights on the mirrors, and remote control tailgate opener. The frame is still high strength steel. But it's now boxed like GM and Ram. One piece frame up to the engine, verses GM's 3 piece and Ram's 4 piece frame. Ford's new boxed frame is 1.5 inches taller. Cab & chassis F350-450 and 550 are still C-channel to accept upfitters commercial beds. Instead of shaving 700 lbs off the weight of the truck like they did on F150 with the aluminum body, Ford lowered the truck weight by 350 lbs and added 350 lbs to heavier axles, frame, suspension and transfer case.
Ford is the only truck maker that makes it's own diesel engine, frame and transmissions. 2017 F250 with 6.2L gas engine has an updated automatic transmission just for the gas engine called Torque Shift G. Designed for more torque and power, 1st gear is lower for easier starts under load, faster upshifts and more aggressive tow haul mode. Ford started the fused upfitter switches on Super Duty. Great for adding snow plows, dessert lights and all the equipment you put on a commercial service bed or dump box. New for 2017, the upfitter switches are now in the overhead console, kind of like a semi-truck or a Boeing 747. They are cool !
The year of the cameras; 7 camera's on Super Duty, 5 for trailer. And even one on the rear of the trailer. An option for 2017 will be a second trailer plug, probably 12 pin. You will be able to buy a camera for the rear of your trailer. It will be hard wired the length of your trailer to the second plug. Then you will be able to use your in dash 8 inch screen to see behind your trailer. This new trailer cord will also allow optional trailer tire pressure monitoring and possibly trailer sway control as needed for SAE 2807 for trailer sway recovery. Another rule coming from DOT is trailer camera's. Ford is preparing for the future regulation.
The other 4 cameras; two on each truck door to see the trailer sides, one on the bumper for connecting a conventional trailer and one up high on the cab to watch hooking up a gooseneck trailer and monitoring bed cargo. This new 2017 Super Duty has gone a long way in eliminating blind spots associated with larger trailer towing trucks.
Conventional trailer tow rating goes up with receiver weight carrying now as high without weight distributing. Similar to what GM did in 2011. We don't have the new trailer towing numbers or engine power specs on the new truck. It sounds like all the important numbers are going up as you can imagine.
Also new is adaptive steering. I remember when Caterpillar did this in loaders in the eighties. For better control, when you move the steering wheel faster it slows down, when your steer slow it speeds up. This helped dramatic on articulating loaders as you didn't over steer in a panic situation.
Same engine sizes, 6.2L V-8 gas, 6.7L Power Stroke diesel and 6.8L V-10 gas engine in cab & chassis. We suspect power and fuel mileage will improve when announced. Transmissions are all still 6-speed automatic's which is a surprise with many 1/2 ton brands offering 8-speeds and the 2017 Ford Raptor coming with a 10-speed auto next year. This is just the beginning, we'll have to wait for horse power and torque numbers, trailer and payload numbers and the rest of the story. On a Platinum F450 crew cab 4×4 diesel with adaptive cruise control, full roof moon roof and all the trailer camera and trailer tire pressure cab display, I predict it to have a MSRP over $80,000. On the same truck the rear receiver looked closer to 3 inch than 2.5 inch. It actually measures 2 3/4 inch. I'm tracking down whether it's a 3 inch. But will that make it a Class 6 receiver? Ford invented the class 5 receiver hitch and the vendors and other truck OEM's joined in on calling the 2.5 inch a class 5 hitch. SAE that makes the standard for hitches have not announced any such class, though they are planning on doing it some day with static and active testing.

Comments
comments