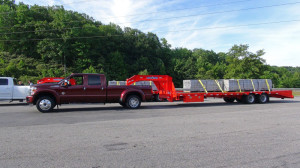 Truck power wars haven't slowed down. What do you do with more power? I guess speed limits in some states have increased so you can go faster, but now you have to buy a bigger trailer to use all that torque.  It's a big year for Ford Trucks, in July I was in West Virginia driving new 2015 Super Duty's towing big trailers in the Appalachian mountains, next week I'll go to Texas to drive and tow trailers with the 2015 F150 aluminum skin and all.
The 2015 F150 with have 4 gas engine options. Then when you move up to the Super Duty, you only get 2 choices, the 6.2L V8 gasser and the 6.7L V8 Power Stroke diesel.
My big problem with Ford Super Duty Power Stroke diesel since 2011, is the lack of an exhaust brake. No button to turn it on, it came on automatically in tow mode according to Ford. We tested it on 7% grades with maximum capacity trailers and were very disappointed, very little exhaust brake. Scroll ahead to this years 2015 second generation Power Stroke diesel F250, F350 and F450 with a larger turbo and a dedicated "exhaust brake" button and it's night and day. It finally works and works well. New injector tips and larger turbo give the Power Stroke more power with 40 more horsepower up to 440 now, and 60 more lb.-ft torque up to 860. The 6.7L Power Stroke transmission's torque converter has a higher stall speed which improves throttle response. The bigger turbo uses more fuel so the new injection system is suppose to counter that. This puts Ford above GM and Ram in the power category.
In 2013 HD 3500 4×2 regular cab Ram pulled ahead of everyone, towing almost 30,000 lbs, now the 2015 Ford F450 can tow 31,200 lbs in a crew cab 4×4. The reason we compare the Ram 3500 to Ford F450, is they both are 14,000 lb. Gross Vehicle Weight trucks rated the same.
To get higher tow ratings, 2015 F-450 has commercial- grade 19.5-inch wheels and tires, (as they did 2008-2010) upgraded rear U-joints, with new leaf springs, new Dana 130 rear axle, front and rear stabilizer bars and shocks. The steering system has stronger gears and linkages and the fifth-wheel/gooseneck has increased towing capacity. 2015 F450 5th Wheel/Gooseneck Hitch Prep package comes with a 2 5/16 in. ball and 3 in. ball for over 30k trailers. Also new in that package is  larger safety chain tie downs. The brakes, shared with Super Duty chassis cab models, are larger with new antilock calibration.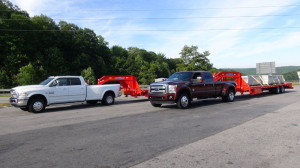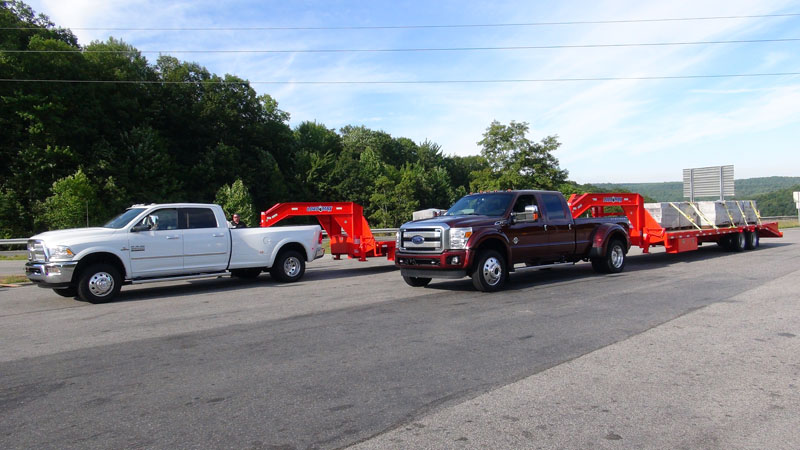 Towing on the only straight piece of road in West Virginia on I-64, I drove a 2015 F450 towing a Load Trail gooseneck flatbed trailer loaded to 27,000 lbs and a Ram 3500 HD towing the same. GM HD 3500 wasn't in this part of the drive as they only are rated to tow 23,200 lbs.
On a 5 mile run up a 7% grade at 2765 ft above sea level, the Ford F450 won by about a minute. Then I did it again with another 2015 F450 towing a trailer weighing 2000 lbs more at 29,000 lbs and again I beat the 2014 Ram HD 3500 towing 27,000 lbs. The Ram was the only 2014 trucks at the event as their 2015 isn't out yet, but no power train changes for 2015.
We also towed Montana 5th wheel RV trailers weighing 12,000 lbs. with GMC 3500's, Ram 3500's and Ford F350. All the trucks had 3.73 axle ratio's. Ford 6.7L Power Stroke, again the fastest time up the hill. Next where the F250, Ram 2500 and Chevrolet 2500 towing 8000 lb car trailers with the same results.
F-350 Super Duty is available with a high-capacity towing package that includes new front springs and a wide track axle like Ford offered before 2011, increasing towing capacity, to 26,700 pounds, from 23,200 pounds, and the gross combined weight rating goes up to 35,000 pounds.
The second generation 6.7-liter Power Stroke V8 turbo diesel is also designed for the larger F-650 and F-750 medium-duty trucks. 2015 F450 shares some transmission upgrades with the 2016 F-650/750.
F450 pickup truck 2015 tires are rated at 87 mph. the 2014 tires rated 95 mph. Remember you can only tow a 31,200 lb trailer at 87 mph with the 2015 Ford F450!
Comments
comments