The 2015 GMC Sierra 1500 maintains a 12,000-pound maximum trailering rating under SAE J2807 Recommended Practices. We knew they could do it. GM Gears Up For Pickup Truck Wars 2015.
Chevrolet and GMC have confirmed a new eight-speed automatic transmission will be standard on 2015 Chevrolet Silverado, GMC Sierra and GMC Yukon Denali/Yukon XL Denali models equipped with the 6.2L EcoTec3 V-8.
The GM-developed Hydra-Matic 8L90 eight-speed is approximately the same size and weight as the Hydra-Matic 6L80 six-speed automatic. Its 7.0 overall gear ratio spread is wider than GM's six-speed automatic transmissions, providing a numerically higher first gear ratio to help drivers start off easier with a heavy load.
With 420 horsepower and 460 lb.-ft. of torque, the 6.2L EcoTec3 V-8 is the most powerful engine offered in any light-duty pickup, and offers a maximum available trailer rating of 12,000 pounds in the 2wd Double Cab with 6.6 ft bed and 2WD Crew Cab with 5.8 ft bed, based on SAE J2807 Recommended Practices. As with other EcoTec3 engines, it seamlessly switches to four-cylinder operation under lighter loads to improve fuel economy.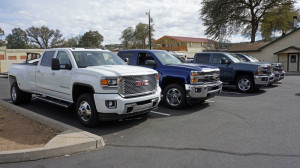 I was shooting video 10 below North of Detroit in February then flew that night to Arizona to drive the 2015 GM Heavy Duty's. It's February in Arizona a warm 70 degrees driving 2015 Heavy Duty GM trucks. Towing trailers in foothills surrounded by cactus and cows with a 2015 GMC Denali 3500 dually, gave me a chance to use the heated and cooled seats and heated steering wheel in the early morning. My favorite option is Lane Departure which vibrates your seat left and right when you cross the lines. It reminds me how much I daydream when on the open road. Comfortable trucks make comfortable field offices keeping you out of the weather while you check emails with a view of growing crops.
The 1/2 ton 1500 Sierra and Silverado had the new bodies first for model year 2014. Now the same improvements are on the 2015 Heavy Duty GMC Sierra and Chevy Silverado. The Heavy Duty's had their frame and suspension totally updated in 2011 model year adding power and exhaust brake to the Duramax diesel. For 2015, the exterior and interior's turn for upgrade. 2015 is the first year electric over hydraulic integrated trailer brake controller is offered. This is the biggest news for those of us that tow larger trailers.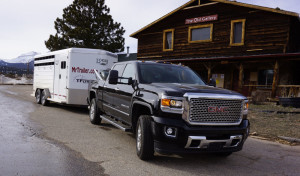 First thing I noticed driving the new 2015 HD's with the Duramax diesel, you don't hear the diesel engine. They've always been quiet going back to 2001 birth, but now you can't hear the engine and can't tell by sound that it's a diesel. The reason, new inlaid doors, fit into body sides rather than wrapping over the roof, with new triple door seals reduce any noise, making a quieter cab.
New inlaid doors, which fit into body sides rather than wrapping over the roof, combine with new triple door seals to reduce wind noise and turbulence, helping quiet the cab. The fronts of the HD trucks are also carefully sealed to provide efficient cooling with minimal aerodynamic drag, including a new grille opening reinforcement mounted over the radiator support and the frame. It is a primary contributor of the sealing process, enabling tailored alignment of the hood, fenders, bumper, grille and headlamps, for a tight fit between parts that enhances airflow through and around the truck.
Structural reinforcements and other components also help stiffen the body, contributing to confident, quiet performance on the highway, with noticeably reduced vibrations on rough surfaces. They include an enhanced instrument panel support beam, which spans the width of the cab's interior under the dashboard, features a new beam-to-floor brace that is four times stronger than before. It's used with stronger instrument panel mounting brackets and a thicker tubular steering column jacket to enhance the steering column's stiffness, reducing vibration that could otherwise be felt in the steering wheel.
A new double cab body replaces the suicide doors on previous extended cab. It features longer, front-hinged rear opening doors with outside handles  making it easier to get in the back seat in tight parking spaces.
Larger rear doors on the crew cabs and 2 inches more leg room for hauling your crew around.
New for 2015 standard CornerStep rear bumper, EZ Lift and Lower tailgate, standard locking tailgate, standard upper tie-downs improve cargo management in the bed. The rear bed stake pocket is larger to use as a handle when climbing up the bumper CornerStep except on a 3500 dually.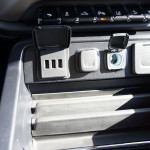 Portable office; GM HD seats are noticeably more comfortable for us heavy duty reporters. Using dual-density memory foam in the seats fit your body configuration taking the bite out of long drives.  The 2015 HDs are available with a 110-volt outlet, up to five USB ports, four 12-volt outlets and an SD card slot. Plenty of storage compartment, OnStar with 4G LTE enables faster Internet than ever before, along with available built-in Wi-Fi hot-spot (available in September 2014).
StabiliTrak with Trailer Sway Control is standard on all HDs, including 3500 dually models for the first time. These electronic stability systems gives you more control with an empty truck and towing a trailer. I towed a 17k Logan Coach horse trailer with a GMC Denali 3500 through the rolling hills without any handling or acceleration issues.
GM gave us a demonstration of how the Duramax diesel and Allison automatic maximized their torque curve. We took turns driving a new Ram 2500 HD with a Cummins diesel, 3.42 axle ratio, a Ford F250 with Power Stroke diesel and 3.55 axle and Silverado Duramax diesel with it's only axle ratio, 3.73. All three trucks towed 10,000 lb bumper pull trailers. Down hill test had us staggered going down a 6% grade and with cruise control set at 55 mph. Tow haul mode on and exhaust brakes on, the Ram and Ford passed the Silverado which held it's downhill speed at 55 mph. Ram was closest to the GM holding speed with exhaust brake.
On the uphill acceleration demonstration, we had two trucks at a time side by side on a running start next to the Silverado. Guess which truck won? Ford was second.
 The standard engine in all 2500HD and 3500HD models is the 6.0L V-8, which can run on gas or E85. It's rated at 360 horsepower and 380 lb.-ft. of torque on gas. Ratings for CNG are 301 horsepower and 333 lb.-ft. of torque.
In the 2015 GM HD pickups the Duramax diesel, is rated at 397 horsepower and 765 lb.-ft. of torque. Horsepower is reduced slightly for some commercial chassis cab models.
Sierra and Silverado HD powertrains have increased payload and towing ratings for 2015:
Maximum 2500HD payload of 4,306 pounds – up from 4,212 pounds
Maximum 2500HD bumper pull trailer weight rating of 14,500 pounds up from 13,000 pounds
Maximum 2500HD with a fifth-wheel or gooseneck hitch can trailer up to 17,900-pounds
Maximum 3500HD payload is incredible at 7,374 pounds, up from 7,222 pounds
Maximum 3500HD bumper pull trailer is the best in the segment  at 19,600 pounds  up from 18,000 pounds
Maximum 3500HD fifth-wheel or gooseneck towing is 23,200 pounds, up from 22,500 pounds.
DEF fluid 5.3 gallon tank is still located under the hood which works well for filling with jugs but not the easiest with the fuel island hose that is becoming popular at truck stops. The DEF tank needs filled about every 5,000 miles, more often when towing a trailer.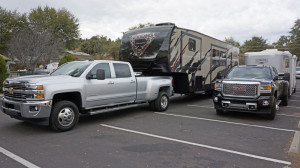 To activate the Auto Grade Braking on either gasoline or diesel Silverado HDs, the driver presses and holds the Tow/Haul button in the shifter for three seconds. The transmission will then automatically downshift when needed to enable engine braking to help slow the vehicle.
In addition to the stronger steel used in the construction, new box rail protectors are incorporated along the top of the box sides and across the top of the tailgate to protect those vulnerable areas from damage.  Also, spray-on stone protection on the outside of the box offers improved paint protection and corrosion resistance, which helps keep the box looking good longer.
Heavy Duty Transmissions
| | | |
| --- | --- | --- |
| | Hydra-Matic 6L90 | Allison 1000 |
| Type: | six-speed automatic (with 6.0L) | six-speed automatic (with Duramax 6.6L) |
| Gear ratios (:1): | | |
| First: | 4.03 | 3.10 |
| Second: | 2.36 | 1.81 |
| Third: | 1.53 | 1.41 |
| Fourth: | 1.15 | 1.00 |
| Fifth: | 0.85 | 0.71 |
| Sixth: | 0.67 | 0.61 |
For 2015, CNG capability will be available on both 2500 and 3500 models in all three cab styles – regular, double and crew. As with previous bi-fuel Silverado models, the CNG fuel delivery and storage system is covered under GM's limited warranty and is serviceable by Chevrolet dealers. Plus, all components have GM service part numbers for broad availability, providing customers with peace of mind that parts will be available to keep their vehicles on the road.
The 6.0L engine's available bi-fuel (CNG) version expands to all cab styles for 2015, for more choices in compressed natural gas-powered models. Special hardened valve seats in the engine and a separate, dedicated fuel system – including a separate fuel tank – support CNG operation. Combined with the gasoline supply, a Silverado HD truck has a range of approximately 650 miles.
Advanced emission control technology makes the Duramax one of the cleanest diesels in the segment.  NOx emissions are controlled via a Selective Catalyst Reduction aftertreatment system that uses urea-based Diesel (Emission) Exhaust Fluid (DEF), which is housed in a 5.3-gallon (20 L) tank and needs to be replenished about every 5,000 miles (8,000 km). Electrically heated lines feed the DEF to the emission system to ensure adequate delivery in cold weather
The system also incorporates GM's second-generation diesel particulate filter system. Unlike most of the competition, the Duramax regenerates its diesel particulate filter using a downstream injection of diesel fuel directly into the exhaust stream and can travel up to 700 miles (1,125 km) between regenerations. The use of downstream injection helps improve engine life by eliminating concerns surrounding the possibility of diesel fuel contaminating engine oil, which can happen when fuel used for regeneration is introduced directly into the cylinder.
Comments
comments