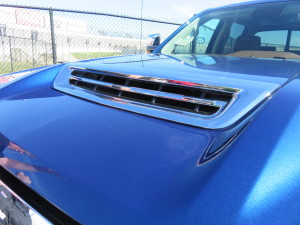 Finally its' a real 2017 truck. GM has teased us for years about their new Duramax diesel for HD trucks. We seen them in camouflage in the Rockies towing trailers, we've seen spy photos with a new hood scoop and this went on for years. GM flew me to Texas to drive the new heavy duties on the Texas Motor Speedway ahead of the State Fair of Texas. Chevrolet set a record on the track towing the largest US flag behind the new truck in a dramatic introduction with a group of Chevy owners with high mile Chevy trucks following .
I got to tow 10,000 lb. CM trailers around the track with 0-60 mph runs, squealing tires on the dually's with 455 horsepower and 910 lb. ft. of torque. GM had dropped to last place in the diesel truck wars and towing capacity behind Ram and Ford. Now they jumped to second place for torque head of Ram Cummins (900 lb ft) and ahead of Ford Power Stroke 2017 for horsepower (440).
The Duramax diesel still the same size 6.6L V-8, is all new inside. New turbo, new pistons, rods, crankcase, injector pump and emission systems. I have more on the engine at www.YouTube.com/MrTruckTV . The Allison auto transmission was slightly upgraded for the new power.
Looking at the new truck, what stands out is the new hood with Passive Induction System. Cold Air Intakes have been around for decades with better air flow filters for a small increase in horsepower and torque as after market add-ons. But GM's new air intake doesn't increase power. It's to save power by cooling the engine under a load so you don't loose power under stress. Some of the intake air still comes in the grill. The hood scoop sucks in the air in a U-turn for low pressure and hits a wall where the heavier water in the air will collide with the hood wall and dump out a nipple like tractors have on their air filters. And the lighter air will complete the U-turn and drop down into the air filter.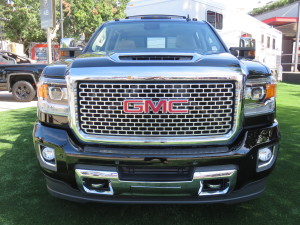 The Duramax diesel is again quieter with shielding in the valve covers. New glow plugs, new injectors start the engine faster. I thought all that was good before. But the pain in the behind DEF fill cap is still under the hood, though it is 7 gallons now over the past 5 gallons. Ram and Ford torque limit 1st gear and in some configurations 2nd gear to keep the wheels from spinning with a load. GM lets the power spin in first gear under load. I squawked the tires with 10,000 lb trailers off the line. So I guess you can decide how you launch at the stop sign on your way to the tire shop.
The surprise is GM's happy to stay at the current towing rating of 23,000 lbs for a gooseneck, staying in 3rd place behind Ram 3500 at 31,250 lbs and Ford F350 at 32,000 lbs. I doubt if that plan will stand in the competitive truck market. Why get back in the game with more power and not match tow ratings? GM's answer is that very few of their customers tow trailers above 20,000 lbs. And sometime in the next couple of years, GM will reintroduce it's 4500 and 5500 with the Duramax diesel and Allison tranny built by International. Pickup trucks are in the closest race I've seen in 50 years. It's fun to watch and guess at the next move. I predict Ram will have the next power increase as their truck sales now beat GM in 1/2 ton's and heavy duties. www.MrTruck.com
Watch the YouTube with 2017 GM Heavy Duty Diesel

Comments
comments