Pickup Truck 2 inch receiver vice stand and more!!


As seen on RFD TV. "MrTruck, I've always wanted one of these." Check out their website for more information and more options: https://HitchHikerTools.com/
Hitch Hiker Tools Mounted Vice Stand.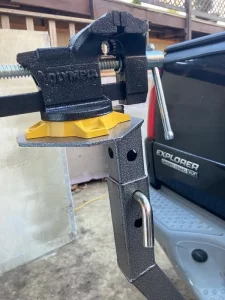 On the farm I had a flatbed on a dually truck. To work on farm equipment, I had it all on my truck steel flatbed. Toolboxes, welder, generator and of course a vice. All bolted to the flatbed. Now I use just pickup trucks and with those beds you can't bolt much to them. The Hitch Hiker vice stand pins to your truck receiver hitch, it's adjustable making height easy. And two positions to be high or just above a tailgate in down position. I've seen other vices pinned to the 2 in receiver hitch below the rear bumper, those are not comfortable to use. Hitch Hiker adjusts to a comfortable height. It weighs just 8.5 lbs, anyone can lift it and install it.
This Hitch Hiker mounted vice stand is great. It pins in the receiver at two different angles. To go higher, stick the short end in the receiver and the vice is taller with the tailgate up. If you want to use your tail gate down, to become a bench or just a place to work. Just put the long end of the Hitch Hiker vice stand in the receiver and Wahla, now the vice is slightly above the tailgate in the down position.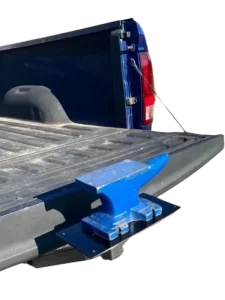 Now I have a portable vice that I can use in the field or anywhere. Proudly made in the USA. Family-owned business. It comes with one threaded hole above the tube. The other holes you will want to drill yourself to match your vice. The standard vice plate is 6″ X 6″, will fit 3 inch and 4 inch vices.  The vice is not included. Does include one pin and hair clip. Great device. Makes a great gift. Only weighs 8.5 lbs.
On the farm, I had a custom hay business. Making the large round bales. That meant lots of wide belts that break. I had a vice bolted to my flatbed, used a splicer tool all thru the hay season in my vice. Now I can use the Hitch Hiker vice stand on any truck to splice baler belts.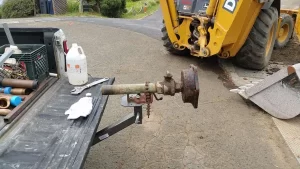 Hitch Hiker gives you a way to have a portable vice anywhere you need it. In the field, construction site and your driveway. Your trucks receive hitch is all you need to put Hitch Hiker Vice stand to work. Heavy Duty powder coated steel made for years to come.

We're using 3 " vice, you could use a 4 inch. The base plate is 6″ x 6″.  It comes with one threaded hole above the tube. The other holes you will want to drill yourself to match your vice.  The vice is not included. Does include one pin and hair clip. Proudly made in the USA. Family-owned business. Great device. Christmas is coming buy two.  https://HitchHikerTools.com/ 
Ph. 1-270-590-9646 and 1-270-590-9202