MrTruck.com horse expo trailer. We used this trailer to demonstrate the latest and greatest horse trailer accessories. It's only had one horse inside one time. As seen on RFD TV's Equestrian Nation show.  For questions, 303-883-1300; $15,000 in trailer accessories we used in reviews on websites, magazines and RFD TV  email:  [email protected] Horse Expo Show Trailer for Sale, Logan Coach LQ. Sale price $23,742.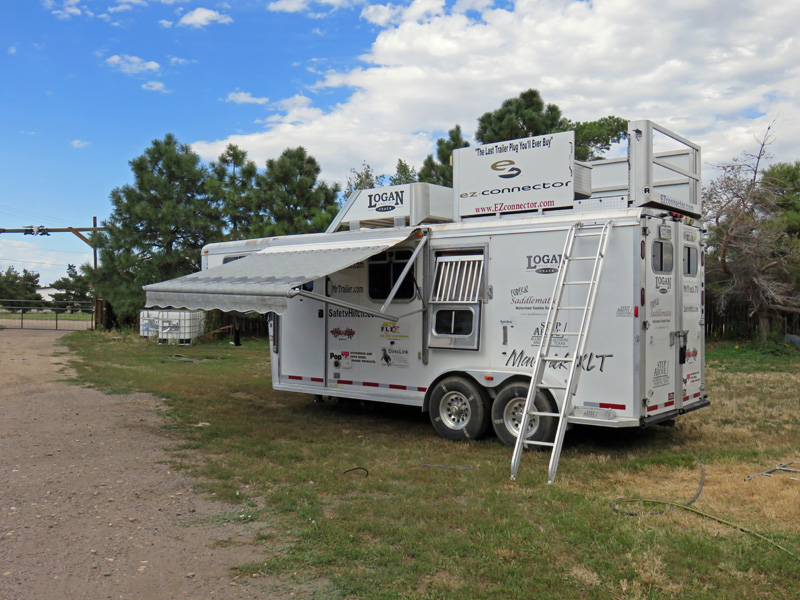 2010 Logan Coach Maverick XLT 2 horse slant with 5 ft. short wall weekend LQ package.
This is a once in a lifetime trailer. I towed it around the country to horse expo's. Equipped like no other trailer.
$15,000 in trailer accessories we used in reviews on websites, magazines and RFD TV
Enclosed horse trailer with drop down doors on both sides. Aluminum skin, roof, roof bows and stalls.
Aluminum wheels with Centramatic automatic wheel balancers.
Stainless Steel nose, Rear receiver hitch and plug for second trailer
Collapsible rear tack room, Hay Rack and party deck, watch the action from the roof
Watch my Logan Coach factory review Aluminum skin, galvanized Vortex coated steel frame
---
Click on links to see MrTruck review of the product we installed on this trailer
Saddlematic electric power saddle rack
Automatic HydraHorse horse waters inside and out
Ceramic insulated roof coating and inside of LQ
Tuson 4 channel ABS electric over hydraulic brakes, stops on a dime  even with all 4 trailer wheels on different surfaces
Kodiak hydraulic disc brakes
Equalizer Systems 12,000 lb. Hydraulic Jack with manual override
Power SideTracker Trailer Hitch Alignment which moves the trailer side ways for hooking up
Whiz Proof Deluxe, flooring. Never pull a mat again
Step-Above ladder, pulls out 30 degrees for easy climbing
Weatherguard All weather automatic awning
Factory LQ
New Batteries
5 watt charger and conditioner
Wired for two camera's
Hot water heater never used, electric side of the refrigerator used only
1000w invertor , microwave
Sink and toilet are only thing used. Gray Tank, Black Tank, fresh water.
110w outside outlets, several 12V plugs inside LQ.
Closet converts from shelves to full size shirts closet
Roof is framed in for AC where the vent is
For questions, 303-883-1300  $23,742 for a one of a kind trailer value. $15,000 in trailer accessories we used in reviews on websites, magazines and RFD TV
email:  [email protected]
Watch my Logan Coach factory review
Comments
comments