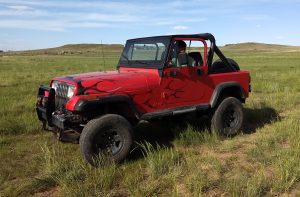 By MrTruck: I've owned lots of trucks and now own my first Jeep. Had a few trucks that I rebuilt as project trucks for video's. But this is my first Jeep. I have a side by side and many ATV's, so this is like a bigger side by side and way cheaper than a Razor. It's a 1987 Wrangler, the first one. 86 was the last year for Jeep CJ7. I've always wanted a Jeep, from clear back in the seventies watching Billy Jack movies. Several of his five Billy Jack movies had Jeep CJ5's. One movie he drove a International Scout. When I worked for Al Ward Feedlot, I used Coach Willard's CJ2 to check the feed bunks. You couldn't hurt that Jeep, never used oil, never leaked oil. But I picked a cheap Jeep that had problems, not leaking oil but mostly electrical. When you buy an old jeep, it usually had several owners. So did mine, it came with a AMC carbureted 4.2L inline 6 and a Peugeot transmission. The owner I bought it from put in a Chrysler 5-speed transmission and a 4.0L inline 6 HO with fuel injection out of a 1996 Jeep Cherokee. One of the owners put on 2 inch longer shackle hangers and lowered the transfer case to keep the axle pinion angles right. I put on 33 in tires making it 3.5 inches taller than stock. The hard stuff has already been done, new gauges, custom aluminum dash, KC lights and bull bar.
My first Jeep is having problems now with the electric fan on the new engine, trying to decide if I should go back to the mechanical fan that was on the 4.2L. My oldest son Dave and I took my new Jeep up the mountain last week to Moffat Tunnel. Learned fast to let some of the air out of the tires so I wouldn't loose any more teeth. 1/2 up the mountain blew a fuse, thought we had the gremlins gone after my youngest son installed an external regulator. But my oldest son had fun pushing me down the mountain to my trailer. So we installed a kill switch, and bought a box of fuses. Still working on the fan situation. Probably next year I'll have my mechanic Ruben install lockers in both axles. That's the thing with Jeeps, you can upgrade them forever. But it has seat belts for four and a roll bar, making it good for grand-kids on easy trails. Going to weld a receiver hitch on the front frame for a snow plow and winch. Bikini top gives you plenty of ventilation. Does have a heater which will be nice with the snow plow.
My Billy Jack Jeep is a looker, chrome bumper, chrome grill and flames. It's fits my car trailer and I can use it in new truck reviews. Looking forward to a dependable Jeep for mountain trails with the family and all our off -road toys. It's good to have a project to work on. My sons have fun working on my projects especially pushing me down the mountain. I think my next project truck will be a tractor with a loader with flames painted on the hood.
Comments
comments