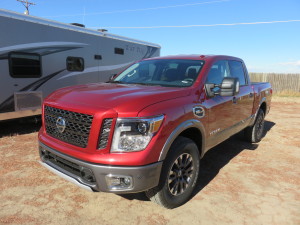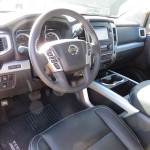 I was there when it all started, in 2003 Nissan introduced the all new 2004 Titan 1/2 ton truck at Napa Valley California. We were in wine country driving the new trucks on the Silverado Highway. On the highway we weaved in and out between Lamborghini sport cars on their way to Pebble Beach. Not something I do everyday, but fun. The new Titan only came in a King Cab or Crew cab, just the 5.6L V-8 gas engine and automatic tranny. Nissan thought they would sell to just the sweet spot in the truck market. Well the Big Three in Detroit didn't slow down and let Nissan in. Even though the Titan was ahead of it's time with factory sprayed in bed-liner, Electronic Sway Control, 180 degree second doors on King Cab and great cargo management rails in the bed, sales never caught on. With 12,000 sold trucks a year, they were not making a dent in the hundreds of thousands of Fords, Chevy's, GMC's and Dodges that sold to loyal fans.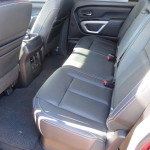 That was the problem, Americans are loyal to their truck brands, tractor brands and religions. 11 years later, Nissan tried again to dent the American truck market with the Titan XD using a Cummins diesel. Now for 2017 Nissan brings in more truck models, more bed sizes, even a single cab and the 1/2 ton truck they started with. This should help market share with Nissan finally understanding the work truck category.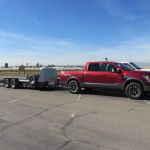 The truck I just reviewed is the new 1/2 ton 2017 PRO-4X crew cab 4×4 with a 5′ 6″ bed. The original Titan was fun to drive, it would spin the tires at will, burn kitties and donuts, a blast on the autocross track. The new truck still has a 5.6L V-8 but updated, improved and now 390 horsepower with 394 torque. Also new is the 7-speed automatic transmission. This helps with acceleration with and without a trailer from closer gear spacing and improves grade shifting in tow/haul mode. The truck weighed in at 6300 lbs empty. We towed a Load-Trail ATV trailer with two Honda Ranchers and a Yamaha 225 Enduro in the bed for a load of 3040 lbs. Not a big load, it was hard to find trailer capacity for this truck but comparing to a base Titan truck, my calculations shows a 8978 lb trailer capacity for this truck. Payload capacity is 1610 lbs.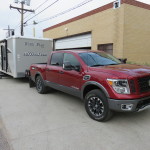 PRO 4X, is my favorite package, Bilstein shocks, skid plates, all-terrain tires and more. Well equipped with electronic locking rear diff, heated and cooled seats, power tilt and telescoping heated steering wheel. Hill start and hill decent control adds to the off-road capability.  Even the headlights have a manual tilting feature if your load makes the rear sag. Rockford Fosgate stereo with 12 speakers, sounds like Toby Keith is singing in the seat next to me, or better yet Faith Hill. If you can't get comfortable in this truck, a Cadillac won't help you either. MSRP is $52,305, EPA rates the fuel mileage at 17 mpg combined, 15 mpg city and 20 on the highway. New this year is a 5 year 100,000 mile bumper to bumper warranty, across all full size Titan's, the best in the industry. Don't forgot to look for my new book "Truck Nuts" on my website www.MrTruck.com, the editor at the Fence Post has a review of it on the back page.
Comments
comments