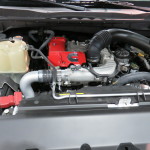 I enjoy the Denver Auto Show each year and this year the standout vehicle is the much talked about XD Titan with a 5.0L Cummins V-8 diesel.
Titan full size truck was born in 2002 as a 2003 model. Available only in V-8 automatic in two cab sizes and two bed sizes. Nissan's target was the cream of the American truck market. Basically ignoring the work truck market, Nissan learned how much the Big Three from Detroit protected their bread and butter, truck buyers. And a lesson was learned how brand loyal American truck buyers are.
The only thing that's ever changed truck brand loyalty share was the Great Recession and bankruptcy from 2009. But GM and Chrysler have recovered from bankruptcy loosing some customers to Ford.
The truck market is the most competitive I've every seen it. Nissan knows it needs a dramatic move to move up from last place in truck sales. What better way to get noticed than to incorporate one of the oldest and most trusted names in diesel engines.
The Cummins 5.0L V-8 has 555 lb-ft of torque and 310 horsepower. It looks good on paper, hopefully I'll be driving it this summer and towing trailers. This same diesel is already performing in some RV motorhomes.
In 2006 Cummins announced it's light-duty diesel program and partnership with Ram (Dodge.) Nissan was also involved with Cummins light-duty diesel program and when Ram had it's hands full in the bankruptcy and had to drop out of the program, Nissan stayed in. And now we'll see if this 5.0L diesel will make Titan a contender.
The second gift from Ram to Nissan is their introduction of the Ram 3.0L V-6 EcoDiesel. That smaller Ram diesel proved that buyers are wanting a 1/2 ton diesel truck.
But wait, is the all new XD Titan a 1/2 ton truck or a heavy duty? Nissan explains it as an inbetween truck in a class that is not being marketed to. Which makes since, torque in the 1/2 ton truck gas engine is reaching the high 400's and in the heavy duty diesel pickup trucks is reaching the high 800 torque range. So now we have a torque truck category in the mid 500's.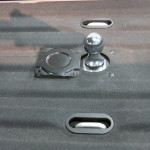 The new XD Titan diesel has clues pointing that it's beefier that a 1/2 ton. Five leaf springs at the rear axle with two overload leafs. Recirculating ball steering not found in modern 1/2 ton's, a factory gooseneck ball hitch in the bed, reinforced boxed frame, 12,000 lb plus trailer capacity, and oh yes a Aisin 6-speed automatic transmission.
You've heard of Aisin, it's the transmission in the Heavy Duty Ram 3500, 4500 and 5500 in both the 6.7L Cummins and 6.4L Hemi C&C. It's a transmission in commercial trucks. Developed with BorgWarner in the 1969, Toyota owns the majority stock. So now Nissan is using two brand names that Ram is marketing heavily in trucks.
This new Titan XD can be a game changer. It has the same towing capacity as a Ford F250 with a gas engine. Integrated trailer brake controller, gooseneck hitch, trailer light and camera on the tailgate and good towing mirrors puts this new Titan above the 1/2 ton class as we knew it.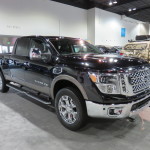 Titan was ahead of it's day in 2003 with factory bedliner, cargo tie down rails and electronic stability control. This XD Titan will be the one to watch this winter.
Underneath the Titan is clean, everything (transfer case, gas tank) is tucked above the frame, should be good offroad (pastures.)
The bigger truck, XD, comes out first this fall, followed by the regular Titan with gas engines. Stay tuned, the proof in the pudding will be towing trailers this summer.
Denver Auto Show 2016 Titan Preview

Comments
comments