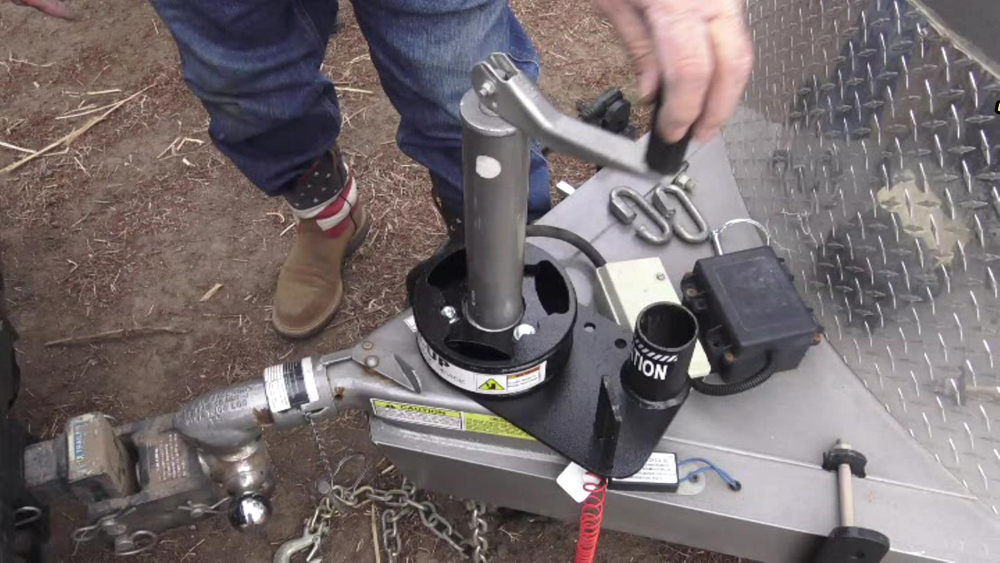 I've found and tested a couple of new trailer accessories, both made in the USA:
Jack-E-Up, the better way to use your trailer jack
Stop bending your trailer jack. Protect your trucks tailgate, protect your SUV lift gate. Less jacking, less cranking, less work. Your trailer jack only has one use and then it's in the way.
Get your jack out of the way for climbing in the truck bed camper, tying down your bikes and ATV's or cargo. Leave your truck tailgate down for cargo and still pull your trailer. It's easy to bend a trailer jack in dips, pot holes and boat ramps.
For safety, you cross your safety chains under the trailer coupler. If you don't crank your jack all the way up or use Jack-E-Up and the trailer comes unhooked and drops on the road, the jack gets bent or broke and then you can't re-hook the trailer back on the truck ball. #1 reason for trailer problems is wrong size ball and forgetting to fasten the coupler is #2. It happens more often than you think. I've done it and was able to use the manual trailer brake control to get my rig to the side of the road and rehook.
Store your jack in the trailer and no one can unhook and steal your trailer while connected to your truck. It's 10 minute install on your trailer. Works on electric jack, triangle base, round base jacks. Drop Jack-E-Up in the base, twist Jack-E-Up a 1/6 of a turn and jack it up, it locks into place so it can't come loose when unhooked. When connected, pull the jack out and throw in truck or trailer or put in Jack-E-Up Station and pin in place in the optional Jack-E-Up Station.
HD model can handle 4500 lbs. tongue weight. Out of the way for a truck camper, use the trailer tongue as a step. Use on horse trailers, RV travel trailer, cargo trailer. Fast to use, fast to set up. Many jacks don't go high enough. Do you know what a tailgate cost?  I like them, they are unique.  Ph. 541-376-8107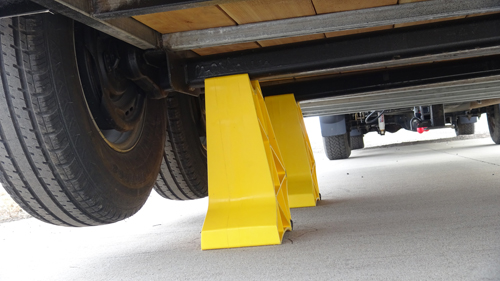 Trailer Legs protect your trailer tires and give 50% longer life
This can be your most effective trailer maintenance routine. If you tow trailers, you know how bad trailer tires are. Then you put weight on them in one spot on the tire and axle bearings all winter and the belts in steel belted trailer tires get twisted on the bottom and wait until you really need your trailer and boom, the tire face peels off.
You know folks that block their trailer tires up in the winter. But that takes time. Trailer Legs are fast, just put them against your trailer axles, drive forward and in 10 minutes you have your trailer off the ground. Then your trailer tires are round and stay that way. Your trailer bearings have the load off and if you have the EZ-Lube bearings, you can spin the tires as you pump grease in the zerk on the end of the axles.
With the tires off the ground, you  can inspect them, look for nails, uneven tire wear and adjust the trailer brakes. Trailer Legs have several uses, fixing trailer flats, use under trailer leveling blocks, under your trailer tongue jack and use for chocks. I've used them on cement floors and gravel yards. Trailer Legs wide base allow them to work on most road surfaces.  I think the majority of RV travel trailers and horse trailers set for months at a time. That's part of the problem, creating tire dry rot. Trailer Legs can support 8000 lbs with a set of two,  only weigh 10 lbs for a fast set up in less than 10 minutes. I've used them on bumper pull trailers (conventional) and goosenecks. Think about your trailer bearings with all that weight on one spot on the bottom of the bearings for months at a time. ph. 888-734-8123
Comments
comments