Truck Nuts Book – Chapter Two, Truck shopping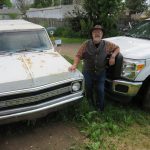 "Cheap, Fast or Good, but not all three." The month I got out of the business, my oldest son rolled his truck and we had to go truck shopping. I had forgotten how hard it was. We started out going dealer to dealer, reading the paper, looking on the Internet and I just tagged along as dumb ole dad playing with my granddaughter. After my son and daughter-in-law got tired of it and after changing their mind several times on which vehicle they wanted, they asked for help. I got on the cell phone and called one of the veteran salespeople I bought from and trusted when I was a buyer for AAA Auto Club. I told him what I needed and then we went and picked it up. Of course I have the advantage, knowing dealer cost of vehicles. But the point I was trying to make to my kids was, you're going to buy a lot of vehicles over your lifetime. Find the salesperson and dealer you trust and build a relationship and send them your friends.
You need to do some price research to keep everyone honest, but in the same areas of the country used and especially new cost the dealer very close to the same. I would think the Horse Trailer Blue Book sold on the home page of HorseTrailerWorld.com would be helpful. Now I know folks don't buy horse trailers as often as trucks. But I would think a positive relationship with a dealer you trust would take some of the stress out of something you would do more than once. Just one more thing and I'll shut up. Being in the business I use to see some amazing things. Retired people were always a target for salespeople, they were old school and got used to believing some of the wild stories from salespeople and they didn't use the Internet for research. Next used to be women, which has totally changed, I talk about this on my web site, salespeople use to be able to intimidate women who would come to a car lot by themselves. I've seen this evolve to the point now that a single man coming to a car lot is a target. But if he's married no one will talk to him without his wife. Today's women buyers are educated about what they are looking for, do more research and ask a tremendous amount of questions. And they put up with little BS.
Truck Nuts Book – Chapter Two, Truck shopping
It's not easy to find a superstar salesperson and most big dealerships have a 70% turnover rate of salespeople. When my customers had a problem with the service department, I was in the middle of it getting things done, when my clients had a problem with warranties, I was calling the regional manufactures managers getting things done. What I saw with most other salespeople was, they only went out of their way to help customers who made them big money. We all know that's not right but it's true. Just like I know several small franchised auto dealers who will service your "under warranty" problems only after customers who bought from them are taken care of and them some. That's against all manufactures franchises rules, but it's the real world.
Quality salespeople know that if you are happy, you are the best advertisement for them. In my years in the auto business I saw how happy people were, to come back a few years later and get to work with the same salesperson, someone they trusted and sent their friends and even their relatives to. Words of caution here, even with a trusted salesperson, always do your homework and research prices, interest rates and rebates. As long as salespeople are paid on a commission of what they make the store, it's human nature to try to make more on you if given the chance.  We all are trying to feed our families and I don't expect people to work for free. But that's just me, the older I get the more I can see both sides of any argument.
This is important, have the VIN checked out with the truck brand service department's national database  computer and check for recalls, repairs, and they can tell you exactly how many months or miles of the factory warranty is left if any, for free. Which is very important to check that it's not a buyback lemon from the truck manufacture. A buyback lemon won't have any warranty from the factory regardless of the miles or months. And you don't want to miss any recalls than haven't been fixed for free. The VIN is usually on the base of the windshield. Get if off the truck not the paperwork, but do check the VIN of the truck against the title paper work.  
Truck Nuts Book – Chapter Two, Truck shopping 
O'Meara Ford Turns 90 and now over 100 years
I missed O'Meara Ford's new showroom groundbreaking 2 weeks after 9/11. I was in Dearborn Michigan at Ford World HQ's doing a live TV truck training show for Ford. But this year right after driving the all new Ford 2004 F150 in Texas, I did make it to the Grand Opening of O'Meara Ford's new showroom in Northglenn June 30th. It was a big event with several car clubs participating displaying antiques, hotrods and classic's. There was a rock wall, live bands and my favorite, free hotdogs. Free food is very fattening, I'm living proof.
It takes a whole lot of faith to invest heavily in your family business immediately following 9/11. That's what separates the survivors from the retiree's in the highly competitive automotive retail business. I've seen the turbulence in the car business the last 10 years in Denver, from the out of state mega franchises to the internet buying services taking over the world. Each new thing that came and fizzled can't compete with commitment to your community. There are at least 14 Ford stores in the Front Range and more than any other brand in Colorado. So to survive 90 years in Colorado with a family owned third generation O'Meara in charge store, is quite a feat.
I think there are only a couple older Ford stores in the nation. O'Meara Motors started in 1913 downtown Denver near where the Denver Library is today. Brian O'Meara follows in the tradition of his father and grandfather who during the uncertain times of world wars also had the faith to grow the family business. This philosophy has paid off for the last 90 years with a true investment in their community and servicing their customers. I've personally seen the extra mile that O'Meara Ford have gone to keep their customers happy. You will find generations of customers at O'Meara Ford that bring their children and grandchildren in to buy cars and trucks there. Folks like doing business with the same people again and again. Building relationships of repeat customers is the foundation that has kept O'Meara Ford still family owned after the competition as been swallowed up by national dealership chains.