2017 Honda Ridgeline AWD Black Edition MSRP $43,770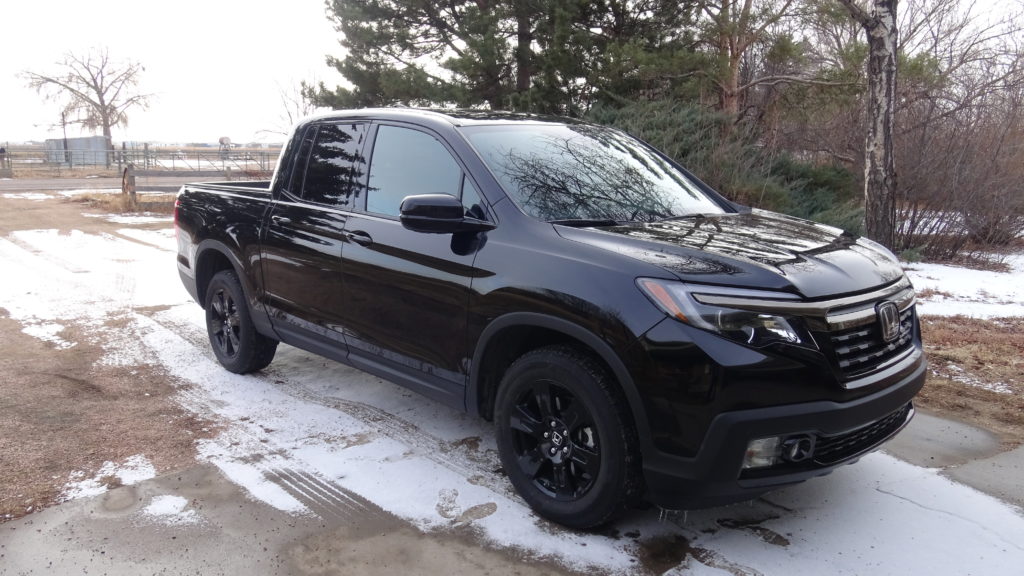 New Honda Ridgeline First drive with trailer.
Is it a truck? Yes, it's different though it may be the future of trucks. I see it as another choice in a crowed midsize category. The good: this new model looks more like a truck (maybe an El Camino) than the last Ridgeline. May not be a truck for a farmer or rancher, but could be a second truck and would fit lots of folks in town just needing a few trips to Home Depot or towing a boat. The new Ridgeline is a utility tool with a tailgate that swings down or to the side for ease of loading and a trunk under the bed that could be a hot tub or a weather proof storage trunk. The bed size is useful,  5'5″ long 50 in wide, the same inside with as a dually. 7 ft long bed with tailgate down could haul plywood and sheet rock. The All-Wheel-Drive version I reviewed can tow 5000 lbs.
Inside the bed walls are weatherproof stereo speakers for your tailgate parties. All-Wheel-Drive modes for Intelligent Traction Management has four modes, normal, snow, mud and sand. These are modes you see in Toyota Tacoma TDR Pro, Ford Raptor and Lexus SUV's. I wouldn't enter the Baja 1000 desert race yet.
New Honda Ridgeline First drive with trailer
Maybe the softest riding truck with 4-wheel independent wishbone suspension. Very similar to a car and unibody like a car. 3.5L V-6 with a 6-speed auto has good power. Heavy duty tranny cooler is made for the 5000 lb trailer capacity. All the latest car safety electronics like lane departure that yells at you and applies brakes if you're too close to the lines, adaptive cruise control keeps your distance away from the car you're following. You'd have to try to crash this truck. Eight cab speakers, 10 way power seat, all the toys and the controls are easy to use. Three temperature zones, moon roof and 18 in wheels, you'd think it was a luxury car. 75% is made in US and Canada.
EPA shows 25 mpg highway and 18 in the city with a 20 gallon fuel tank. I've admired the way Honda figures truck curb weight. The rest of the manufactures figure the weight of the empty truck, a tank of fuel and one 150 pound driver. Who buys a crew cab for just one person? Ridgeline figures curb weight more realistically, empty truck, tank of fuel and four 150 lb. passengers. Curb weight on this top of the line Black Edition is 4300 lbs. Curb weight relates to towing capacity.
The bad: it will tackle snow covered roads, but not off-road trails even as an all-wheel-drive having low clearance under carriage and excessive wheel spin turns on the dash warning lights. I'm sure there's more, just have to think about it.
Power is 280 horsepower and 262 torque.  Honda, known for reliability. They have a built in market for all their products. I've had women come up to me at horse expo's and say if Honda built a dually one ton diesel, they'd buy it. They assume a Honda Heavy Duty would be in the shop less than what they are towing trailers with now. It's all related to experiences with the Honda cars and generators and ATV's.
MrTruck's Top 10 Trailering Tips to Save Your Life.
Overhauler Power Tilting Truck Overhead Racks
Comments
comments