MrTruck's Insider Club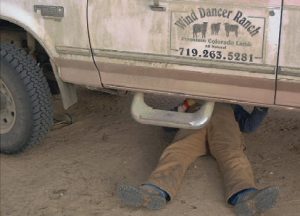 My websites, https://MrTruck.com https://MrTrailer.com and https://MrTruck.TV are all dedicated to educate and advice for towing trailers and the vehicles that tow them.
It takes some down and dirty field research to make the right recommendations. Ranchers are a good test of trucks.
Just think of me as your guide to the inside.  Accessory reviews, truck advice, truck test drives, this is the place to get the Truth About Trucks and the products you ad to them! We'll help you match your truck to your trailer. You're wondering how do I know the answers to your questions. Trucks can be confusing with all the options and configurations. I've owned, Ford, Chevy, Dodge, Isuzu, Toyota and Mazda, over 17 trucks. I've also pulled trailers with my trucks in 32 years on my farm/ranch. Over 1,000,000 trailer miles wearing out pickup trucks like only a poor farmer could! I review trailer factories, mostly horse trailers. I've owned many flatbed trailers too and understand RV trailers.  
Then I moved to the big city to sell all makes and models of trucks, new and used for over 10 years. I was an auto broker for AAA Auto Club for 2 of my 3 years as an auto broker. You need the right information to make an intelligent choice. Trucks can last several decades, so can the wrong choice and payments.   I like to answer your questions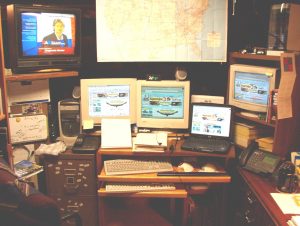 thoroughly. I usually know 70% of the answers you ask but with answering questions on all the makes of trucks, has prompted me to accumulate all the truck books, towing guides, brochures, manuals, data bases, manufacture source books, ordering guides, Technical Service Bulletin, truck club memberships etc., I can find, are in my office to have the resources to look up what I don't know. I have the largest truck library and data base. 
One of the top truck manufactures called me one of the top 4 truck salespeople in the country and invited me to be on a live 2 hour truck training TV show. The TV show was made into to two truck training video's. I have the experience to help you make the right choices.  Picture at left is my first office off the farm.
A unique detailed truck recommendation.
When I was selling trucks,
the dealership wouldn't give us the latest information. They wanted us to keep selling the old product inventory. But they would give the press a sneak preview. Well now I'm the press. It was frustrating to have  customers bring in a magazine with some new feature coming out that I hadn't heard of yet. So when I started this website almost 20 years ago, I researched what manufactures were hiding from me as a salesman. Now to save time, money and give yourself piece of mind, knowing you finally bought the Right Truck at the Right Price! 
MrTruck's Top Picks, Truck, SUV & Trailer Accessory Store, ENTER 
Cheap Trucks!
 And Pictures! from your Truck Buying Coach
Level the playing field, I helped people buy the right truck for 10 years before my websites. I took the hassle out of the purchase, research and most important, helped people buy the right truck! I could fill a website with the horror stories from folks who bought the wrong truck at full retail from the wrong high pressure, super friendly, smiling, hand shaking, land shark. Do you know which truck, transmission, engine, axle ratio, bed, even tires you need for what you have planned for the family truck? Can you use some truck advice?  Do you need a horse truck, camper truck, hay truck, boat truck, or all the above?
Most dealerships have new salespeople with no experience with trucks and the experienced salespeople only know how to tell you what you want to hear and make those $6000 profit commissions, ($2400 in their pocket)! I've heard many of them tell people a 1/2 ton truck will do the job, to pull the trailer that a 1 ton is needed for! You can ask friends and family along with thousands of message boards on the internet and get part of the answers, but how can you sort all that information. I scan several truck message board, participate in some of them and read and hear a lot of bad answers. This is my profession, not my hobby.
You know that ache you get in your stomach when you aren't sure you bought the right truck? And if you bought it anywhere but home, you don't have 3 days to take it back.  I have buyers remorse constantly.
I've worked with a lot of buying services and brokers over the years and even was one for 3 years. Those services are going to make $100 to $500 and more from you when you use them whether they tell you or not. And you don't know who is paying them on the back end to steer you in their direction and brand of truck. There are things about each truck brand I like and things I don't. If you've read my website, you know I don't have a problem telling you what I think about these chunks of metal, rubber and plastic they charge $60,000 for with a smile! I don't take truck manufacture advertising on my website. I would if they were built better. Go find a truck bed on a 72 Ford, Chevy or GMC and compare it to the crap they call a truck bed now. You didn't need bedliners back then but you did have rust. Now Dodge went the other way. The 2002 Dodge 1500  is the best truck bed they've ever had. If you can find a 72 Dodge with the bed still on it, take a picture and send it to me.  I do like the ride of modern trucks and the tailgates have improved.
SUV's are classified as a truck by the U.S. government. I'm a truck guy but I do understand the economics of having a SUV as your only vehicle. How do you know which SUV is equipped to safely pull your trailer? I make recommendations on which one will do you the most good.
---
"Enjoyed reading the info you provided. Like your style. Was informative without being dull & boring. Have been looking for an ext. cab diesel to pull a fifth wheel. Will also be used for family travel. Thanks for the info." Georgia H, Florida
---
Read the "good stuff" I can't get published anywhere else!
You need to keep your kids college fund and your retirement fund, instead of letting the grinning land shark salesperson brag  about who they ate for lunch! There are good salespeople and dealers out there, can you tell them apart? I can. This will be the place we can solve truck problems together!
Read my reports "click" They are designed to save you time, aggravation, and loads of money! The more you know, the less you blow, grasshopper.
No emails are sold. Your address is not given to anyone. Always on a Secure Server for your credit card security.
Over eleven years ago when I started selling trucks for a living,
 somewhere around 25% of the folks I sold vehicles to, were what's called upside down on their trade-in. They were in the hole, owed more than the trade was worth. Now I would dare to guess that number is closer to 75% in-equity in the trade-in's. That means most people making payments on vehicles today are also paying on the last vehicle or more in that payment. Ouch, paying on something you aren't driving and don't own! Sometimes a lease helps sometimes it doesn't. Do you know how to tell? There is a reason that it all seems confusing, Even the terminology between a loan and a lease are different describing the same thing, why? Kind of like the legal jargon used by lawyers, do you think there is a reason they want us confused and in the dark?
I search out the best truck accessories and review them for you. You get the inside story. And Pictures!
If you ever go to a major auto show and you see feet sticking out from underneath a truck, please don't step on me! Sometimes I have trouble with my zoom lens. You wouldn't believe the places that have restrictions on what you can take pictures of, and it ain't easy running in my Ariat boots at my age with dogs barking at me!
Trailer Reviews:
Truck Reviews:
At PickupTrucks.com and MrTruck.com, we know our readers are demanding. You want all the truck details so that you can make the best decision possible. That's why we created Light-Duty and Heavy-Duty Shootouts that put these ever-changing trucks to the ultimate tests. Check out our exhaustive coverage before you make your next purchase.
---
My recommendation on the top accessories I review and evaluate.
Report 3.0 Why your child's First car should be a Truck.
Report 7.0 Do I need a diesel? Is maintenance & mileage different? Are emissions different?
Report 8.0 Who has the best loans and warranties?
Truck price discovery! Learn where to get the invoice prices to build your truck with options for free and get pricing for used trucks too.
 Truck ratings terminology for loads and pulling.
You need to get this knowledge before you
Here is the used truck, John from Kentucky got a great deal on, see his story.
Even my friends and relatives who grew up during the dust bowl can get excited about a deal like this!
 For what it saves you, in money and time and blood pressure, 

it could easily save you 100 times that!
---
Thank you for visiting
MrTruck's Insider Club