Popup RV Short-bed Truck Hitch Extension – New hitch to convert your gooseneck ball in your truck to a  5th wheel base plate (rail type) You don't need to put rails in your truck bed, just drop the Popup CAG convert a goose 5th wheel in either a Popup Flip-over hitch or B&W Turn-over ball. $594

Add to cart….
New air ride 5th-wheel conversion to gooseneck
The RVGC-AIR (Air-Ride Adjustable Height) is a product that will allow you to pull your 5th wheel camper with a Gooseneck ball without having to bolt on an adapter. This is a one piece product that bolts into your existing bolt holes where your king pin box is mounted currently. Simply unbolt your existing king pin box and install the RVGC-AIR in the same bolt holes. This product is rated at 24,000 lbs and a tongue weight rating of 6,000 lbs. A smooth ride for you and your cargo. A single high quality airbag does the job.  Buy Now! $1424
The RVGC-AIR is the air-ride adjustable model which gives you about 4″ of adjustment down by the coupler and most trailer manufacturers have adjustable whole patterns to allow you an extra 3″ of adjustment where it bolts to your 5th wheel. Which makes the total about 7″ of adjustment.
Bolt hole location and number of holes will vary depending on the configuration of your current pin box model. Picture shown may not be the exact model for your application. The number of holes, and size of holes are specific to the pin box model currently on your unit. Buy Now! $1424
The RVGC-AIR will fit 12″ and 12.5″ wide pin boxes with the following bolt patterns.
Fits LCI 1621, 0719, 1716, 1116, 0115. Also fits Fabex 500, 503, 520, 530, and 560.
If your current pinbox is 12.5″ wide you must use the included 1/4″ spacer plates. 
Note: Keeping the airbag protected from the elements such as sunlight will help extend the life of the rubber cushion.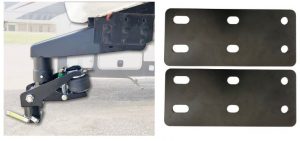 Less driver and passenger fatigue.
Low Maintenance.
Precision laser cut fabrication.
Coupler pre-drilled to accept a padlock.
Includes Spacer Plates or 12.5″ wide boxes
Less wear and tear on truck and trailer.
Simple swap-out installation.
Self-Latching 2 5/16″ coupler
Long lasting black powder coated finish.
100% complete.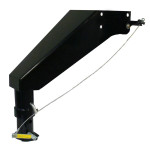 New RVGC-ADJ, new adjustable height Popup Adapter for converting 5-th wheel RV trailers to gooseneck couplers. Less stress on your RV trailer neck. Eliminate that bulky 5th wheel hitch taking up the space in your truck bed. Rated at 24,000 lbs. Easy self-latch coupler with 7 inches of height adjustment.  order RVGC-ADJ now for $824 Fit Chart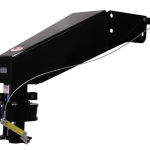 New cushion coupler from Popup on their RV 5th wheel conversion to gooseneck ball. Takes the bumps out of your ride by isolating the truck from the trailer. Order new RVGC-CA Now $1008 Fit Chart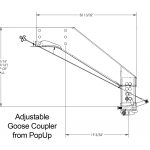 For RVGC, Measure forward from the center of the front row of bolts that currently bolts on their 5th wheel pin box to the center of the king pin.  The measurement they come up with can be compared to the RVGC's measurement of 19 3/32", as shown in the attached picture.  This will help you to realize if the RVGC will be a greater or lesser advantage in moving the trailer rearward, further away from the cab of the truck.
Questions? call 303-883-1300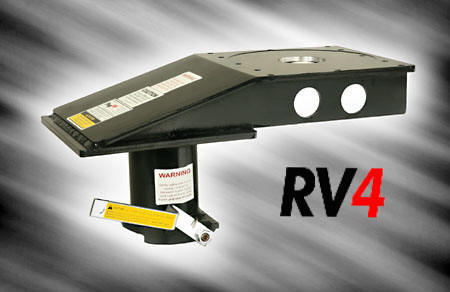 RV4 conversion with 10 inch extension, King Pin to gooseneck ball conversion for flatbed trucks. The coupler tube is a couple of inches deeper than the RV1-2-3s to fit in a truck flatbed ball recessed box. The RV4's are designed for use with flatbed pickup trucks. They do not offer enough clearance over the side rails for standard pickup beds. RV4 with 7 1/2″ fixed height and 4″ from top of ball to bottom plate. RV4XL with 11 1/4″ fixed height and 7 3/4″ from top of ball to bottom plate. The difference is a longer tube from the coupler to the bottom plate.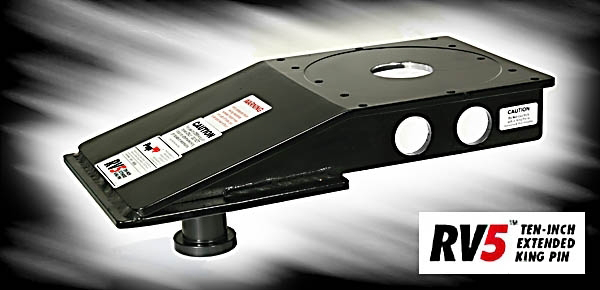 More trailer swing.
Easier hook-up.
Clamps to standard king-pin.

RV5 Extended King-Pin


Order Now $489
An Extra Ten Inches Clearance Between Your Truck and RV.Bolts to king-pin box.

Built For Years of Trouble-Free Service order now RV5

The RV5 is fabricated from precision laser cut steel plate which is welded to the high standards you expect from PopUp. The finish is powder coat for years of protection and good looks.

The RV5 is held securely to the trailer king-pin box with a strong king-pin clamp. It also bolts to the king-pin box for additional stability. The installation fasteners provided are Grade 8.

The RV5 has a gross trailer weight rating of 24,000 pounds and a gross tongue weight rating of 6,000 pounds. Patent Pending

Order Now $489   5th wheel 10 inch extension

Installation instructions RV5 King-Pin Extender With these adapters, if your king pin plate is 3/16″ or more, you can bolt adapter to the king pin plate. If plate is less that 3/16″ it would be better to weld adapter to the king pin plate. Always inspect the king pin box before adding an extension or adapter.

Installs quickly and easily.
Precision laser cut fabrication.
24,000 lbs. Gross Trailer Weight.
6,000 lbs. Gross Tongue Weight.
Long lasting powder coated. 100% complete.
Popup RV 5th wheel Short-bed Truck 5 inch Hitch Extension
Everyone who tows an RV needs more clearance between the truck and trailer. You can always use more room for maneuvering, especially if your towing with a short bed truck. And, an extra ten inches between the rear bumper and the bulkhead of the trailer makes things easier, too. The RV55 gives you the extra clearance you need in a strong easy to install accessory.
Email me Questions problems call 303-883-1300
NEW and Improved You're going to love this newly redesigned PopUp 2 Hitch. Smoother acting and trouble free.  We've made the best hitch even better.  One pull of the handle to raise the ball is all it will take to convince you that this is the hitch you want.  Try it and see. We've replaced the cam mechanism with a simple yet strong and reliable slide to raise and lower the ball.  Simply pull the rod to raise the ball and push to lower it. Raise and lower the ball from the wheel well of your truck. More info….

The Flip-Over Ball gooseneck hitch converts to a smooth bed in seconds. Just rotate the handle and Flip the ball over. In seconds you can have a level bed for all those jobs when an ordinary hitch ball is always in the way. No fabrication or welding. Installs with truck bed in-place. 30,000 lbs. Trailer. 7,500 lbs. Tongue. 100% complete, More…
Popup RV Short-bed Truck Hitch Extension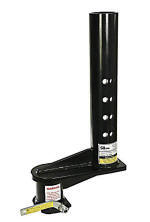 Gooseneck Extensions for shortbed trucks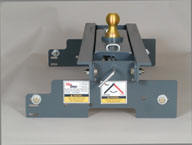 Flip Over Gooseneck ball truck hitch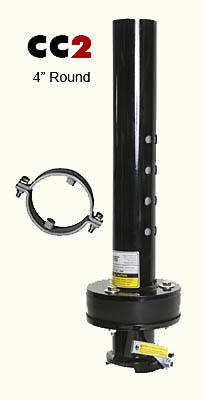 Gooseneck cushion coupler for a better ride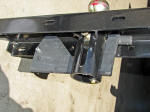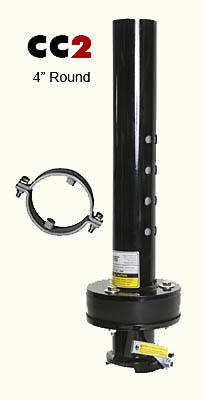 Pulling a trailer with this coupler is like riding on a cloud. It absorbs up to 59% of the bumps, jolts and jars that make towing hard on you, hard on your cargo and hard on your equipment. Living Quarters horse trailers really need this to save bedroom cabinets. Simply swap it out with the coupler on your gooseneck now – and, Walla! Instant gratification. Trailers keep getting larger with more weight on your truck. You need a buffer between your truck and trailer. The CC 2 Cushion Coupler costs hundreds less than air-bag style couplers – and its maintenance-free. The remarkably smooth ride comes from a patented system that uses world famous Timbren cushions combined with other proprietary shock-dampening technology.
You don't sacrifice strength for smooth towing. With a gross trailer weight rating of 24,000 pounds and 8,000 pounds maximum tongue weight, this cushion coupler will take you wherever you're going in remarkable comfort. The rubber inside the tube works as a guide for up and down motion as well as dampening front to back vibration. Designed to apply trailer cushion at different tongue weights, Cushion Coupler will work with a loaded or empty trailer or anywhere in between. All Popup Gooseneck Cushion Couplers are now BLACK Powder Coat. Return Policy
All Popup Gooseneck Cushion Couplers are now BLACK Powder Coat
Popup shortbed truck gooseneck extension to save your trucks rear window
Popup Flip-Over truck gooseneck hitch
Comments
comments