Next New Project Truck, 1994 Dodge 1500 4×4 Shortbed
A yard full of old trucks, this one I'll get running sooner. It has a 318 v-8, 4×4, 4 in. lift, 3 inch body lift. I've always wanted a lifted truck. This is the first year of this body style. Bob Lutz whom just retired from GM was the big cheese at Chrysler in the eighties. He thought the current Dodge trucks looked too much like sedans. So he had the designers build something bold. Which it is, big fenders and a narrow semi-truck looking hood. It has 5 link front suspension with coil over shock front suspension with a Dana 44 axle, vacuum activated front hubs. Spicer rear axle and a much improved stronger bed.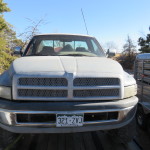 This truck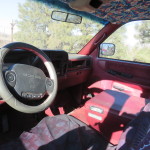 spent most of it's life in New Mexico so little rust. But the heat did yellow the plastic. The auto tranny is an upgraded 46RH. That's the biggest problem. The guy I bought it from, rebuilt the tranny and reverse is missing. So we'll overhaul it again. Has headers, a Superman comic headliner, 40-20-40 seat, my favorite and moon mirrors. The tires of good BFGoodrich mud tires 33x 12.5 x 15. The largest that would fit the fenders. We'll be doing video's with this truck and challenge TFL truck on Gold Mine Hill. The 1994  Dodge 1500 was Motor Trends "Truck of the Year."
Dodge Ram 1500 restore project on MrTruck
 You Tube video: New project truck, restoring a 1994 Dodge Ram 1500 short bed 4×4. Motor Trend Truck of the Year for 1994. All new truck with the bold look that Bob Lutz asked for. We bought a truck on Craigs List from someone going thru a divorce.
I met Ruben Ontiveros of  Advanced Transmission & Auto Repair in Longmont Colorado. He was referred by a friend whom rebuilds diesel trucks. Ruben is fun to watch work. He knows what he's doing and very efficient putting transmissions and trucks in general back together. Watch the video's below and you'll understand why Ruben is my mechanic.
1994 Dodge Ram 1500 work: Overbuilt auto tranny, new high-stall torque converter, new exhaust including cat, full flow exhaust, 3 in mandrel bends. EGR tube, tune up oil changes, seals on transfer case, skid plate for transfer case, new radiator, new tranny cooler, new rear drums, new rear brake lines, new vacuum lines, new throttle cable, lengthened front drive shaft with 3 new U-joints, new crank sensor. Ruben found a rolling chassis from a 1998 Dodge, we used the injectors,  complete front axle, steering gear box and emergency brake cable.
You Tube Videos
(http://www.AdvancedTrans.com) MrTruck.com project truck 1994 Dodge Ram 1500, lift kit, headers and an OverKill automatic transmission rebuild from Advanced Transmission & Auto Repair, Part One. This is the truck that will challenge Big Green and Rusty Boy at www.TFLtruck.com
 We made long video's to explain how complicated auto tranny's are.
Comments
comments