Trucks Pulling Trailers and Trailer Accessories
CM Truck Bed Review and Install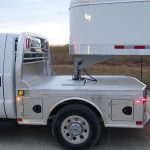 On the farm I found my favorite tool when I put a steel flatbed on my 1977 C30 Chevy dually. With the stiff springs in the 1977 one ton, adding the weight of the steel flatbed, calmed down the ride. I could drink coffee finally and drive. But it was so useful, had a Montezuma toolbox, generator, vice, torch and a recessed gooseneck ball. I put my backhoe bucket on the end of the bed, chain it to the ball, and lifted the backhoe front tires off the ground. After disconnecting the hydrostatic transmission, I was rolling down the road at 60 mph without a trailer. That truck flatbed was my portable shop bench.
Now almost 3 decades later, I finally have a truck flatbed again. This time it's a CM aluminum bed. I went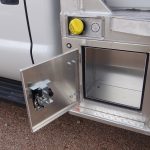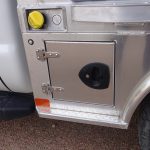 to Oklahoma with TFLtruck.com for the transformation. Modern 4×4 trucks have gotten so tall, I guess truck manufactures forgot we tow trailers with the trucks we buy from them. CM is known for all types of truck beds. From bale unrollers to utility. I chose the AL-SK. It's a cross between a utility and flatbed. It has 4 sealed lockable compartments in the side skirts. A large headache rack with white LED brake, backup and running lights. All the lights are LED. The headache rack is level with my truck cab, so I fit in most car washes. The recessed gooseneck ball has the trailer plug. The gooseneck door pulls to the side when towing and is extruded aluminum like the deck that is one in. thick. This gooseneck ball is B&W rated at 26k. 30,000 lb. trailer ball is available. The rear receiver hitch, also B&W is rated at 14, 500 lbs. on my model. My bed is 7 ft by 7ft and is perfect for my Ford 2012 F250 short bed.
CM Truck Bed Review and Install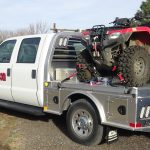 It's all aluminum except for the 4 in. steel channel iron under the bed that attaches to the truck frame and connects to all the hitches. I went with aluminum because it won't rust and is lighter. Now I have ½ a new truck as the new Ford Super Duty's have aluminum bodies. High end horse trailers went aluminum decades ago and can look new 30 years later. And apples to apples comparing the weight of the new truck bed verses the factory truck bed, only 80 lbs. heavier for aluminum bed! That's including the gooseneck hitch, bumper and same tool box. Then TFLtruck.com and me did a fuel mileage run before and after installing the new bed. The aluminum bed gave me one MPG better. Doesn't sound like much, but I was expecting to lose some fuel mileage. That's close to 8% improvement.
I've hauled big square bales and even ATV's on my new bed. The lights are so cool in my new tool. The wiring harness is modular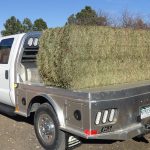 for a quick plug and play. In Oklahoma and Texas most everyone has a truck flatbed, so the factory take offs aren't valuable. But here in Colorado, I brought my factory bed, hitches and bumper home and sold it in one day on craigslist for $900.
It's so easy now to hook up to my gooseneck trailers. I don't worry about the tailgate or hitting the bed side rail when I go thru dips. And it's easier to latch the gooseneck coupler and safety chains, I just lean over and do it all from the side.  The new trucks are just too tall for gooseneck trailers, this truck flat bed makes sense.
Leasing a truck or not can be confusing, most of you know how financing works.
Comments
comments