| | |
| --- | --- |
| | |
FOR SALE: Rare opportunity to buy the MrTruck.com test review truck. It's a 2006 Ford F250 diesel 4×4 Super Cab long bed XL. 6-speed with a new Great Bend clutch. Over $14,000 in aftermarket accessories. Service was done religiously.  See the details
DirecLink Trailer Brakes________________________________
Finally ABS brakes for trailers ! DirecLink, Fast, smooth and safer than any brake system we've tried. We took our test trailer to the race track, smoked the brakes, burnt the seals and proved how dramatically superior hydraulic disc rotors, electric-hydraulic actuators,ABS modules and a trailer brake controller that networks with your trucks computer can be. Electric brake drums didn't stand a chance in our side by side comparison. A big step toward safer trailering on our crowded highways and unpredictable weather patterns. Share this detailed report about the difference ABS trailer brakes can make.
Saddlematic____________________________________________________
Eureka! Saddlematic ™ Revolutionary Motorized Saddle Rack. Finally you can stop wrestling your saddles in and out of your trailer and lifting them over your head. Saddlematic will bring your saddles to you. New electric model and a swingout for your rear tack. See the whole story and how they work. Click here…
EZ-Connector___________________________________________

Trailer Electronic Technology for Safer, Easier Connection. EZ is a magnetic connection, powerful magnets. Just get the male end near the female plug and "pop" it sucks together. A tab slot align the socket and plug to match the right connections. The male end has two silicone o-rings, the cables have sealant injected inside, all to make the system water proof. If you can keep the water out, you can keep the mud and all the corrosive chemicals used to dissolve ice on the highway out. Spent my share of nights with a flashlight in my mouth in the rain as I work on trailer lights. See the review….
Trailer Eyes Horse  Trailer Camera's
Everyone wants wireless camera's because of the convenience, but we all want a good picture. That was the tough part until now. Trailer Eyes wireless camera system went with a different wireless signal frequency and uses outside antenna's on both ends. The biggest problem with wireless camera's is keeping a good signal, Trailer Eyes has such a dependable signal, they guarantees it. Think about all the interference that a wireless signal has to overcome, the big piece of metal called a horse trailer or RV, your cell phone, Wi-Fi, radio, rain, cell towers and blue tooth.  Read more…. 
AutoFlex________________________________________________
Auto Flex has a complete pickup truck leaf spring replacement with an air suspension. It bolts on the same place as the factory leaf springs. Self levels, improves ride, braking, steering and handling. Comes with compressor, tank, dump valve and tap for using onboard air for your tires etc. Also a complete trailer air suspension. Auto Flex Review
 BigFoot Trailer Jacks______________________________________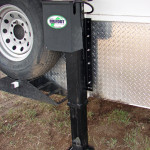 BIGFOOT Trailer Jacks Ever cranked a heavy trailer jack by hand? Even the 2 speed jacks wear you out. Electric jacks are cheaper, hydraulic jack are faster and made for heavy use.Bigfoot has a steel oil reservoir that the hydraulic motor mounts to instead of a plastic tank that I see on other brands and the cover stays on. More…
Land Rover LR4__________________________________________
LR4 Land Rover, fun to drive. Great Colorado SUV. Didn't come with a trailer hitch so I couldn't take the horses to the Rockies. But I did find some sand, rocks and logs to climb. Took pictures of Aspens turning last fall between Bailey and George Town. It's luxury, and everyone knows it, a long way from the Land Rovers we saw in African safari movies. You feel a little richer by driving it, though the LR4 model looks like the more expensive Range Rover's, it's a descendent of…… Read the review…
 Centramatic________________________________________________

Stop tire cupping, vibration and premature wear on those expensive truck, RV & trailer tires. Centramatic automatic wheel balancers have been saving money on tires for semi-trucks for over twenty years. Now you can automatically balance your tires, wheels, hub and rotors or drums while you drive. A balanced tire doesn't cub, vibrates less & lowers the tire sidewall temperature from less flexing, giving you longer tire life. 5 year warranty, made in the USA. More…
 Ram 2013 Diesel 1500__________________________________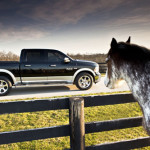 Beginning in third-quarter 2013, Ram will become the only brand to offer a small-displacement diesel for its half-ton line of trucks.
The 2014 Ram 1500 will offer a new, 3.0-liter EcoDiesel engine, mated with the eight-speed TorqueFlite automatic transmission. The powertrain is expected to deliver an outstanding combination of best-in-class fuel efficiency, best-in-class torque and impressive capability. More..
 Titan Trailers___________________________________________
Titan Trailers from Kansas, are well know for livestock trailers, flatbeds and inexpensive steel horse trailers.
But they make them all, chances are if you need it, they build it. And they build a lot of trailers. Titan Trailers recently purchased Logan Coach, a horse trailer company. Over the years Titan has acquired many other trailer companies, adding their buying volume and manufacturing expertise. Read the whole review….
Ram 2013 Dually ______________________________________________
The dually towing race just got crazy. The Ram 3500 Heavy Duty pickup will claim a 30,000-pound trailer capacity thanks to a new class-exclusive 50,000 pounds-per-square-inch, high-strength steel frame, improved transfer case, higher-load transmission, an upgraded 6.7-liter Cummins Turbo Diesel engine with a best-in-class 850 lb.-ft. of torque and other significant driveline upgrades. Read the press release:
Step Above Ladder________________________________________
Step Above trailer ladder. I've said it before, most folks don't use their hay racks. Mainly because it's too hard to get to. A big share of factory hay rack ladders don't cut it. Too narrow, flimsy or just plain scary.
Step Above is a slide-out aluminum ladder that makes the roof of your trailer an easy trip and safe. Having the right angle slanted away from the trailer takes the work out of climbing a ladder just like your step ladder you use around the house. Step Above slides out to the ground, just the right slope for climbing. More…
Transwest Truck Trailer RV___________________________________
Transwest Truck Trailer RV, selling Cimarron and Logan horse trailers. Whether you are new to horse trailers & need some extra help or you're a veteran and want the best trailers, you owe it to yourself to visit Andrew Lyons and his crew of horse folks. Buy your horse trailer & truck together or separate and get the right advice on matching your needs the first time. Read more about where I ask trailer questions.
New & Used Trailers–Trucks made for Towing–Trailer Repair & Upgrade–Truck Performance Products. Read more about where MrTruck asks trailer questions. Call Andrew Lyons 1-800-909-7071 email alyons@transwest.com www.TrailerWest.com
Cimarron Review__________________________________________
Cimarron Premium Trailer Review, 10 Years to the Top Even in the current recession, Cimarron Trailers is improving, expanding and zeroing in on efficiency. The factory is staying the same size, but putting out 25% more trailers. There is a handful of aluminum trailer manufactures at the top in premium trailers. None surpasses Cimarron current models. The top trailers need smart engineering, custom doors and windows, top components, strong beautiful welds etc. The result is quality uniformity on all trailers from roof to axles. Where else would you build horse trailers, but the heart of More…
 Titan West_____________________________________________
Titan West Cattle Equipment Video. RFD TV review on Equestrian Nation. Watch the video
Travel-N-Corrals_______________________________________
Trail riding and Travel N Corrals go hand in hand. Easy to take with you, easy to setup. Horses tied to a trailer for hours can cause problems. Keep your horses relaxed in a roomy corral as you enjoy the great outdoors between rides. Sleep well at night with your Travel N Corrals placed where you want them and in plain site of your bedroom window. If you go to high school rodeo's, you will see portable corrals everywhere. Families enjoying each other and security for the horses when everyone is running…..More….
 Kodiak Brakes__________________________________________
Kodiak Hydraulic Disc Brakes Video
RFD TV review on Equestrian Nation.
Watch the video Read MrTruck Review
One ton verses two ton trucks_______________________________
Do you need a one ton or a two ton? One class wins acceleration, the other wins braking; Starting in 2011, the big three raised the GCWR from 26,000 lbs to 30,000 lbs on 1 ton dually pickup trucks. That's CDL territory. Each new model pickup truck year has an increase in towing capacity. What is the limit? More…
Truck Answers: Free truck reports. And which axle is right for you? WIll it fit my garrage? What about wheelbases? Diesel or Gas, transmissions, Differentials and Bed length. Can your salesperson tell a 1/2 ton from a 1 ton? Crew cabs, those wonderful 4 full size doors! Special report, gooseneck and fifth wheel towing products. The Truth about loans!
Our EZ-Connector Horse Expo Tour, Next: Equine Affaire of Ohio April 11-14
See the Latest and Greatest new trailer towing products  See Pictures
Titan Trailers Ruff Neck Flatbeds make the grade; I've used flatbed trailers more that any other type of trailer. Hauled hay, wool, tractors, buildings etc. When I was in the custom haying business, I'd put a tractor with loader hooked to a big round baler on my flatbed and put up hay all over. The Rough Neck's we used in our "2011 Heavy-Duty Hurt Locker Shootout… Read the review…..
Towing Review:  Free truck comparisons; Hummer H2 pulls a horse trailer & more. Special report on buying a pickup truck equiped right. The Good, Bad & Ugly, farm stories, competition created American Free Enterprise. Latest truck technology articles.
MrTruck

's Insider Club: Q&A, New or Used Trucks? Comparisons and Research. Chat about your favorite or nightmare trucks on our Message Board for Pickup Trucks! What do you think, tailgate up or down for fuel mileage?
MrTruck's Favorite Innovative Accessories: I'm not talking about license plate borders or chrome exhaust pipe tips. I have those too, but cool functional stuff that you don't see everywhere. More…
Comparing Trucks, and Terminology for Towing:
National Diesel Fuel Prices, Axle and Tire Calculator. Trucks for Women, do truck manufactures care about what you want? Should you buy your used truck from a new or used dealer? Truck Clubs
H. Kent Sundling (MrTruck) Publisher, David Sundling, Editor/Art, Eric Sundling, Photo, Mark Simonds, writer, Stephen Louie, writer, Melissa Brawner. horse editor.Published in USA, World HQ, Denver CO. Ph. 303-883-1300, email kent@mrtruck.net Founded 1999. Copyright © H. Kent Sundling, All rights reserved. Email for free reprint & picture permission.
Thank you for visiting our online magazine.
Free Classified, Truck, SUV, Camper & Travel Trailer For Sale Click
| | |
| --- | --- |
| MrTruck articles published below | "God Bless America" Website Made in Colorado USA! |
MrTruck Media family of websites you can use!