King of Beasts, truck shootout_______________________________
Travel-N-Corrals_______________________________________
Trail riding and Travel N Corrals go hand in hand. Easy to take with you, easy to setup. Horses tied to a trailer for hours can cause problems. Keep your horses relaxed in a roomy corral as you enjoy the great outdoors between rides. Sleep well at night with your Travel N Corrals placed where you want them and in plain site of your bedroom window. If you go to high school rodeo's, you will see portable corrals everywhere. Families enjoying each other and security for the horses when everyone is running…..More….
Trailer Eyes Horse  Trailer Camera's
Everyone wants wireless camera's because of the convenience, but we all want a good picture. That was the tough part until now. Trailer Eyes wireless camera system went with a different wireless signal frequency and uses outside antenna's on both ends. The biggest problem with wireless camera's is keeping a good signal, Trailer Eyes has such a dependable signal, they guarantees it. Think about all the interference that a wireless signal has to overcome, the big piece of metal called a horse trailer or RV, your cell phone, Wi-Fi, radio, rain, cell towers and blue tooth.  Read more…. 
Endurance testing 2013 Ford F150, 2014 Toyota Tundra, 2014 Ram 1500 and 2014 Silverado 1500 at Michigan Proving Grounds
Tuson Trailer Sway Control _______________________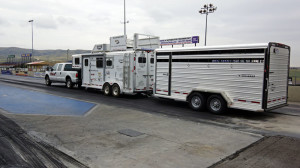 Tuson Sway Control, ultimate trailer sway control for safer trailer towing. Tuson, the folks with trailer ABS and DirecLink trailer brake controller, now have a module that controls sway on bumper pull trailers. It will actually steer the trailer left and right to keep the trailer towing straight.  If you have a sudden gust of wind, get cut off on a freeway or have your trailer load shift, Tuson Sway Control will keep the trailer towing straight. The module automaticly reads how worn your trailer brakes are and how big your trailer is and uses your trailer brakes accordingly.  More….
 DirecLink Trailer Brakes________________________________
Finally ABS brakes for trailers ! DirecLink, Fast, smooth and safer than any brake system we've tried. We took our test trailer to the race track, smoked the brakes, burnt the seals and proved how dramatically superior hydraulic disc rotors, electric-hydraulic actuators, ABS modules and a trailer brake controller that networks with your trucks computer can be. Electric brake drums didn't stand a chance in our side by side comparison. A big step toward safer trailering on our crowded highways and unpredictable weather patterns. Share this detailed report about the difference ABS trailer brakes can make.
EZ-Connector___________________________________________

Trailer Electronic Technology for Safer, Easier Connection. EZ is a magnetic connection, powerful magnets. Just get the male end near the female plug and "pop" it sucks together. A tab slot align the socket and plug to match the right connections. The male end has two silicone o-rings, the cables have sealant injected inside, all to make the system water proof. If you can keep the water out, you can keep the mud and all the corrosive chemicals used to dissolve ice on the highway out. Spent my share of nights with a flashlight in my mouth in the rain as I work on trailer lights. See the review….
Kodiak Hydraulic Disc Brakes_____________________
Kodiak Hydraulic Disc Brakes, Quality and Life Saving Power: I tow my horse trailer around the country to horse expo's. Generally folks towing trailers are more cautious, especially towing horses. But in cities traffic backs up and even when you try to leave proper stopping distance in front of you, cars will just fill in the gap. So now what do you do? On my last trip from Denver to Oklahoma, on I-25 during rush hour, there was of course an accident, the cars in front of me slammed on their brakes. So I had to slam on my brakes, and guess what? I could stop as fast as the cars. Read the rest..
 AutoFlex________________________________________________
Auto Flex has a complete pickup truck leaf spring replacement with an air suspension. It bolts on the same place as the factory leaf springs. Self levels, improves ride, braking, steering and handling. Comes with compressor, tank, dump valve and tap for using onboard air for your tires etc. Also a complete trailer air suspension. Auto Flex Review
 Centramatic_________________________________________

Stop tire cupping, vibration and premature wear on those expensive truck, RV & trailer tires. Centramatic automatic wheel balancers have been saving money on tires for semi-trucks for over twenty years. Now you can automatically balance your tires, wheels, hub and rotors or drums while you drive. A balanced tire doesn't cub, vibrates less & lowers the tire sidewall temperature from less flexing, giving you longer tire life. 5 year warranty, made in the USA  More…
Logan Coach_______________________________________
The New Logan Coach; an efficient leaner Logan sticks to what they do best, galvanized steel frames, aluminum skin and good looking value. Call it the resale value trailer. Bottom line, "beauty of aluminum and strength of steel." One of the few composite trailer brands that can go head to head with high end aluminum trailers for longevity. Always improving and keeping it's roots with galvanized Flo-Coat steel frame coated with Vortex, more..
 Equalizer Systems Trailer Jacks________________________
Equalizer Systems hydraulic horse trailer jack for smooth power. Equalizer Systems Jacks, you see them everywhere. Over 70% of horse trailer manufactures equip their trailers with them. So service and parts are easy to get with the largest trailer dealer network.…the review
Twenty years ago, Equalizer introduced hydraulic jacks to the horse industry. Horse trailer manufactures use them because they are dependable and easy to work on. With a manual backup hand pump, Equalizer jacks will always do their job…the review
 Ram 2014 mega changes_____________________________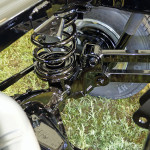 Ram finally got serious about the truck race in 2013 with one innovation after another with a diesel in the Grand Cherokee, 4 corner air suspension on the 1500 and eight speed auto, 30k trailer towing in the 3500 and Smart Exhaust Brake, then a few months later for 2014, rear air suspension or coil for the 2500, rear hybrid air suspension for 3500 and the new 6.4L HEMI V-8. Wow, what's left to improve on trucks? Ram just jumped ahead a decade in 2 years. More…
 C7 Air Ride Hitch________________________________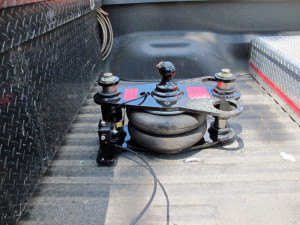 C7 AIR RIDE HITCH: 
Ever ride in the back of your horse trailer? You know the air bag will make the potholes  and ruts smoother on our broken highways, but it will decrease dramatically the vibration that resonates through the trailer floor to your horses feet. Imagine standing for hours with a floor vibrating under your feet. Then try to jump out of the trailer without falling down and recover from being numb and regain the feeling in your feet. Just starting and stopping with a trailer can be jerky. C7 Air Ride Hitch removes much of the  movement from the trailer, which you can feel in your truck. Doing this review, I drove on severe roads… 
Read More…
Odyssey battery review_________________
_______________
Truck Batteries Do More Than Start Your Engine, With Power Everything From Power Seat to Integrated Trailer Brake Controllers, Constant Voltage is Required; Odyssey Battery ReviewMy electronic needs maybe a little higher than average, but my experience tells me I need a deep cycle battery that won't corrode and high cranking power for the cold Colorado winters. Normal battery maintenance is messy with cleaning corrosion from the terminals and cables. Odyssey is a AGM battery (absorbed glass mat). Read the review….
2013 Ram HD 3500 review_________________
_______________
The 2013 Ram 3500 will change the truck and trailer industry. The top end trailer size for pickups will go from 20k to 30k capacity quickly. I doesn't seem that long ago when one ton dually trucks could tow 15,000 lbs, then in 2011 model year it went up to over 22,000 lbs and now Ram is boosting 30,000 lbs for a gooseneck trailer. A big dramatic jump in towing capacity, we new it was coming. In the seventies we called a decked out one ton dually a "Cowboy Kenworth", now we're over 1/2 way to the big rigs. CB and an air horn should be options on this Laramie Longhorn. read the review…
 Cimarron Reverse Load with Integrated Hay Pod________________
Cimarron Integrated Hay Pod and Reverse Load LQ, and air suspension has got to be the cats meow! Transwest has the ultimate horse trailer from Cimarron Trailers. You know the reverse slant load in a sudden stop lets the horses thigh brace on the wall instead of their neck. And going down the road, your horses heads are looking at the fields and houses past the right lane instead of the 18-wheeler and Harley's in the left lane. Then the full width of the rear of the trailer can be all tack room. The built in hay pod seals out the weather to protect your expensive More…..
Transwest Truck Trailer RV_______________________________
Transwest Truck Trailer RV, selling Cimarron and Logan horse trailers. Whether you are new to horse trailers & need some extra help or you're a veteran and want the best trailers, you owe it to yourself to visit Andrew Lyons and his crew of horse folks. Buy your horse trailer & truck together or separate and get the right advice on matching your needs the first time. Read more about where I ask trailer questions.
New & Used Trailers–Trucks made for Towing–Trailer Repair & Upgrade–Truck Performance Products. Read more about where MrTruck asks trailer questions. Call Andrew Lyons 1-800-909-7071 email alyons@transwest.com www.TrailerWest.com
J

eep review________________________________________
I review 4 Jeeps; Grand Cherokee, Wrangler and Liberty. As fun as a Billy Jack movie from the 70′s. Jeeps ride better, quiet cabs and better mpg. I towed trailers, climbed hills and road trip to Texas. 
Enjoy the review…. 
Saddlematic____________________________________________________
Eureka! Saddlematic ™ Revolutionary Motorized Saddle Rack. Finally you can stop wrestling your saddles in and out of your trailer and lifting them over your head. Saddlematic will bring your saddles to you. New electric model and a swingout for your rear tack. See the whole story and how they work. Click here…
Land Rover LR4__________________________________________
LR4 Land Rover, fun to drive. Great Colorado SUV. Didn't come with a trailer hitch so I couldn't take the horses to the Rockies. But I did find some sand, rocks and logs to climb. Took pictures of Aspens turning last fall between Bailey and George Town. It's luxury, and everyone knows it, a long way from the Land Rovers we saw in African safari movies. You feel a little richer by driving it, though the LR4 model looks like the more expensive Range Rover's, it's a descendent of…… Read the review…
Titan Trailers___________________________________________
Truck Answers: Free truck reports. And which axle is right for you? WIll it fit my garrage? What about wheelbases? Diesel or Gas, transmissions, Differentials and Bed length. Can your salesperson tell a 1/2 ton from a 1 ton? Crew cabs, those wonderful 4 full size doors! Special report, gooseneck and fifth wheel towing products. The Truth about loans!
Our EZ-Connector Horse Expo Tour, Next: Western States Horse Expo, CA June 7-9
See the Latest and Greatest new trailer towing products  See Pictures
Towing Review:  Free truck comparisons; Hummer H2 pulls a horse trailer & more. Special report on buying a pickup truck equiped right. The Good, Bad & Ugly, farm stories, competition created American Free Enterprise. Latest truck technology articles.
MrTruck's Insider Club: Q&A, New or Used Trucks? Comparisons and Research. Chat about your favorite or nightmare trucks on our Message Board for Pickup Trucks! What do you think, tailgate up or down for fuel mileage?
MrTruck's Favorite Innovative Accessories: I'm not talking about license plate borders or chrome exhaust pipe tips. I have those too, but cool functional stuff that you don't see everywhere. More…
Comparing Trucks, and Terminology for Towing:
National Diesel Fuel Prices, Axle and Tire Calculator. Trucks for Women, do truck manufactures care about what you want? Should you buy your used truck from a new or used dealer? Truck Clubs
H. Kent Sundling (MrTruck) Publisher, David Sundling, Editor/Art, Eric Sundling, Photo, Mark Simonds, writer, Stephen Louie, writer, Melissa Brawner. horse editor.Published in USA, World HQ, Denver CO. Ph. 303-883-1300, email kent@mrtruck.net Founded 1999. Copyright © H. Kent Sundling, All rights reserved. Email for free reprint & picture permission.
Thank you for visiting our online magazine.
Free Classified, Truck, SUV, Camper & Travel Trailer For Sale Click
| | |
| --- | --- |
| MrTruck articles published below | "God Bless America" Website Made in Colorado USA! |
MrTruck Media family of websites you can use!