2015 Ford F150 New Factory ATV-Motorcycle Ramps
My pickup is my office, the cab is my desk and the bed is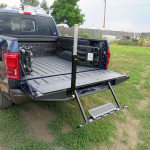 my workbench. Glad to see Ford understands how we work on the tailgate like a bench. Previous Ford tailgates with the slide out step, have had the hand rail fold on the face along with plastic ridges to hold the hand rail. This made a useless tailgate to work on or just set on. Finally on the 2015 Ford F150, the tailgate step and hand rail all slides inside the tailgate for a smooth flat tailgate face. My work bench and park bench is back.
In other articles I've covered the long list of features on the aluminum body 2015 F150, now I want to concentrate on the bed. It's aluminum too, a military grade aluminum that is much thicker than the metal sheet metal of previous years. The bed is reinforced with framing behind the sheet metal. The new box link system in the bed is anchored to the bed frame. Box link has 4 lockable tie downs that look like boat cleats. There is 4 other tie downs inside the bed too. The box link with it's reinforced interface plate has many options like E-track that cargo trailers use for all types of hooks and straps. They hold a bed divider and the box link cleats come out, can hold a hook system for holding a factory ATV ramp above each fender well.
F150-ramps2015 F150 is the first truck to offer factory ATV-motorcycle ramps. They are p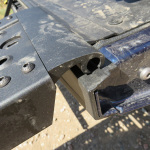 owder coated extruded aluminum like horse trailers use. Adjustable lengths with locking pin, they will slide in to fit a 5.5′ bed. Sliding all the way out, the ramps securely slide along a round groove roll form on the tailgate keeping the ramps on the tailgate at whatever width you need. The ramps don't slide around, you don't have to strap them down to your bumper like aftermarket ramps. With a 800 lb capacity each, they are heavy duty. When retracted and in the brackets above the fender wells, they can be attached to cables in the front and locked to a Bolt cable lock at the rear so they don't walk off while you are trail riding on your toys. Ramps bolt to the ladder rails with a large folding wing nut with a rubber washer so they stay tight and don't rattle.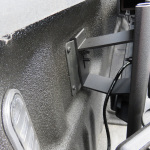 In a hurry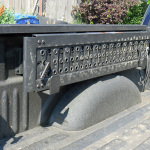 you can just slideramps under your ATV like we do with aftermarket ramps. Suggested retail price for a set of two ramps is $635. Suggested retail price is $370 per ramp (with all factory hardware).
But wait there's more. These F150 have lights all over, besides the LED on the tail and headlights, lights outward on the towing mirrors, lights on the tailgate pointing down on your trailer hitch, but inside the bed are more LED lights. I always wanted lights in the bed. They angle forward and have their own toggle switch or you can turn them on with the cargo light.
The tailgat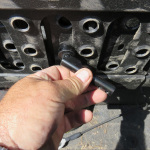 e has a torsion spring built in and now with your key FOB you can push a button twice and the tailgate unlocks and lowers itself, yes I said it opens itself, only takes one hand now or button finger to load your truck.
Comments
comments