Trailer Eyes, the Wireless Camera that Works
Two Models, one for everyone and one system for bigger rigs
More than a back up camera for your truck and your trailer, ideal for horse trailers, car and motorcycle trailers.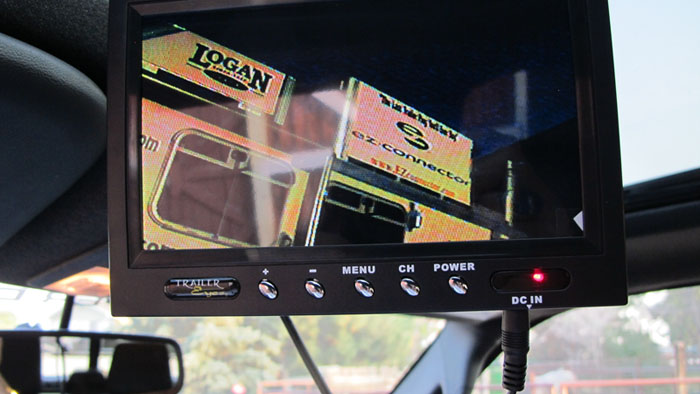 I often write about camera's, as I look for the best setup. Camera's help with towing trailers and can be important like good mirrors. They make hooking up trailers easier, show you blind spots, and keep an eye on what's going on inside your trailer with your prize bull or mare in foal. A popular option on new trucks are back up cameras. Until now the best out there for horse trailers were the corded cameras.  Corded cameras have two connections for each camera, a hot wire and camera feed. So for each camera you have to twist together two connections, 8 cameras, 16 connections and they don't twist together well in the cold, ice or rain. Picture below is the connections with corded camera's, two per camera.
www.TrailerEyes.com  1-888-227-6888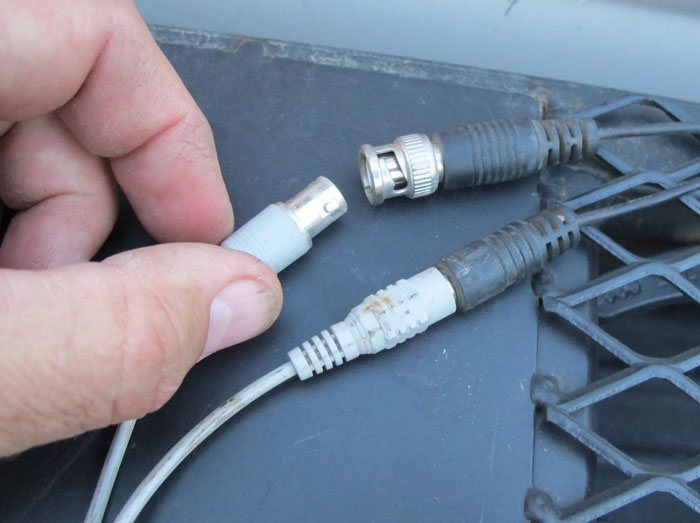 Everyone wants wireless camera's because of the convenience, but we all want a good picture. That was the tough part until now. Trailer Eyes wireless camera system went with a different wireless signal frequency and uses outside antenna's on both ends. The biggest problem with wireless camera's is keeping a good signal, Trailer Eyes has such a dependable signal, they guarantees it. Think about all the interference that a wireless signal has to overcome, the big piece of metal called a horse trailer or RV, your cell phone, Wi-Fi, radio, rain, cell towers and blue tooth.
The economic model ($229 complete), Trailer Eyes Plus has as 400 ft. range with the weatherproof  powerful booster antenna on the camera side and the monitor side. The antenna's have a magnetic base and clamp to move camera's where you need them in your trailer, on your truck's tailgate or on top of your horse trailer for the blind spot behind it. But that's not all, with portable camera's you can use them camping, watching your horses on a picket line from your Living Quarters or watching the barn when your next foal drops.
Trailer Eyes Plus comes with a 3.5″ color monitor (above), a couple ways to mount it and an antenna with clamps. The monitor can be powered by 12 volt or 110 volt in your truck, house or hotel. The camera can be powered by 12 v, 110 v or a 9 volt battery for short term like backing up to your trailer or for positioning camera's.

The second model designed for big trailers is Trailer Eyes B2 with 5.8 GHz signal with less interference than the more common 2.4 GHz., with 8 channel frequencies for 8 camera's to one 7″ color monitor that's  adjustable with color and contrast. The B2 system has larger antenna's.  From the monitors antenna to the camera's antenna has a maximum 1200 ft range.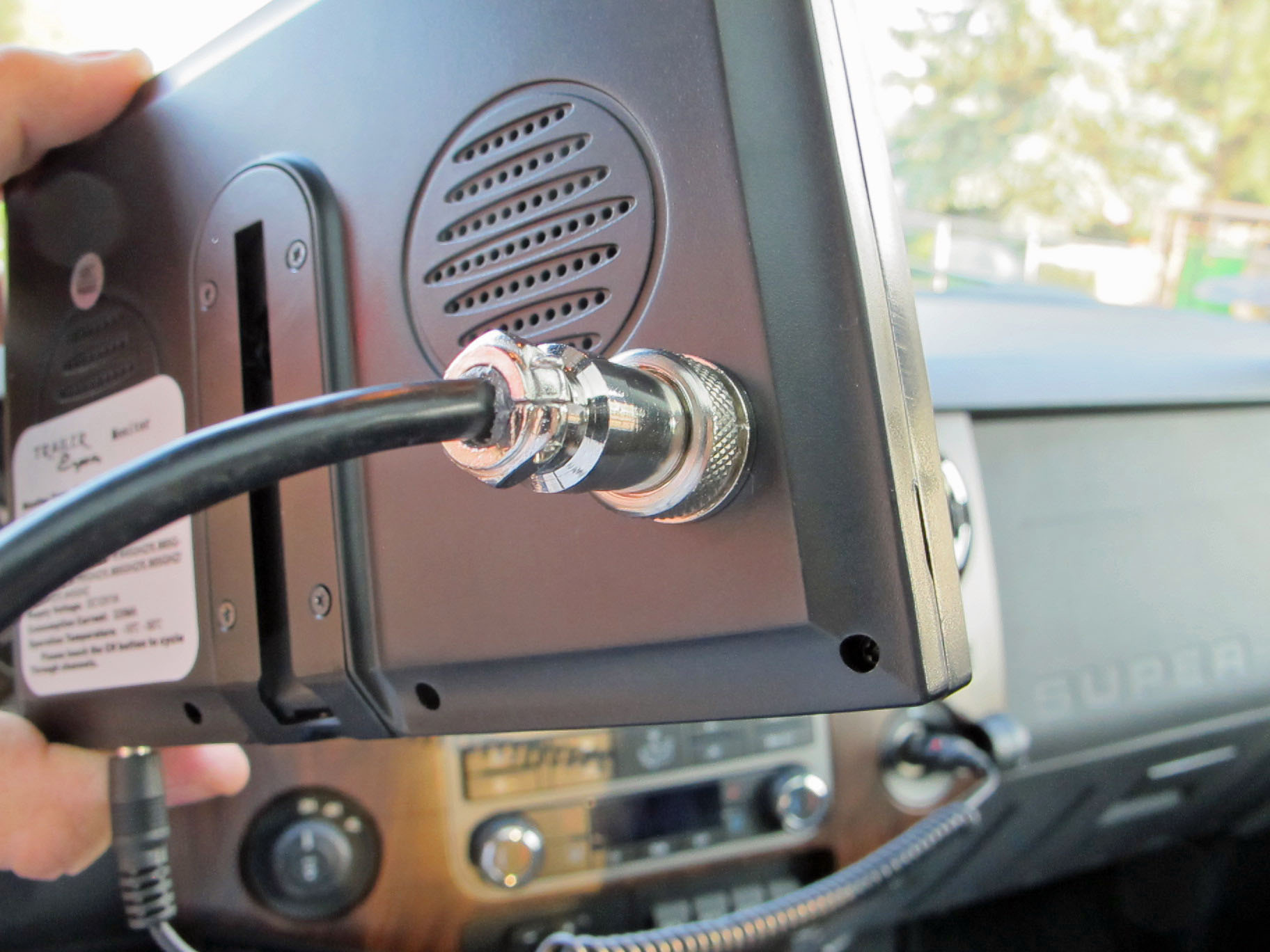 Each adjustable antenna has a steel connection, with 16 ft cable so you can put the antenna where it will do some good. Antenna's have a magnet base or bolt on, making them easy to move from truck tailgate for backing to your trailer, to your trailer for watching horses, to barn to watch foal, to back yard for intruders, and to your house while you're gone to see the teenagers don't have too much fun.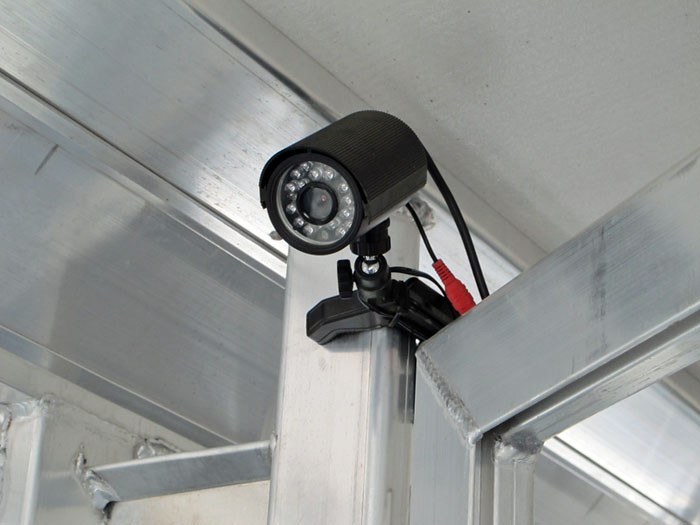 I tow double trailers often and with Trailer Eyes I can watch how my second trailer is doing or my long trailers when I backup. Just have to move the camera to the top of the trailer. I use it to parallel park my trailer, anywhere with hotel overhangs, fairgrounds, backing near the barn, or watching for wondering grandkids.  Call it peace of mind surveillance. www.TrailerEyes.com   1-888-227-6888


Trailer Eyes founder is an endurance rider for real life field testing of his camera system. The system is a quality build, weather proof camera's for wide angle or narrow, automatic infrared for night vision. You can still have a little interference or lines in the monitor view from truck engine, wind or a blizzard, but dramatically less than the other wireless camera's I've tried.
Three different monitor mounts, suction cub, tape, bolt on. I stuck it on the moon roof on the Ford F350 media truck. I've used Trailer Eyes camera's clamped to my trailer fender watching a slow leak trailer tire when I didn't have time to change tires. My inside trailer camera's point at horse stalls on the rear side so they don't chew the camera or I monitor my heavy cargo displays going cross country to horse expo's.


Easy 5 minute installation. 30 day money back, one year warranty and guaranteed reception with boost antenna's. If you have portable corrals for horse camping or electric  fence, you can keep an eye on the horses while you're cozy in your Living Quarters bed or hotel room.
I use the 9 volt battery on the camera for backing up to a trailer. On your trailer you may want to hard wire to your trailer hot wire. My experience says to wire to the lights, then when you shut off lights, you shut off the camera. If you have a LQ with batteries, the camera might run down your batteries if your just connect to a always-on hot wire. If your trailer is less than 40 ft, the antenna can be inside trailer.
Optional wireless video grabber, for recording off the camera to your computer so you can record important events from your camera like the next Secretariat foaling while your grandkids watch.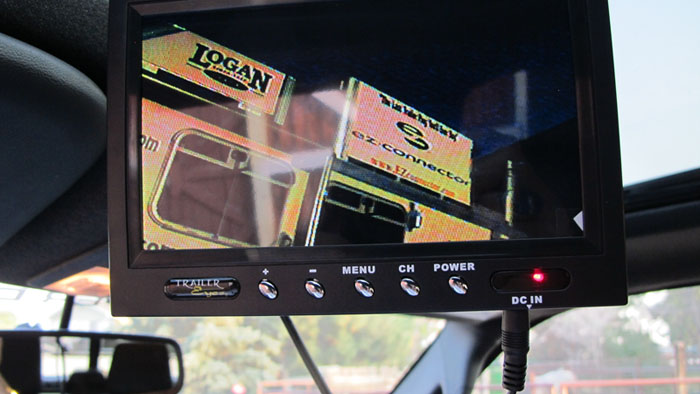 The picture above is the monitor in my truck as I looked at the camera on my trailer on the other side of my 30′ x30′  barn.
A rear camera on your trailer helps see what you can't with trailer mirrors. See if your horses are eating, drinking, fighting or what saddle fell off the rack. If your trailer is 8 or 8.5 ft. wide, you know you can't see the rear corners of your trailer with just mirrors. How about watching calving and foaling from your office or kitchen. Today's large farm equipment needs camera's just to see it all from the tractor cab. Or just seeing what kind of party your teenagers are having while you're away from home and even watching the baby sitter care for your pride and joy. We all hope people helping us care, but how do you protect your family from what you can't see?
www.TrailerEyes.com  1-888-227-6888
From home security to dairies and feedlots to seeing if any parts fall off my Ford. Wireless camera is on top of my deck/hay rack so I can see the trees I get close to and hotel archways I pull under, my trailer is 11′ 5″ tall. Just one  outside camera, when I acid wash the trailer and with the magnet, the camera is off in seconds.

When I review accessories, I move things around often, so my dash is cluttered while I move the cameras and monitor around my dash. Interstates are in bad shape, I have broken batteries and headlights hitting pot holes, so camera's help me find problems before they become expensive or time consuming.


I used this camera to see around corner blind spots. On the monitor, you can see the light pole on the side of the trailer I'm backing around.
Trailer Eyes video, click on pictures below

Comments
comments