The Flip-Over Ball gooseneck hitch converts to a smooth bed in seconds. Just rotate the handle and Flip the ball over. In seconds you can have a level bed for all those jobs when an ordinary hitch ball is always in the way. More…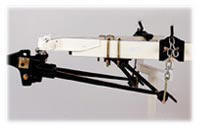 Weight Distributing Hitches for safe controlled trailer towing. Reviewing Equal-i-zer WDH Click.

25 to 50% longer tire life. Stop tire cupping, vibration and premature wear on those expensive truck, RV & trailer tires. Centramatic automatic wheel balancers have been saving money on tires for semi-trucks for over twenty years. Now you can automatically balance your tires, wheels, hub and rotors or drums while you drive. More
We decided to have our own towing test truck. Now we are going to keep the products on our own truck to be able to give a longer review and how things standup long term. Rest of the report
MrTruck.com Presents: New for the "EZ Connector Horse Expo Tour" Updates from each event, pictures & commentary, With the latest trailer safety and technology accessories on exhibit in our tour, come by our display. We'll be displaying some helpful technology for safe towing. Click for the "Tour" schedule,

Solar Battery Maintenance and Pulse Technology Conditioning with Solar can Triple your Battery Life. More..
Leather Legs, good looking protection for your legs on horses or motorcycles. LeatherLegs.net

 Truck Info Central
Comments
comments