Truck/SUV Review & Resource Center
Pickup Truck Reviews Towing Trailers, Comparisons and Shootouts
Check out MrTruck.com and MrTrailer.com
I know how much time it takes to research the web. Since I'm already doing it, I thought I would share the best sites I found. This should help answer questions, save time and prevent some of that good ole multiple computer monitor radiation. Pickup truck reviews towing trailers, see how trucks compare using trailers
Truck and SUV review video's
 2015 Ram 3500 dually Laramie Longhorn with Cummins turbo diesel and 4.10 axle ratio for max tow. Towing a Load Trail tilt car trailer with a Ford F250 as weight. Kent and Kelse…

MrTruck review of the new Ford sport truck SuperCab Lariat 4×4. Hauling ATV and towing a Logan Coach horse trailer in the Rockies with Kelsey. Amazing little twin turbo t…

reviewing 2015 Denali Yukon XL with 6.2L and 8-speed auto. Electronic overload with so many buttons to start, open rear hatch, unlock doors and more. Heads Up Di
Rams Turn to Beat Ford's Power Numbers ___________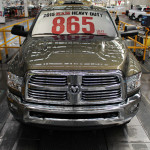 It's Real Horse Race with Ram Going after Fords 2015 Power Numbers: In 15 years of reviewing trucks, 
Someone woke up the sleeping Ram bear and it's growling. Ram fans have a winner and are enjoying the battle between Ram and Ford. We got use to Ford battling GM for the title for decades, but Ram pushed GM's Chevrolet and GMC back to third place. With GM dropping their Class 4 and 5 cab & chassis truck, Ram is using Ford's play book.More….

Heavy Duty Ram for 2015 has only one change. B
ut it's embargoed for another week. You have to come to my website MrTruck.com to found out in September. Meaning this review will help even for the 2015 Ram. I was part of the PickupTrucks.com Ultimate HD Challenge published last week. We had  3 new 3/4 ton gas trucks towing trailers around Detroit for a week of hill climbs, brake tests, 1/4 mile racing and MPG tours. Then 2 weeks later we were towing my trailers in the Rockies from Dillon to the tunnels on I-70. The winner for the heavy duty gas engine trucks was the 2014 Ram 2500 with the Hemi 6.4L.More…..
Ram Truck Announces Industry's Broadest Alignment with Society of Automotive Engineers (SAE) J2807 Towing Standards Across All Pickup Truck Segments
GM 1500 with 8-speed in 6.2L__________________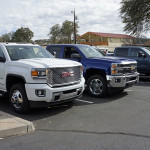 GM Gears Up For More Truck Wars 2015: The 2015 GMC Sierra 1500 maintains a 12,000-pound maximum trailering rating under 

SAE J2807

. Chevrolet and GMC have confirmed a new eight-speed automatic transmission will be standard on 2015 Chevrolet Silverado and GMC Sierra models equipped with the 6.2L EcoTec3 V-8.
First year for the integrated trailer brake controller for electric over hydraulic brakes. Quieter again with the Duramax diesel. They've always been quiet going back to 2001 birth, but now….
More….
Ram EcoDiesel 28-MPG_

_________________

The EcoDiesel-powered 2014 Ram 1500 has earned a 28-mpg rating from the U.S. Environmental Protection Agency (EPA), the best highway-cycle test result ever achieved by a full-size, half-ton pickup.
It also exceeds the EPA highway rating for the top-ranked small pickup. The breakthrough results mean Ram keeps the half-ton fuel-economy record set last year by the 2013 Ram 1500. Equipped with a 3.6-liter Pentastar V-6 gasoline engine, the truck earned 25 mpg highway, a rating that stands for model-year 2014. The Ram 1500 now owns the half-ton pickup segment's top two spots in the EPA's 2014 highway fuel-economy rankings. More…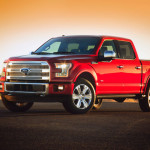 Ford for 2015 has an all new aluminum body F150 with Adaptive Cruise Control, 360-degree camera system, Smarter Trailer Tow Module like you're always wanted. Adaptive Cruise means you can lock on to the speed of the car in front of you. The new Tow Module will tell you when a blinker bulb goes out on your trailer and the 360 camera will keep you out of the body shop.Read more….
 Ram 2014 mega changes__________________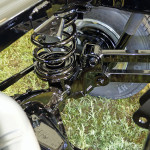 Ram finally got serious about the truck race in 2013 with one innovation after another with a diesel in the Grand Cherokee, 4 corner air suspension on the 1500 and eight speed auto, 30k trailer towing in the 3500 and Smart Exhaust Brake, then a few months later for 2014, rear air suspension or coil for the 2500, rear hybrid air suspension for 3500 and the new 6.4L HEMI V-8. Wow, what's left to improve on trucks? Ram just jumped ahead a decade in 2 years. More…
 Grand Cherokee Diesel

_____________________



 2014 Jeep Grand Cherokee Overland EcoDiesel: Watch out European SUV diesel's, Grand Cherokee is a contender with V-6 diesel, 8-speed automatic transmission and four corner air suspension.  The EPA rates the diesel for 28 mpg on the highway, my highway driving was over 30 mpg. The diesel is quiet and smooth with the 8-speed.. More…..
Ford F150 CNG_____________________________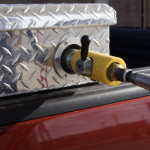 Ford introduced the F150 for 2014 with a CNG option, betting more companies and some consumers will buy a truck that burns American fuel and could be the future of having the US oil independent.  Besides making T. Boone Pickens happy, more short haul truck fleets are converting to LNG (liquid natural gas) especially at ports like in California.

The 2013 Ram 3500 will change the truck and trailer industry.The top end trailer size for pickups will go from 20k to 30k capacity quickly. I doesn't seem that long ago when one ton dually trucks could tow 15,000 lbs, then in 2011 model year it went up to over 22,000 lbs and now Ram is boosting 30,000 lbs for a gooseneck trailer. A big dramatic jump in towing capacity, we new it was coming. In the seventies we called a decked out one ton dually a "Cowboy Kenworth", now we're over 1/2 way to the big rigs. CB and an air horn should be options on this Laramie Longhorn. read the review…
King of Beasts, truck shootout

________________

King of Beasts shootout with Pickuptrucks.com and MrTruck.com. Because of all the turmoil around standardized testing for heavy-duty trucks, we knew it was time to take the two strongest HD pickups on a fact-finding mission to explore their maximum tow capacities and how that translates into the real world. 
It's a big review, took over a week and a couple thousand miles.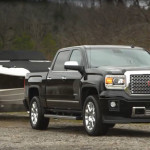 DETROIT – The 2014 Chevrolet Silverado 1500 and High Country and the GMC Sierra and Sierra Denali 1500, available this fall, with a 6.2L V-8 produces an SAE-certified 420 horsepower (at 5600 rpm) and 460 lb-ft of torque (at 4100 rpm), the most power of any pickup engine and torque of any light duty pickup truck engine.The 6.2L V-8 available for Silverado LTZ and High Country and Sierra SLT and Denali models also delivers class-leading maximum available trailering capacity of 12,000 pounds when properly equipped. Read more…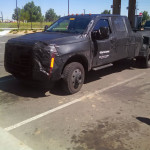 Spied by MrTruck in Thornton CO, what I think is the 2016 Ford F450, maybe aluminum skin like the 2015 F150. 10 lug points to F450.
It has a deeper front grill. It's a tall truck that is heavily disguised.  Looks like a larger crew cab and new dually fenders. More pictures….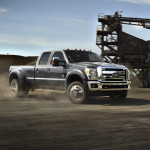 Big News from Ford: Super Duty jumps ahead of Ram for towing capacity. Second-generation 6.7-liter Power Stroke® V8 turbo diesel boosts horsepower to a class-leading 440 horsepower; torque to class-leading 860 lb.-ft. for all models. F-450 chassis upgrades raise maximum gooseneck trailer towing capacity to class-leading 31,200 pounds, and gross combined weight rating to a class-leading 40,000 pounds. F-350 available with maximum towing package that increases fifth-wheel/gooseneck trailer towing capacity to 26,500 pounds. More news….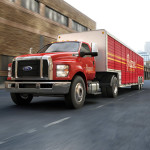 But wait, there's more: Ford's already teasing us with 2016. F650-750 are making a comeback with gas and diesel options. Offered in three cab styles – Regular Cab, SuperCab and Crew Cab – and three models – straight frame, dock height and an all-new dedicated tractor model for heavy towing – the new F-650/F-750 features a bold look inside and out, a powerful and efficient second-generation 6.7-liter Power Stroke® V8 diesel, medium-duty six-speed TorqShift® automatic transmission. More story…
2013 Ram 1500 Big Changes, now we'll see what Fiat's management improvements to the Ram will be– improved fuel economy fuel-saving systems including a more fuel efficient and more powerful 3.6-liter V-6 engine and first-in-segment technologies: eight-speed automatic transmission, stop-start system, thermal management system, pulse-width modulation and active aerodynamics, including grille shutters and air suspension. A Hemi with air ride and 8 speed  
Ford Super Duty 2013: You wouldn't know there's a recession going on with truck sales this year. And for 2013, Ford ups the ante with their most luxurious model Super Duty yet, the Platinum. I always thought King Ranch was as high as a truck could get and my favorite. Platinum, like the F150 is about the chrome, chrome on mirrors, door handles, tailgate and a chrome perforated mesh in the horizontal bars in the grill. Bigger nav. screen and more….. 
The Outdoorsman model has a complete trailer option package with mirrors, brake control
ler, heavy duty engine and transmission cooling , the Hemi 5.7L MDS, 3.92 axle ratio, 6.5 screen GPS, and backup camer
a. My favorite option, double folding center console storage that folds up for the middle seat for six. More…Ram Outdoorsman 1500, Hemi and a Gun Rack towing a Logan Coach; Outdoorsman model 1500 Ram, crew cab a loaded model. This truck is ready for elk season. This media truck had a gun rack in the bedrail weather poof RamBox storage for two rifles with scopes. A better option over guns in scabbards on the truck floor.More…
GMC Sierra 3500HD Wins Best Overall HD Truck; 2011-08-15 DETROIT – The GMC Sierra 3500HD won PickupTrucks.com's "Heavy Duty Hurt Locker" comparison test, a grueling showdown among industry heavyweights that included towing 19,400-pound fifth-wheel trailers up and over some of the most demanding grades in the United States. 2012 HD Upgrades announced….
2011 GM HD 2500 LT singe cab. Such big improvement to the GM HD line for 2011, from diesel engine, frame, suspension, steering, braking etc. This model of the GMT900 platform is the most significant truck improvement for GM since the Duramax diesel came about in 2001.
2011 Chevy HD 2500 LT single cab with big gauges, a nice layout, you can see them at a glance while driving. You need to know at a glance if engine temp in the normal range, oil pressure, transmission temp, battery charge all in operating range. A change in gauge readings will give you early warnings Read more…
Towing with 2011 Toyota's, Cimarron and Titan Trailers Tundra full size 1/2 ton is a top towing truck in it's class. Towing ability is the hidden equation with most trucks. Marketing departments keep the public confused on how much trucks can tow by bragging about a trailer towing weight and then in the fine print explaining that weight is only for a 4×2 regular cab.
Finally there's hope comparing truck models towing ability. SAE (Society of Automotive Engineers) has established towing standards that go into affect 2013. Toyota takes the lead with tow ratings, being SAE J2807 standard compliant on all 2011 models already. With the price of fuel you may need an oil well above or a load of hay to ride your horse to Starbucks. We tow Cimarron and Titan trailers with 2011Tundra and Tacoma More…
2011 FORD F-150 SVT RAPTOR ADDS SUPERCREW, TOWING, 6.2-LITER ENGINE: "We spent a lot of time getting the ride and suspension characteristics of the SuperCrew similar to that of the SuperCab." A larger 36-gallon fuel tank and increased towing capability – rated at 8,000 pounds – keep F-150 SVT Raptor SuperCrew a mainstay in the desert environment, with capabilities as a chase or tow truck. More…
2011 Heavy Duty GM's, More Power, More Frame and More Suspension: For 2011 GM wen
t massive truck improvement, as in frame, suspension, payload, brakes and towing ability puts Chevy and GMC HD trucks at the top of their segment. It's improvements we all want and of course the power and fuel mileage have also improved. The new suspension keeps the power under control and tires planted on the pavement. Read MrTruck review…. Read GM Press Release ….
Grand Cherokee Limited and Featherlite Trailers:
Cherokee's have always been fun to drive. That's why I write, to have fun on the road. This all new re-designed Grand Cherokee Limited is as loaded as it gets. The new design is slightly larger with more room inside, but hasn't lost the sharp looks or off-road ability it's famous for. The Grand Cherokee has many off road controls like Land Rover.
Push button start, you can keep the key in your pocket. Fun to drive, who wants to make payments on a vehicle that is boring. We towed a Featherlite horse trailer. Featherlite Trailers is one of the few companies that started the aluminum horse trailer craze that's still strong today.  Aluminum lasts, looks good for decades. If Featherlite didn't change the graphics from time to time, you wouldn't know a 20 year old trailer from a one year old trailer. More…
2011 Super Duty, Fuel Efficient Fords; Finally better fuel mileage, no diesel engine price increase, all new 6-speed automatic, standard exhaust brake and telescoping steering wheel, oh my! You may think this is Ford's first diesel, in a truck in the USA, you're right. But Ford has diesels around the world. My New Holland swather in the eighties had a Ford industrial diesel, and Ford tractors had diesels built in England. Building the diesel engine and new 6-speed transmission in-house, is part of the answer to holding price down. Turbo lag is gone, we've been promised this before, and now smooth acceleration all the way to redline. The rest of the report….
The Infintiti QX56 is a fun ride that works well towing trailers. With a 8500 lb. trailer capacity, the Q56 can tow a 3 horse trailer under control. Rear automatic air leveling ride kept the trailers I towed, level. Even the automatic high intensity discharge xenon headlights, are auto leveling. A class 4 receiver hitch, 400 hp V-8, 413 torque going through a 7-speed automatic is made for mountain towing. More….
2010 Heavy Duty Shootout Comparison
It's time again for our truck shootout. Every couple of years, we have enough all new trucks in a category to compare. Of course it's with trailers, towing up 16 % grades, drag racing, testing brakes, exhaust brakes, grade shifting and fuel mileage. With graphs, charts and butt dyno. Score a truck to tow your trailer, here is the guide. The whole story….
2010 Toyota Sequoia Tows Featherlite, 4Runner Tows Safr and Hat Catcher Review: Sequoia full size SUV, is a luxury ride and can tow trailers. Car like ride, firm in response to bumps, but not harsh and not a boat float ride like the old wagons. The transmission has… 4Runner came with Hill Start and Down Hill Decent, equipped well for off-road fun. The seats are comfortable. The V-6 towed well, staying closer to 3000 RPM's, but shifted often. 4Runner is… Hat Catcher, small and easy to take along. Good hats aren't cheap, you can't leave them on the truck seat. Newer cars, SUV's and trucks headrest… More….
2010 Toyota Tundra 4.6L I towed the Titan dump trailer back from Kansas with the Toyota Tundra and the new 4.6L V-8. Also towed some Titan horse and stock trailers when I toured the factory in Waterville Kansas. The power of the 5.7L V-8 is awesome and a great towing combination with the 6-speed auto and 4.30 axle ratio, but with fuel prices uncertain….more…
2009 Dodge 1/2 ton, the theme of the new Ram with rear coil springs, handling, cornering, stability and storage. I've been a fan of rear leaf springs for decades and considered coil springs that most SUV's have now, as less desirable for towing. But if you put a truck on a lift with rear leafs and move the axle, it's surprising how much play is back there with the axle hanging. I towed a horse trailer and a travel trailer, was impressed with the handling. Click for story….
2010 Dodge Ram Heavy Duty, 2500-5500
Now a full size Crew Cab and an eight ft. bed. 2010 Dodge Ram 3500 Mega Cab still only in a short bed (6′ 4″), new sexy more aerodynamic fenders are all metal now. Styling cues inside and out are from the 2009 Ram 1500 for a quieter, tighter cab. No Urea (diesel exhaust fluid) like Ford and GM diesels for 2010 new emission laws. Dodge will be the only truck offering a manual and automatic transmission. The review…
2009 Silverado Crew Cab, new 6-speed auto tranny tows a Logan Coach well in Rockies. Crew cabs are the new "mini" van with folding rear seats for hauling cargo inside and cup holders galore. Factory option trailer brake controller, new for GM 1/2 tons. More…..
Sterling Bullet makes a great hauler truck. The 6-speed heavy duty Aisin auto, grade shifted a couple of times, using the built in exhaust brake, kept my foot off the brake coming down Loveland pass towing a Cimarron LQ horse trailer. The variable turbo sleeve controls air flow to the engine and closes making the exhaust brake. A unique efficient design. You can add a bed from 8′ to 16′ to the different wheel bases available. 7000 lb. front axle, 13,500 lb. rear axle on a 50,000 psi frame with 34″ frame railing to accommodate More…
At the All American Quarter Horse Congress in Ohio, I was doing circle contests with the Freightliner M2 and the GMC Denali Quadrasteer. Of course the Quadrasteer won. But when I shut off the 4-Wheel Steer, the Freightliner M2 won. When means the M2 can turn tighter than just about any truck.
Ford announces 2009 F150 with more towing features. Trailer sway control can determine from the yaw motion of the truck if the trailer is swaying and….Integrated Trailer Brake Controller is factory-installed and allows direct
More…
The new 2009 Ford F-150 offers customers the most choice with more configurations than any other full-size pickup on the market. With three cab styles, four box options and seven unique trim levels, the F-150 comes in 35 different configurations to…
. More…
2009 Ford F150 with new 6-speed, diesel and turbo gas engines coming in 2010. The striking F-150 Platinum features More…
Update: 2009 Ford F150, King of Towing, You may not need a F250! Ford King Ranch, gorgeous brown paint, thick full grain leather seats, big towing mirrors, 6-speed automatic, bold chrome grill, 20 inch wheels, just makes you drool ! At least if you're into towing trailers. Tops the 1/2 ton class at 11,300 lbs trailer capacity for all three cab configurations, not just a single cab. That makes it easy to match your trailer. Growing segment of folks downsizing and still towing. Ford is leading the pack for 1/2 ton trailer capacity and payload. SuperCrew has the only 1/2 ton truck with a 6.5″ bed option. This helps with gooseneck and 5th wheel trailers. No V-6 or manual transmission More…
ShootOut 2008 for 2009 1/2 ton trucks: At PickupTrucks.com and MrTruck.com, You want all the truck details so that you can make the best decision possible. That's why we created Light-Duty and Heavy-Duty Shootouts that put these ever-changing trucks to the ultimate tests.
Ford 2009 F150, most popular vehicle fighting for position. The new 2009 Ford F150 is part of the trend to 1/2 trailering with trailer brake controller, similar to the option with Super Duty, first time extendable trailer mirrors and trailer sway control. Higher towing weight rating, higher payload, stronger frame, a new 6-speed auto tranny with grade shifting like big brother F250, make the F150 on the border of 3/4 ton capacity. The Roll Stability Control detects when your trailer is swaying and controls the truck to counter act the trailer sway. Or Max Trailer Tow Package option, will also apply the trailer brakes automatically in a trailer sway…. More…
First time I herded Buffalo, I mean Bison and my first trip to Yellowstone, was a kick driving the all new 2008 Toyota Land Cruiser 200 series. The Land Cruiser was Toyota's first vehicle to the US back in 1957. he Cruiser, makes a great tow vehicle. The ride and handling is smooth, you're in a solid vehicle with very little outside influence like wind making no difference with a heavy 5690 lb curb weight. The Land Cruiser has the tightest steering I can remember. This makes driving fatigue go away. Rest of the review….
2009 Dodge Ram, new coil spring rear suspension, finally a normal crew cab called Ram Crew, bed storage under the rail and cab floor storage, plus more. More….
Longer 2008 Nissan Titan. Longer beds, more payloads, the Titan reaches for more customers. Last year I drove across the bridge that collapsed in Minnesota across the mighty Mississippi twice, once going to the Minnesota Horse Expo and to the 2008 Nissan Titan press preview traveling from Minnesota to Wisconsin. Off-roading at Apple Valley Farms near Sand Creek, Wisconsin, the new e-locker rear differential lock that you turn off and on. did well in the muddy trail. More….
2008 Ford F450, will be here soon. Factory bed, factory step and had rail built into the tailgate, power folding trailer mirrors, quite exhaust & yes, the 6.4L twin turbo diesel.More
GM Hybrids, 40% improvement in city fuel mileage gets your attention. That's the story of hybrids, incredible mileage tooling around town. Part of that is to regenerative braking, which charges the batteries when you brake. With Active Fuel Management, the truck can run on half of it's cylinders. GM hybrids can tow up to 6,100 pounds. More…
MrTruck.com joins PickupTruck.com for their 2007 Heavy Duty Shootout with trailers. This is one intense truck comparison. Part One Part Two Part Three
New 2007 Tundra, the Limo that Tows Trailers Fast,2007 Tundra introduced at the National Western Stock Show & Detroit Auto Show. Nice for Toyota's 50 anniversary to introduce a true full size truck. Known as dependable, Toyota trucks may now set benchmarks for how full size trucks are designed. I'm impressed.read the review…
First look at the 2007 Silverado and Sierra. Still waiting to drive the new truck, but I am excited that the seat belt is back in the ceiling, adjustable and the end of side terminal batteries. The new GMT900 platform from which the 2007 GM SUV's…Click….
Cinch plus GM plus Monroe equals Cool Crew Cab 2007. The Cinch package from Monroe, has awesome leather seats, 15.3 inch overhead DVD, center console, backup cameras on both hitches and tow mirrors. When you use the blinker, the camera shows what that outside mirror sees in your GPS screen in the dash. You can get air ride cab, rear axle and seats. The Duramax 6.6L LMM diesel and the 8.1L gas engine both come with the 6-speed Allison Automatic. It's rated to tow 16.500 lbs. This is conservative and I expect it to go up. More…
New Active Fuel Management Cylinder Deactivation shows in the dash when switching from V8 to V4, all seamless you wouldn't know it if you didn't look at the indicator in the dash. This is part of reason this new Tahoe gets 21 highway mpg EPA rating on the 4×4.. Even with a bolder bigger nose, the Tahoe has 8% less drag as wind resistance. The dash has more digital info with a tire pressure read out and tranny…More…
2007 Ford Expedition EL, longer, stronger and a 6-speed. I took the new Expedition through the winding Washington hills as fast the tires would hold me. It handled superbly, with no resemblance of the old leaning SUV's we drove a few years back. More….
I took the 07 Sport Trac off road near Camp Pendleton. With front & rear traction control, it climbed like a rock crawler. Having traction control instead of limited slip or locking differential, allowed me to turn corners in 4WD, have traction and no wheel hop. Roll Stability Control, standard on the Sport Trac, great for a truck with an empty bed as well as stability in bad road conditions. I think all trucks need it. More…
I'm reviewing a 2006 GMC Sierra SLT HD 2500 now with the Duramax with 360 horsepower and 650 torque right from the factory is addicting. I towed a new 6 horse Cimarron trailer through Eisenhower tunnel in January out the west side in a snow storm and had complete control with the manual switch on the new 6-Speed Allison that let me down shift by pushing a button making the torque converter lockup in each gear as…..More…
2006 Explorer, new 6-speed auto, 3-valve 4.6L V-8 and it's quieter and of tows more.
I flew to New York to drive it. 15 years of the #1 SUV,
read my review… also SUV's and towing revisited.

2006 Lincoln Mark LT Truck Towing a Hart Thoroughbred. The luxury truck market is a fickle one. Maybe it's the 4×4 option or the fact that it's great looking F150 or maybe the hip hop stars haven't bought as many Lincolns as the Cadillac Escalade. But it's a sharp looking truck! The waterfall grill, chrome, chrome and more chrome does say BlingMore…
2005 Ford F350's TowCommand trailer brake controller, TowingFeatherlite, and reviewing TireStep. Plus Elk Herding at Estes Park. The first manufacture to offer a "built in" trailer brake controller, Ford introduced the TowCommand last fall in the 05 SD. I tried it at the Ford proving grounds. This is an update towing in the Rockies. Read…
All new from the frame up, the 05 Frontier & Xterra are over engineered, using the Titan 5-speed auto transmission, Dana 44 rear axle & frame rails. With the most horsepower in the midsize class, the Frontier sits low with great off-road capability. I like the folding passenger seat for my laptop. If you think driving using cell phones are dangerous, wait till you see me driving & reading email. More
2004 Infinity QX56 SUV & Hart aluminum horse trailers are both upper scale and make a good looking couple. The new 2004 QX56 is the first Infiniti model assembled in North America. Hart Medallion aluminum horse trailer reminds me of the beautiful sheet metal on Audi's and Porshe. Also in this review are Tow-N-See extended mirrors Much more..
#17) I drove the 05 Ford Escape Hybrid in Denver. With $2 gas, the Escape is the first SUV to go Hybrid. And a true hybrid, developing it's own energy to charge it's batteries from applying the brakes and run on an eclectic motor alone. Something we did a lot of in downtown Denver. More…
Quadrasteer GMC towing a Zeppelin travel trailer to Estes Park at the Spruce Lake RV Park. The Denali is on the move again showing off it's backing skills in the picturesque Rocky Mountains. It makes me want to move to the hills near the Big Thompson River. Read more…

Quadrasteer Tour Part 4 Reviewing Outfitter's Caribou popup camper showing how far into the mountain forest I can get with this truly versatile combination. We tow boats and horse trailers, because we can. There is enough payload capacity left for the tongue weight of a boat or 2-horse trailer. Also Torklift's camper tie down review. Read.
11) Hemi Durango review, along with Ice Driving School and Red Rocks. Read More…
MrTruck's Top Picks, Truck, SUV & Trailer Accessory Store, ENTER
Truck Resources:
Accessories & Parts
Trailer Repair Jim's Repair & Parts 1-800-865-0339 Denver, CO
Trailer News with Andrew Lyons.
Technology is changing the trailer world to keep up with the more powerful trucks that pull them. News on air brakes, disc brakes, independent suspensions, hydraulic brake controls, and pour on flooring. For More 
Andrew Lyons next to a Hart aluminum slant horse trailer. Horse hauling has come a long way from the "seventies" when I would back my truck into the ditch and jump my Quarter Horse in the back of stock racks.
Comments
comments